I've gone on record here several times that I am not a huge fan of salads. I generally like my food heartier. So when I do make salads, I make them really hearty and flavorful without hurting the waistline. This Mediterranean couscous salad is really filling and satisfying without being heavy at all. It's also one of those recipes that I just love because it incorporates inspiration from both of my grandmothers. The couscous is very Middle Eastern for Jeanie, while the flavors are all Italian for Lulu!
Oh my goodness, this stuff may have converted me from my salad avoiding ways. There were so many gorgeous flavors and textures going on. It also transported easily and kept well for summer picnics or cookouts. I'm definitely making it again for Memorial Day. Hope you all enjoy it too! xoxo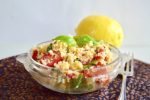 Servings

Prep Time

8-10

25

minutes
Servings

Prep Time

8-10

25

minutes
Servings

Prep Time

8-10

25

minutes

Servings

Prep Time

8-10

25

minutes
First, cook the couscous. Most boxes have the following instructions, but follow the instructions given if they are different: Bring the veggie stock to a boil in a medium saucepan. Pour in the couscous and give it a stir. Cover the pot and remove it from the heat. Let it sit covered for 5 minutes, then fluff it up with a fork. Set it aside to cool for a couple of minutes. Then combine it in a large bowl with the roasted red peppers, arugula, grape tomatoes, basil, crumbled goat cheese and pine nuts. Toss it together well. In another bowl, make the easy dressing. Whisk the olive oil, lemon juice, salt and garlic powder together until smooth. Then pour it into the salad and toss it again thoroughly. Serve immediately, or refrigerate until you are ready to serve!