When it comes to a hearty, fast and easy Italian style breakfast, it does not get much better than eggs in purgatory. It's called that because the eggs are gently poached in a fiery tomato sauce. It's not quite as fiery as Fra Diavolo sauce though, which means the devil's brother! My Nana Lulu loved to make it for us if we came over during the day. In Italy it's more traditional to have it for lunch or even dinner since breakfast is usually a pastry with espresso. So it was a favorite lunch of my Nana's. I made it over the weekend for brunch (which seemed like a happy medium between tradition and what my belly needed) and oh my goodness was it a hit!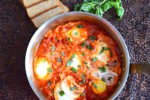 Servings

Prep Time

2-3

5

minutes
Servings

Prep Time

2-3

5

minutes
Servings

Prep Time

2-3

5

minutes

Servings

Prep Time

2-3

5

minutes
Heat the olive oil in a large, deep skillet over medium heat. Add the onion and garlic and let them get soft and fragrant for a minute. Then add the diced tomatoes, crushed red pepper, smoked paprika, salt and parmesan. Stir it all together and let it gently simmer for 5 minutes.

While the "purgatory" mixture simmers, crack each of the eggs into their own little individual bowls. Then gently slide each of them on top of the purgatory mixture, with 5 around the edge and one in the middle. Cover the skillet with its lid and let the eggs poach for 2-3 minutes. Once the eggs are poached, its ready! Sprinkle additional parmesan on top along with the chopped basil. Serve immediately with toast!