I'm not going to lie, this freezing cold and gloomy weather has me really down. A warm beach is seriously needed soon. Since we can't go away though, I at least have comfort in cuddling with Marc, our cats, tea and pasta. This curried chicken veggie pasta had all of the comfort I wanted without being heavy. The pasta I used was even gluten free! Best of all, I only needed one pot for the job.
Once the pasta was tender, I did add in one bit of decadence. It's a famous trick to stir in butter to finish off pasta dishes and that's what I did for this curried chicken veggie pasta. The little bit of butter had a big impact since it just brought the whole dish together. I loved how it gave the pasta a lovely sheen and imparted that tad of needed fatty flavor. When I took my first bite, I felt my blues melting away a little. It was just what I needed to help get me through until I can have my sunny beach days again. Hope you all love it too! xoxo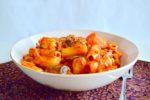 Servings

Prep Time

6

20

minutes
Servings

Prep Time

6

20

minutes
Servings

Prep Time

6

20

minutes

Servings

Prep Time

6

20

minutes
Get out a large dutch oven or stock pot and heat the olive oil in it over medium high heat. Add the mushrooms, carrots, zucchini, onion and garlic and let them get fragrant and soften for 3-5 minutes. Then add the diced chicken and let it cook thoroughly with the vegetables. While it cooks, season it with the curry powder, salt and pepper. Once it finishes cooking, pour in the wine and let it cook off for another 3 minutes. Finally, pour in the crushed tomato, chicken stock and milk.

Give the whole sauce a big stir and let it simmer for 15 minutes. When the 15 minutes is up, add in the pasta and stir it in to submerge in the sauce. Let the pasta cook until tender for 8-10 minutes, stirring often. When it is done, take the pot off of the heat and stir in the butter to just coat everything and finish it beautifully. Scoop it into pretty bowls and serve immediately! It makes great leftovers too.