Whenever I do a community theater show, I do a lot of baking. The cast and crew need fuel and sugar for rehearsals at night! We've just started tech week for The Producers, which is affectionately known as hell week. It means long rehearsals every day working in the scene changes, lighting and everything else that needs to come together. It's the final push before opening night! So I whipped up these healthy and incredibly tasty apple almond butter muffins to help keep the energy up through the long rehearsals. The batter was super easy to make.
The almond butter gave these babies substance and a fantastic mouthfeel. The quinoa flour and almond milk kept them lighter. Since the quinoa flour had no gluten it was virtually impossible to overwork the batter! That made for super tender apple almond butter muffins. Diced apple gave them great bursts of freshness. Then I used a 1/4 cup measure to scoop the batter into my prepared muffin pans.
The muffins trays just went into my 350 oven for about 20-25 minutes. They got golden and puffy and glorious!
Once they cooled a bit, I could serve immediately. I packed them up though and brought them to rehearsal the next day. They went quickly which made me so happy. I love baking for people, especially my theater family. The best part was that these apple almond butter muffins tasted so decadent that no one could believe they were healthy! Enjoy, friends. xoxo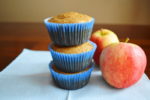 Servings

Prep Time

22

muffins

15

minutes
Servings

Prep Time

22

muffins

15

minutes
Servings

Prep Time

22

muffins

15

minutes

Servings

Prep Time

22

muffins

15

minutes
Pre-heat the oven to 350 and line 22 muffin wells with paper liners (almost 2 full muffin pans). In a large mixing bowl whisk the quinoa flour, dark brown sugar, baking powder, all-spice, salt and baking soda together to aerate them. In another bowl whisk the milk, almond butter, eggs and apple cider vinegar together until smooth. Pour the wet ingredients into the dry ingredients and whisk them all together just until a batter forms. Gently fold the apple into the batter with a spatula.

Use a 1/4 cup measure to scoop the batter into each lined muffin well. Get the muffin pans into the oven to bake for 20-25 minutes. Check that they are baked through with a toothpick. If inserted in the center of the muffin it should come out cleanly. Allow them to cool in the pan for a few minutes.

Let them finish cooling on a rack, then serve immediately! They will also keep for 2 days in an airtight container for an amazing and healthy snack any time of day. Enjoy!