Street food is life, isn't it? Whether it is tacos in Mexico City, the floating market in Bangkok or arancini in Florence it represents some of the best food their respective cities have to offer. Arancini is one of my favorites because you can basically have a mini complete meal in a delicious, fried package. I've made beef arancini before, and it had been too long since I made them. These pesto chicken arancini have a great summery vibe since they are slightly lighter and use lots of gorgeous summer basil in the pesto sauce.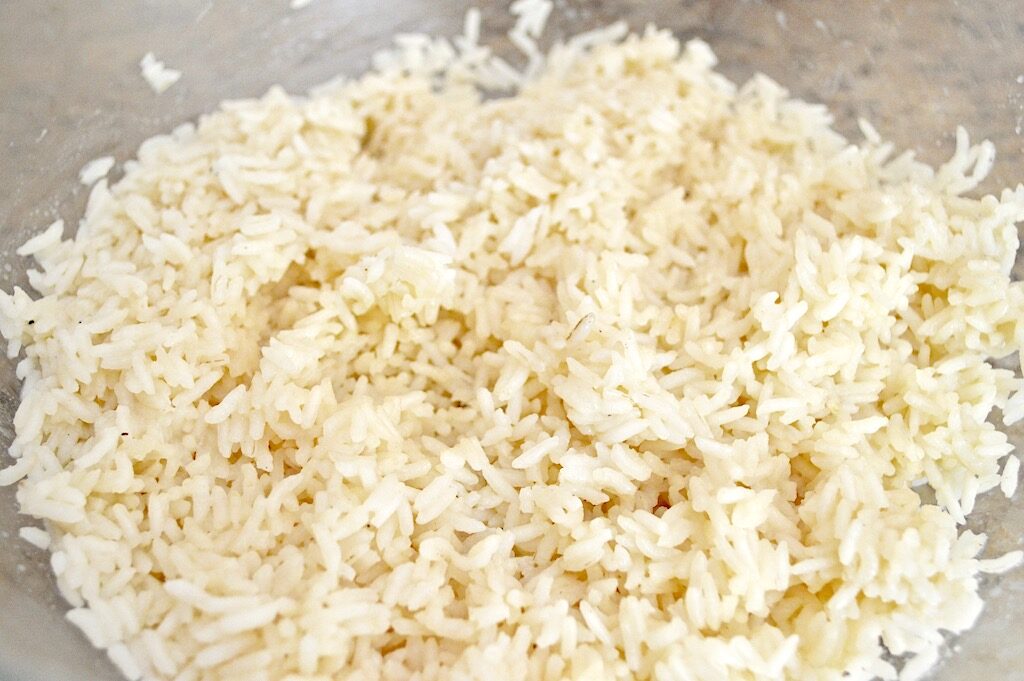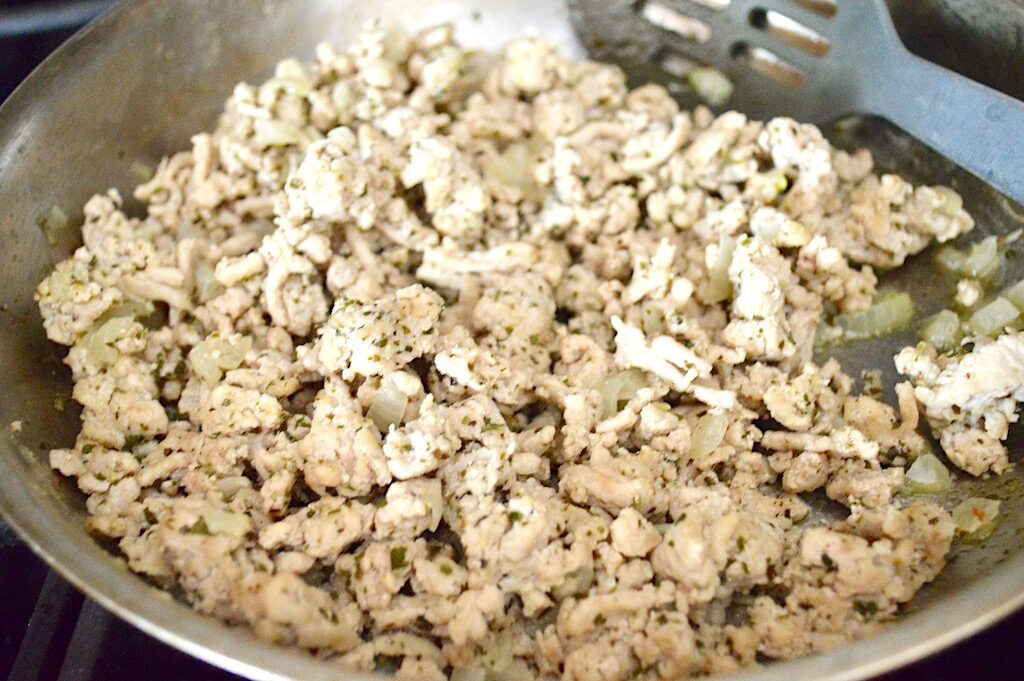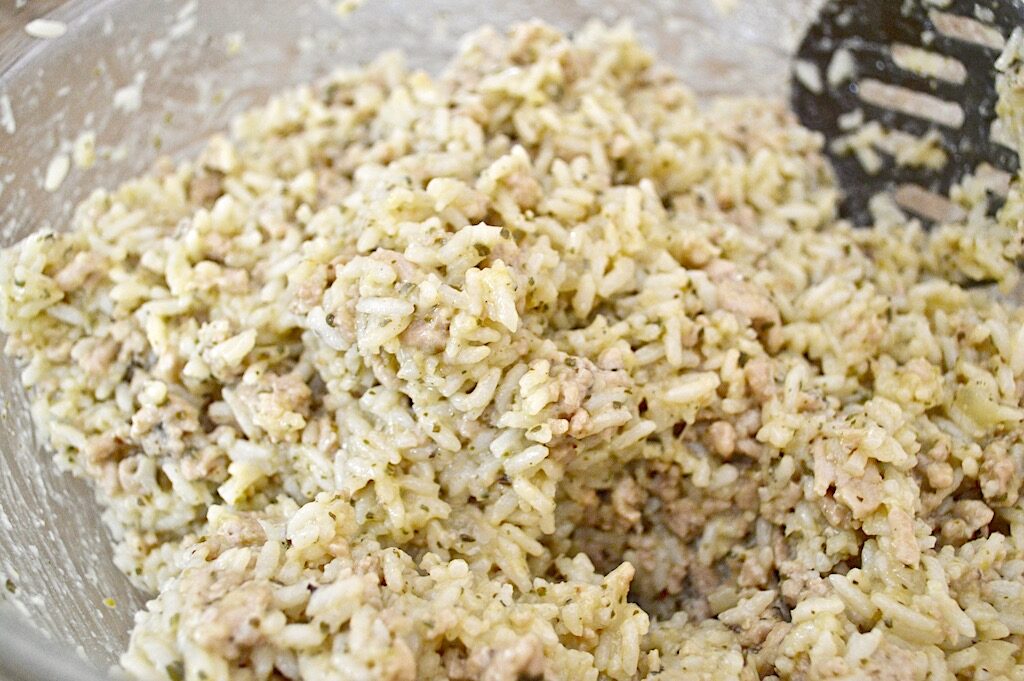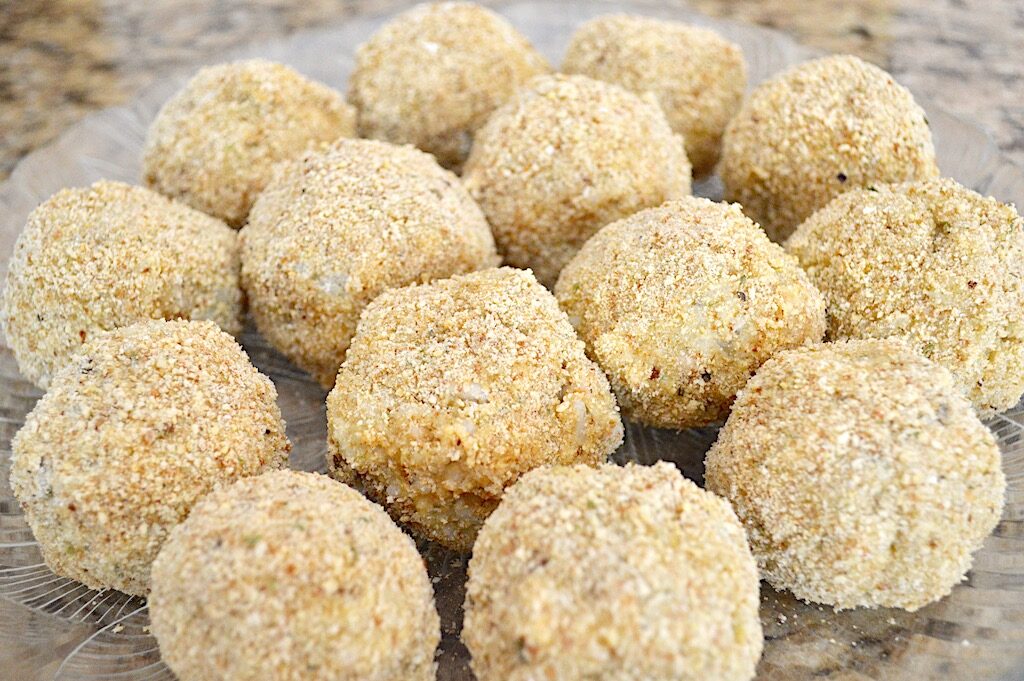 With the size I made my pesto chicken arancini, I ended up with 18 total. I fried them up in 3 batches of 6 and drained them on paper towel when they were done. It took about 3-4 minutes per batch to get that crisp, golden brown and glorious crust. Fried food is best served immediately so that's what I did. If you wanted to make them slightly ahead for a party you could transfer them to a sheet tray and put them in a 200 degree oven to keep them warm for about an hour. Oh my goodness, fried food is always good but these babies were sublime. The flavorful chicken and rice were so good together in that crust. Hope you all love them too! xoxo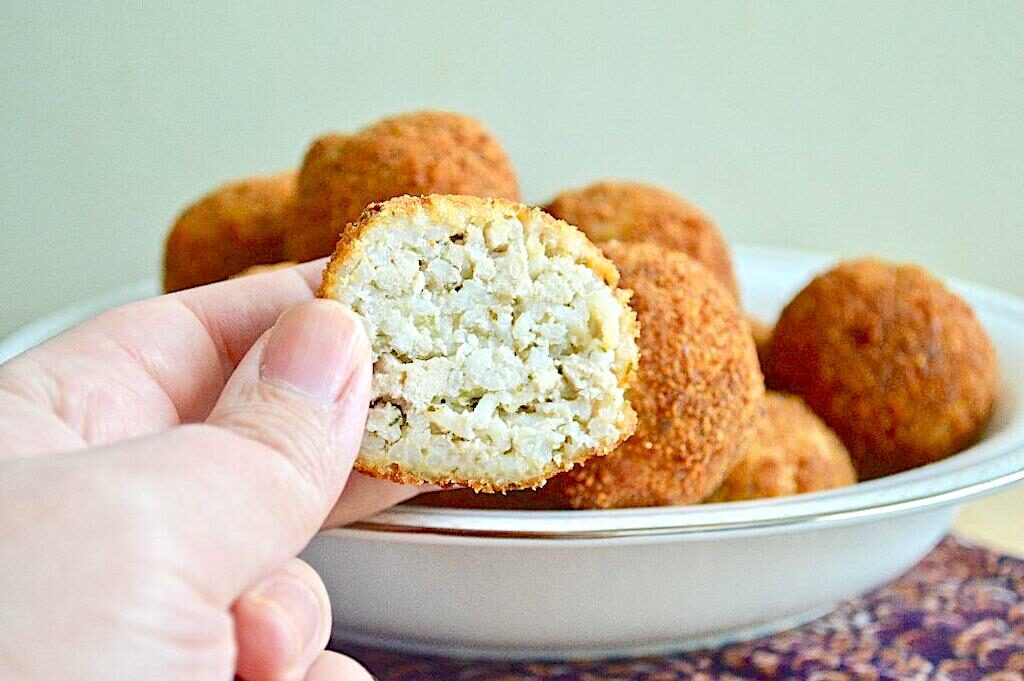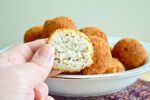 Pesto Chicken Arancini
When it comes to street food, it doesn't get much better than arancini. This pesto chicken arancini is incredible with so much texture and flavor.
Keyword:
Arancini, Pesto Chicken Arancini
Ingredients
3

cups

cooked rice

preferably day old

1

dash

olive oil

1

pound

ground chicken

1

whole

onion

diced small

2

pinches

salt

divided

2

pinches

black pepper

divided

4

tablespoons

basil pesto sauce

either homemade or jarred, divided

1/2

teaspoon

dried parsley

1/2

teaspoon

dried basil

1/2

teaspoon

garlic powder

4

whole

eggs

1

cup

freshly grated parmesan cheese

1 1/2

cups

all-purpose flour

1 1/2

cups

seasoned breadcrumbs

canola oil

for frying
Instructions
First, make sure your rice is cooked and cooled completely, preferably the day before. Then the day of making them, heat the olive oil in a large skillet. Brown the ground chicken in it for a few minutes, then add the onion, 1 pinch salt, 1 pinch pepper, a tablespoon of the pesto, the dried parsley, dried basil and garlic powder. Let it all cook together for a few minutes, until the liquid has cooked off and the pan is dried. Set it aside to cool. Combine the rice, cooled chicken mixture, the remaining pinches of salt and pepper, the remaining 3 tablespoons of pesto sauce, two of the eggs and the parmesan. Stir it all together thoroughly until it really sticks together well and almost forms a dough. Set up a breading line with the flour in the first bowl, the two remaining eggs whisked together in the second bowl, and the breadcrumbs in the third bowl, followed by a large plate or platter to hold the breaded arancini.

Make little balls of the rice mixture the size of your palm and put each one through the breading procedure with the flour first, then the eggs, then the breadcrumbs. When you've breaded all of your arancini, set the platter in the fridge for an hour to set. Once the chilling time is almost up, fill pot with 4-5 inches of canola oil and heat it up on medium high heat. Set a deep fry thermometer in to monitor the heat and make sure it gets to and stays around 350 degrees. Fry the arancini in batches of 6, with each batch taking about 3-4 minutes. They should get completely crisp and golden. Transfer them with a slotted spoon to a paper towel lined plate as you fry them so the grease drains. Serve immediately hot and enjoy!!
Nutrition Facts
Pesto Chicken Arancini
Amount Per Serving (2 arancini)
Calories 465
Calories from Fat 173
% Daily Value*
Fat 19.2g30%
Cholesterol 129mg43%
Sodium 385mg17%
Potassium 385mg11%
Carbohydrates 48.5g16%
Protein 21.9g44%
Calcium 170mg17%
Iron 8.1mg45%
* Percent Daily Values are based on a 2000 calorie diet.