I have this annoying habit of making way more food than Marc and I could possibly need. There are always lots of leftovers in the house. I don't know what possessed me to cook two cups of rice the other night, but once it was cooked it expanded to almost 5 cups. Marc and I love rice but 5 cups was just a ridiculous amount, so I wanted to figure out a fun way to use up the rest. My thoughts immediately went to beef arancini since I also had a package of ground beef begging to be used in the freezer. Beef arancini is such a classic Italian way of using up leftover rice and any other ingredients lying around. Not to mention that they are a great way to stretch ingredients in the most delicious package!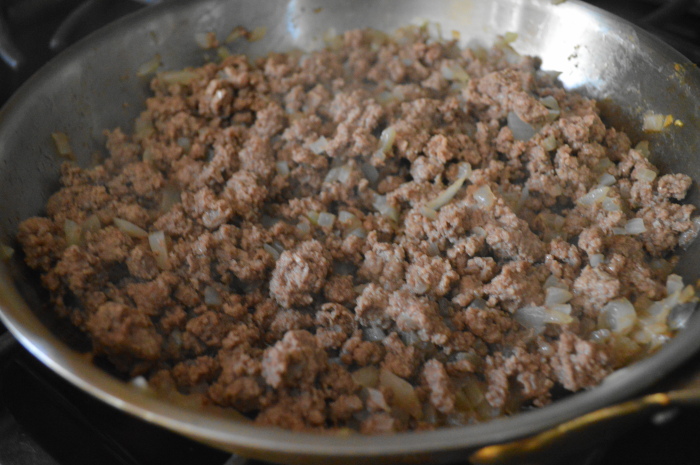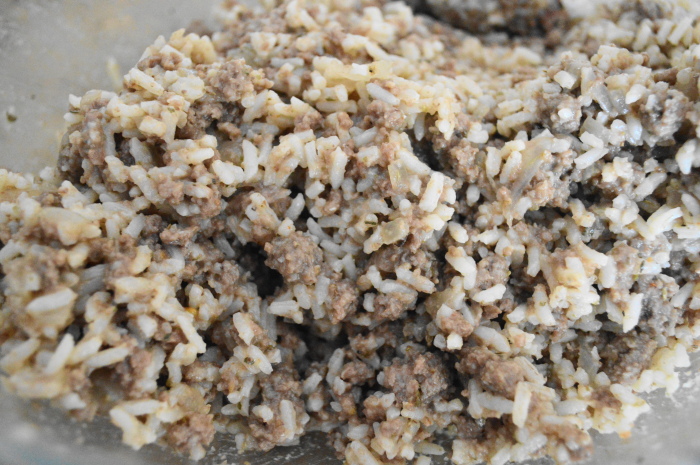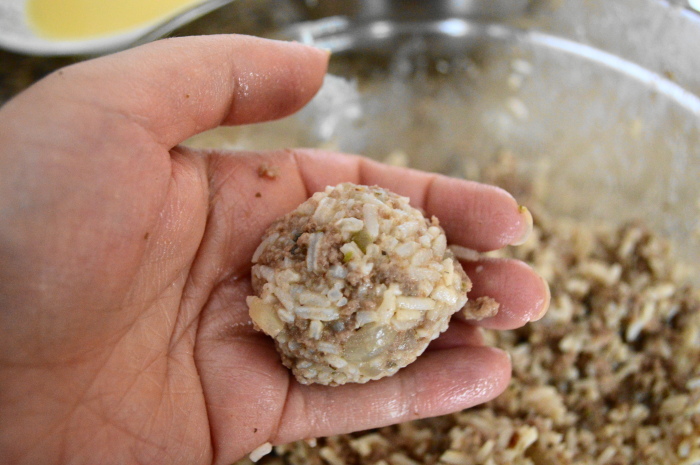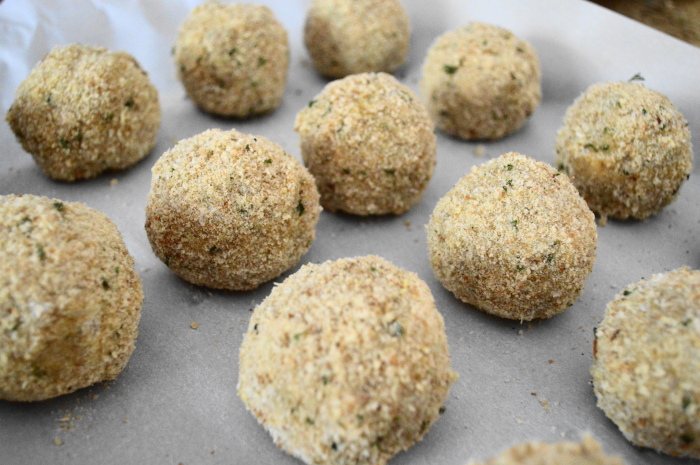 I served them fresh out of the fryer so that they were really hot and crispy. Oh my goodness, biting into that crunchy exterior and then getting to the tender, creamy interior was the most incredible sensation. There were so many layers of flavor from the beef and rice and they sang together in the most beautiful way. I was a very happy woman. Dipping them into warmed up marinara took them to an even higher level. I hope you enjoy this classic Italian street food! xoxo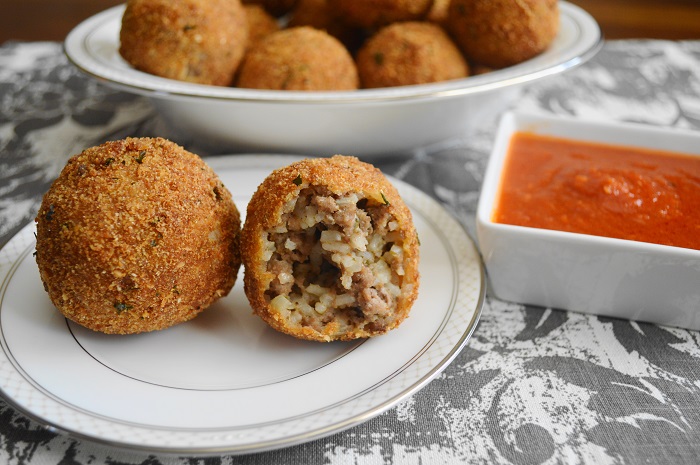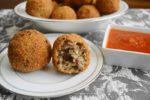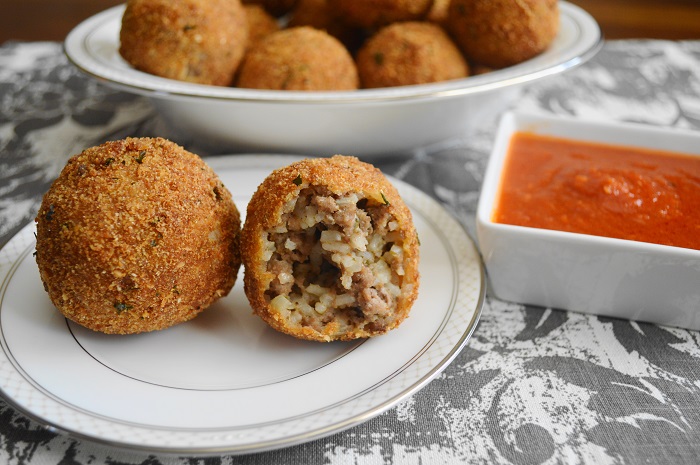 Beef Arancini
Beef arancini are such perfect bites of Italian street food. They are the most amazing way to use up leftover rice!
Keyword:
Beef Arancini, Rice
Ingredients
FOR THE RICE MIXTURE
1

dash

olive oil

1

whole

onion

peeled and diced small

1

pound

ground beef

1

pinch

hickory smoked sea salt

1

dash

worcestershire sauce

1

dash

Sriracha

1/2

cup

freshly grated asiago cheese

1/2

cup

freshly grated parmesan cheese

1

tablespoon

dried oregano

2

pinches

kosher salt

2

pinches

crushed red pepper

1 1/2

tablespoons

marinara sauce

plus additional warmed up for dipping

2

whole

eggs

3 1/2

cups

cooked white rice
FOR THE BREADING
1

cup

all-purpose flour

2

whole

eggs

1

dash

water

1

cup

seasoned breadcrumbs

vegetable oil

as needed for frying
Instructions
Heat the olive oil in a skillet over medium high heat. Add the onion and let it get fragrant for about 2 minutes. Add in the ground beef and brown it while you break it up with a spoon. As the beef cooks, flavor it with the hickory smoked sea salt, Worcestershire sauce and Sriracha. When it is well browned and done, take the skillet off of the heat and set it aside to cool.

In a large mixing bowl combine the freshly grated asiago, parmesan, dried oregano, salt, crushed red pepper, marinara sauce and eggs. Add the cooled beef mixture into the bowl. Lastly, the rice goes in. Dive in with your clean hands to gently mix it together into a uniform mixture.

Set up a breading line with the flour in the first bowl. In the second bowl whisk together the two eggs and water to make an egg wash. The breadcrumbs go into a third bowl. Then put a sheet tray lined with parchment on the end to hold the breaded arancini. On the stove, fill a large pot with about 7-8 inches of vegetable oil and heat it up over medium high heat. Use a deep fry thermometer to constantly monitor the temperature, you want the oil to get to about 330F.

While the oil heats up (which takes some time), bread the arancini. Take handfuls of the rice mixture about the size of your palm and roll them into firm balls. Put each rice ball through the breading line. First, roll it in the flour, then dip it in the egg wash, then thoroughly coat it in the breadcrumbs. Put the finished arancini on the prepared tray. Repeat until all of the mixture is rolled up into balls and the arancini are breaded.

The oil should be at 330F at this point. Fry the arancini in batches of 4 or 5. Anything more and it will be too crowded in the pot. It will take about 3 minutes for them to get perfectly golden. Remove them with a slotted spoon or spider and transfer them to a plate lined with paper towel so the oil can drain off. Repeat until they are all fried to perfection. Serve the arancini immediately with warm marinara sauce on the side for dipping. They are such an incredible and flavorful bite!
Nutrition Facts
Beef Arancini
Amount Per Serving (2 arancini)
Calories 316
Calories from Fat 125
% Daily Value*
Fat 13.9g21%
Cholesterol 93mg31%
Sodium 322mg14%
Potassium 143mg4%
Carbohydrates 34.1g11%
Protein 12.8g26%
Calcium 110mg11%
Iron 7.6mg42%
* Percent Daily Values are based on a 2000 calorie diet.
SaveSave