I've always loved eggplant so much. My Nana Lulu would make the most incredible eggplant parm, it was not the usual. The eggplant in hers was so delicate and cut painstakingly into little strips, then layered with her marinara and cheese. I am pretty daunted by the idea of replicating her magic (though I will try my best soon, stay tuned), but the love for eggplant remains strong. That's why when I came across a recipe for eggplant cakes in Anne Burrell's book Cook Like a Rockstar (amazing book!), I was intrigued by the idea. She is one of my culinary idols, and even taught at my school. Her recipe is the basis but I added loads of my own touches. I added the mushrooms, pine nuts, and balsamic vinegar. Using the sun-dried tomatoes instead of the fresh tomato in the original recipe was also a great switch. The results were these delectable Italian veggie cakes!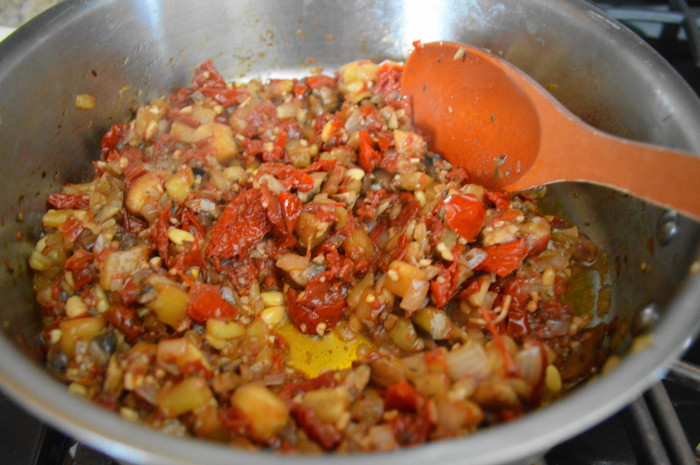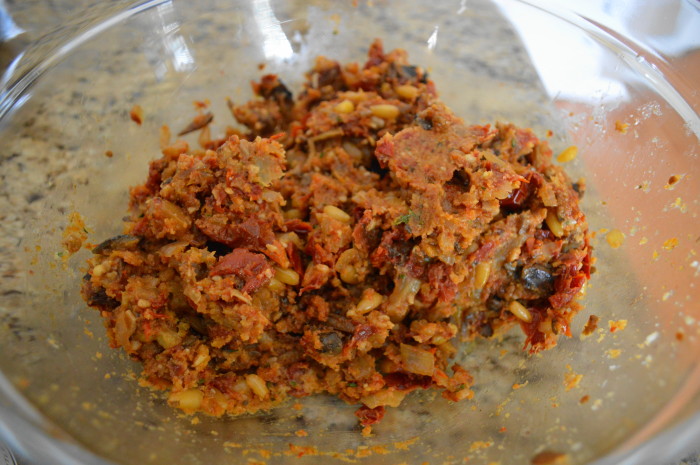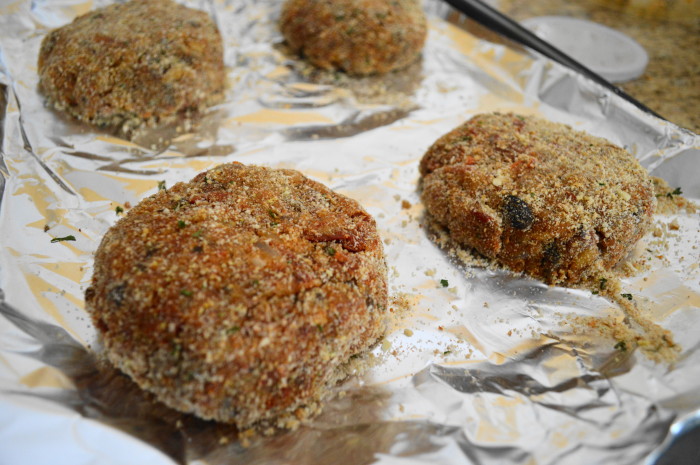 Once they were done baking, I took the Italian veggie cakes out and let them cool for a minute. Then I garnished them with a dollop of ricotta and a sprig of parsley to finish them up! Oh my goodness, I was transported to my Nana Lulu's kitchen. She would have loved this dish so much. These beauties were pure Italian goodness, friends! xoxo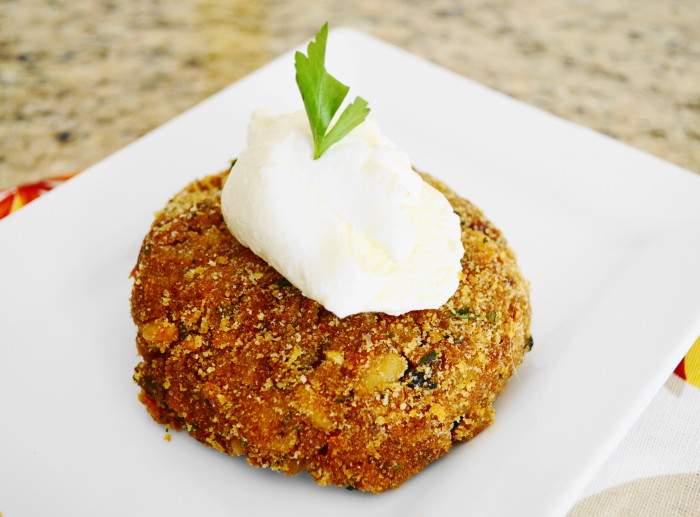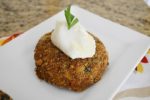 Italian Veggie Cakes
Ingredients
olive oil

as needed to lightly coat the pan

1

whole

eggplant

peeled and diced small

1

whole

onion

peeled and diced

4

ounces

cremini mushrooms

finely chopped

1

jar

sun-dried tomatos

10 ounce size, finely chopped

1

tablespoon

minced garlic

1/4

cup

pine nuts

1

dash

balsamic vinegar

1

whole

lemon

zested and juiced

1/2

cup

freshly grated parmesan cheese

1/2

cup

breadcrumbs

plus additional as needed for coating

1

whole

egg

ricotta cheese

as needed for topping

fresh parsley

as needed for garnish
Instructions
Coat a large pan in olive oil and heat it up over medium high heat. Add the eggplant, onion and mushrooms, letting them get soft but not too brown for about 5 minutes. Then add in the sun-dried tomatoes and garlic, letting them get fragrant for a couple of minutes. Pour in the pine nuts and the dash of balsamic, then reduce the heat to medium low and let the mixture meld, cook and become mushy for about 30 minutes, stirring often to keep it from burning. Mushy is good in this case! When it's done, take it off the heat and let it cool.

While the veggie mixture cooks and cools, pre-heat the oven to 400 degrees and line a baking sheet with foil. Lightly spray it with cooking spray. In a large bowl combine the lemon juice, lemon zest, parmesan cheese, breadcrumbs and the egg. Add the cooled veggie mixture to the bowl and mix it all together thoroughly. Divide the mixture into quarters, and then form each quarter into a ball. Coat the four Italian veggie cakes in breadcrumbs, place them on the prepared baking sheet and flatten them lightly into patties. Bake the Italian veggie cakes in the oven for about 15 minutes, until golden and completely cooked through.

Take them out when they are done and let them cool for 5 minutes. Then top each of the Italian veggie cakes with a dollop of ricotta. This is going to add such an amazing mouthfeel to the cakes. It gives them a needed hit of creaminess that sends them over the top. Add a little sprig of parsley on top to make them pretty and serve immediately!
SaveSave