Last night I made a tropical inspired dinner since I am still in vacation mode (and in denial that I am back in NJ). I made a yummy, tender chicken dish that you will hear all about tomorrow, so I needed a fresh and festive side dish with some starch. This creamy pineapple risotto fit the bill perfectly, let me tell you. It's time for a confession I think. Unless I go to Hawaii some day (I hope I do!) and get to pick one right off of the tree to eat (because I have images of pineapple trees in my head, even though they are really in fields), I have no patience or inclination to break down a whole pineapple. The fresh chunks that you can get in the fruit aisle of the grocery store are just fine with me!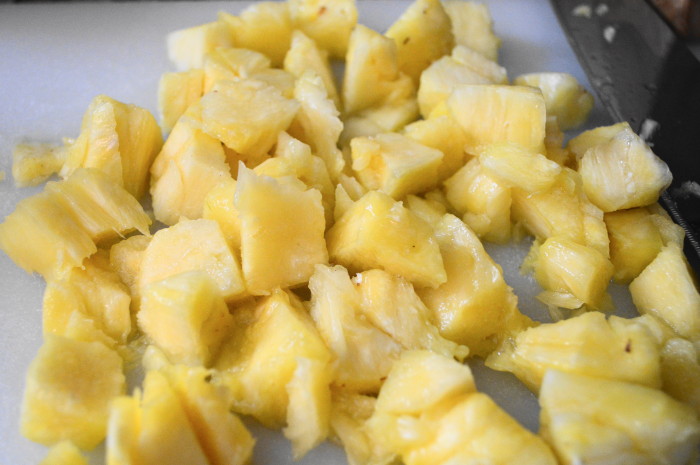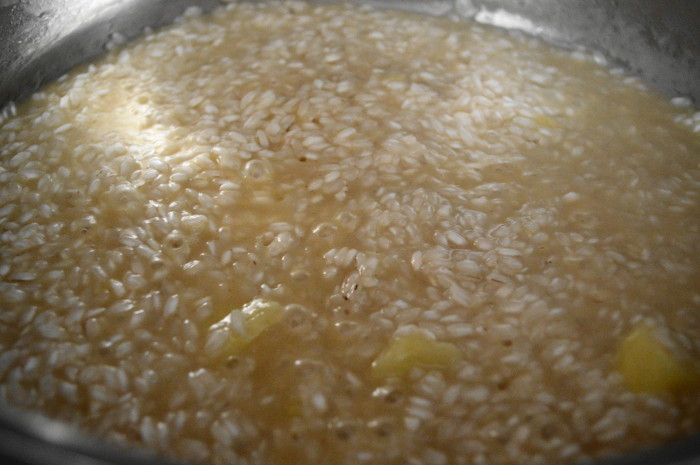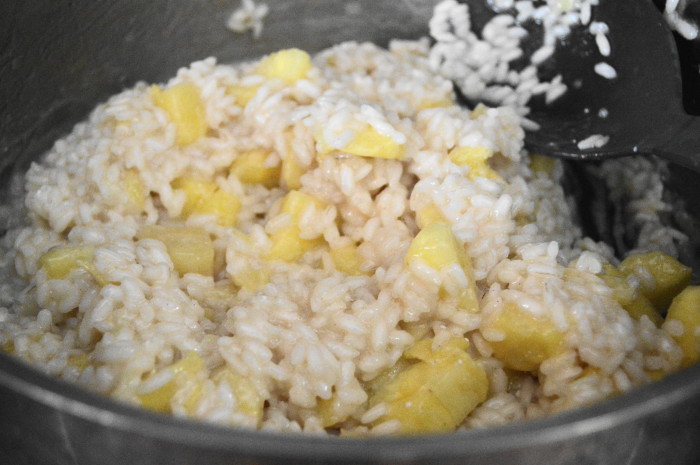 This had amazing sweetness and spice from the cinnamon and pineapple elements, but the chicken stock and ricotta kept it from going into rice pudding territory. For presentation, I just formed it into almost a little cake with my hands and topped it off with two huge chunks of pineapple for garnish. This pineapple risotto is the most perfect tropical side dish! Hope you all enjoy it too. xoxo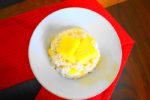 Pineapple Risotto
Ingredients
1/2

stick

butter

2

cups

fresh pineapple chunks

coarsely chopped

1 1/4

cups

arborio rice

1/2

cup

pineapple juice

1/4

teaspoon

cinnamon

1

pinch

salt

2 3/4

cups

chicken stock

1

tablespoon

ricotta cheese

Additional pineapple chunks

as needed for garnish
Instructions
Heat the butter in a large rondeau pan over medium high heat. Lightly cook the pineapple in it for about a minute, then remove it with a slotted spoon and set it aside.

Add the rice to the same pan and cook it in the buttery, pineapple flavored liquid for 30 seconds, just to lightly toast it.

Pour the pineapple juice into the pan and let it completely get absorbed by the rice, about 2-3 minutes. While that happens add in the salt and cinnamon for flavor. Also get a small pot on the stove with the chicken stock in it and just warm it up on low heat.

Ladle 1/3 of the chicken stock into the pan with the rice, then constantly stir while the rice absorbs that stock. Repeat with the next third of stock, still stirring constantly. Once that is absorbed add in the remainder of the stock and let the rice get fully cooked and tender while you still stir.

When the rice is cooked, take it off of the heat and stir in the cooked pineapple chunks and ricotta cheese. Then just plate and serve the pineapple risotto! I formed it into almost a little cake with my hands and topped it with two big chunks of pineapple for garnish.
SaveSave