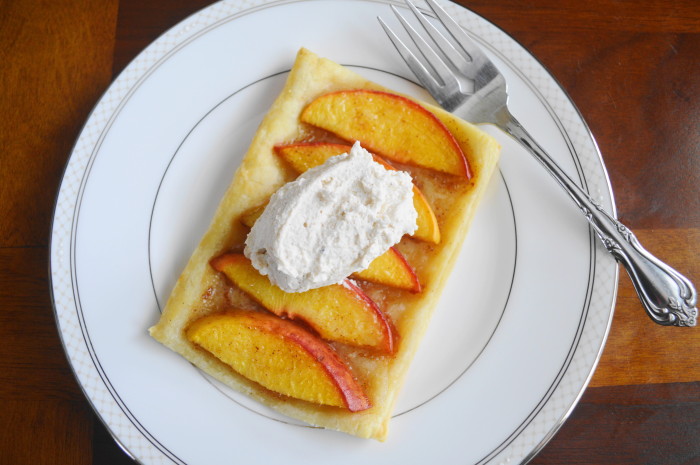 I love this time of year because the peaches look so darn amazing at my farmer's market! They are so fresh and juicy. I picked up a whole bunch of them and also had puff pastry sitting in my freezer. So I devised these super simple and incredible bourbon peach tartlets for dessert. The first thing to do was macerate the gorgeous peaches. Macerating is the same as marinating, just for fruit.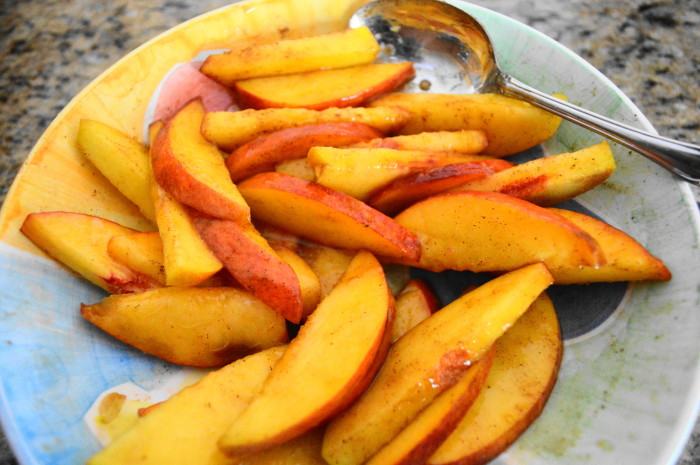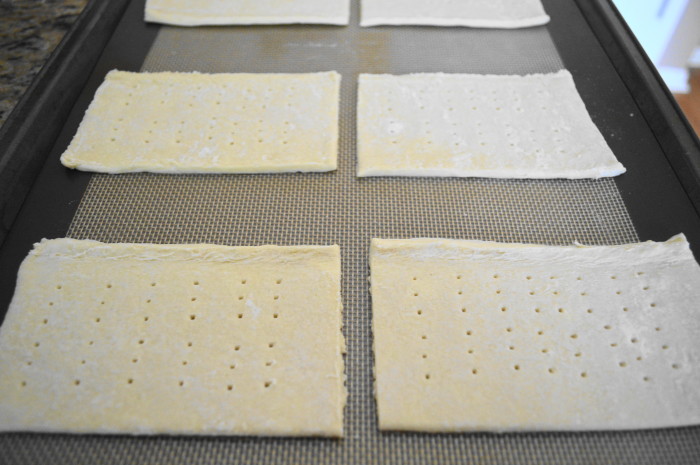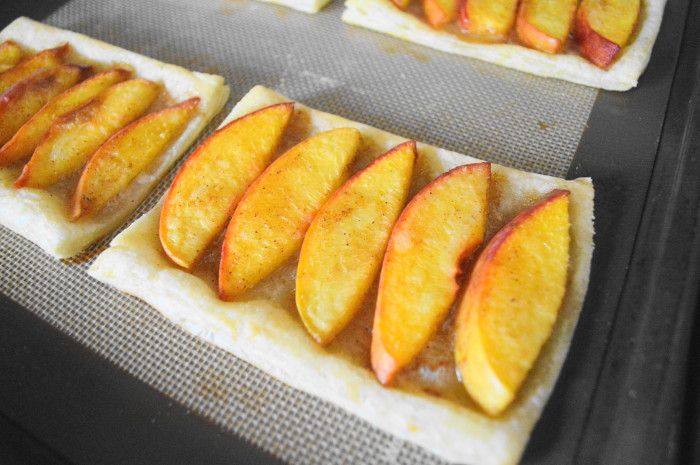 While they baked, I quickly made an amazing bourbon whipped cream to go on top. I just whipped up heavy cream with my hand mixer until it started to form stiff peaks. Then I beat in powdered sugar, cinnamon and bourbon on low speed just until it was completely mixed in. Once the tartlets came out and cooled a bit, I just topped them with the whipped cream and served! I loved how simple and relatively quick these bourbon peach tartlets were. I also loved how they celebrated those gorgeous, juicy farm fresh peaches I had! Enjoy, friends. xoxo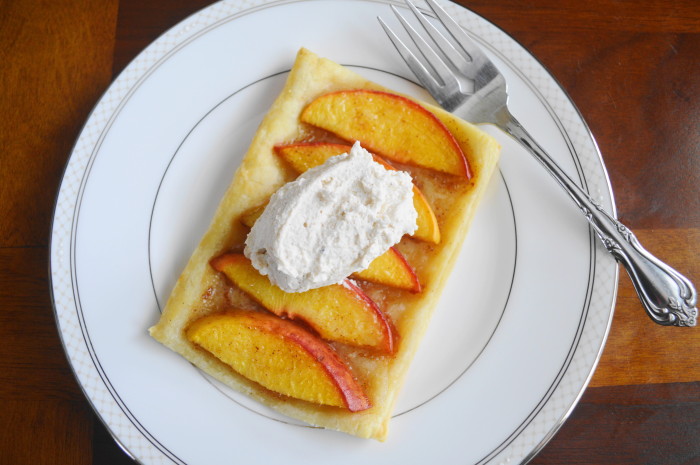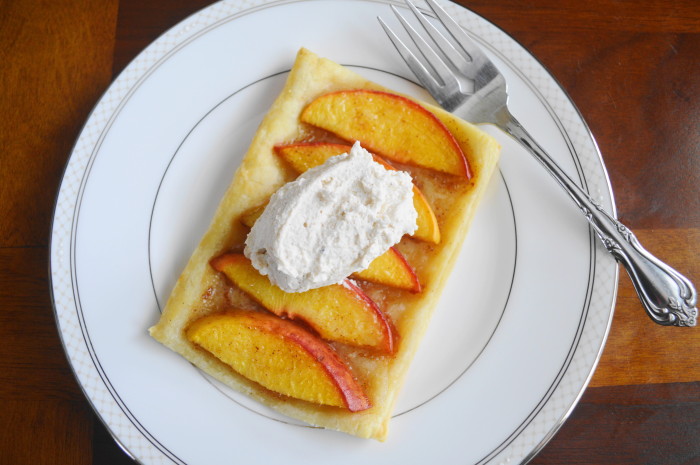 Bourbon Peach Tartlets
Ingredients
FOR THE PEACH TARTLETS
2

whole

peaches

pitted and sliced

1/2

tablespoon

bourbon

1/2

tablespoon

dark brown sugar

1/2

teaspoon

cinnamon

1

pinch

salt

1

dash

vanilla extract

1

sheet

frozen puff pastry

thawed

1

tablespoon

butter

melted
FOR THE WHIPPED CREAM TOPPING
1

pint

heavy cream

4

tablespoons

powdered sugar

1/2

teaspoon

cinnamon

plus additional for sprinkling on top

1/4

teaspoon

bourbon
Instructions
In a bowl, combine the peach slices, bourbon, brown sugar, cinnamon, salt and vanilla. Stir it together completely to make sure the peach slices get well coated in the mixture. Set the bowl aside to let them macerate for 15 minutes.

While the peach slices macerate, pre-heat the oven to 350 and line a baking sheet with a silicone mat or parchment paper. Take the thawed puff pastry sheet and cut it along the lines it already has from being folded into thirds. Cut each third in half to have 6 small pieces of puff pastry for the tartlets.

Lightly score a border into each piece of puff pastry and dock them all with a fork within the border. This will keep the inside from puffing up to have a puffy outer crust. Arrange the peach slices down the length of each tartlet. 4 or 5 slices should fit on each tartlet. Brush each tartlet with the melted butter, then get them into the oven for 20-25 minutes.

While the tartlets bake, prepare the luscious whipped cream. Pour the heavy cream into a large bowl or stand mixer bowl. Use a hand mixer or the whisk attachment to whip it up just until it forms into whipped cream. Add the powdered sugar, cinnamon and bourbon and gently beat them in. That's all there is to making an amazing whipped cream! There will be loads leftover to go on ice cream and other sweet goodness.

Take out the tartlets when they are done and allow them to cool for a few minutes. Then just plate them and top them with a big dollop of the amazing whipped cream!