I love taking some of my favorite family dishes and putting a big old twist on them. One of the best dishes my Dad makes is his basil pesto sauce with sausage over rigatoni, I love it so much. This recipe is the same basic idea, only with a few easy substitutions to make it just a little more lean and nutritious! Instead of sausage I made the most incredible asiago spinach chicken meatballs. They got paired with a delectable kale walnut pesto and put over pasta. Oh my goodness it was pure Italian heaven!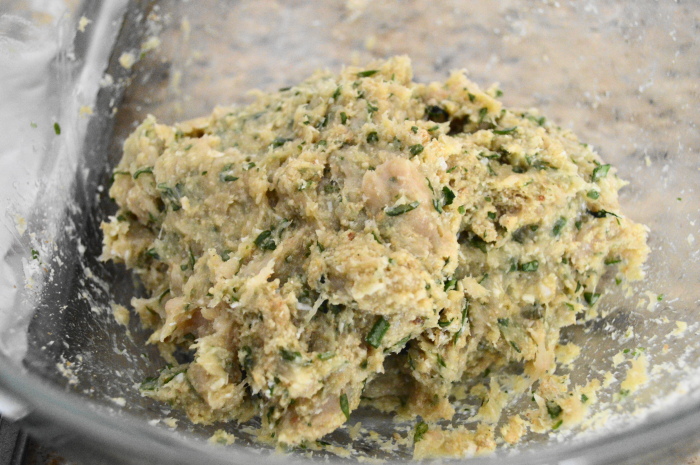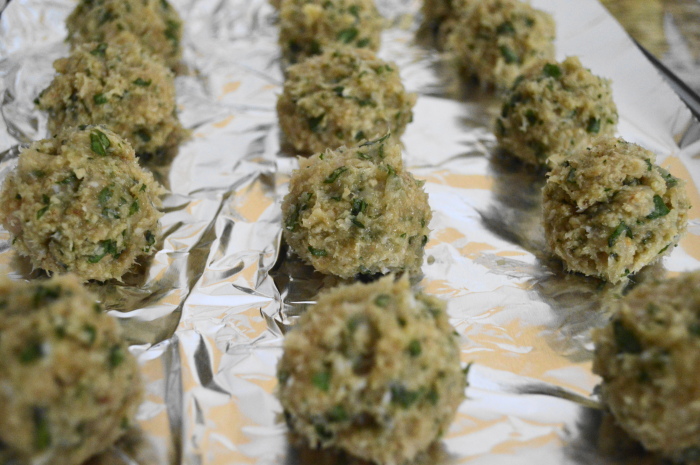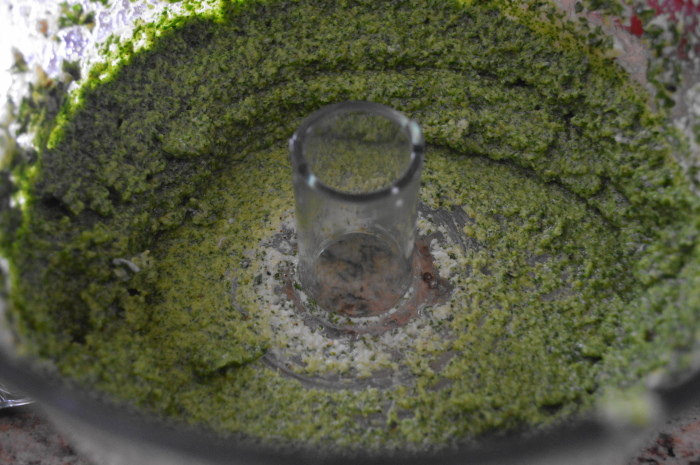 After that, everything just got tossed together. I stirred my cooked pasta with the meatballs and sauce. Then it was ready to serve! I can't even tell you how happy this dish made me. The asiago spinach chicken meatballs were so incredibly tender, moist and full of flavor. With the creamy pesto sauce and tender pasta it was a complete home run. The best part here was that I got it on the table in just about 30 minutes! Oh, and if you have little ones in your house that are morally opposed to leafy greens this is a fantastic and delicious way to sneak them in. Mangia and enjoy, the handy printable is just below!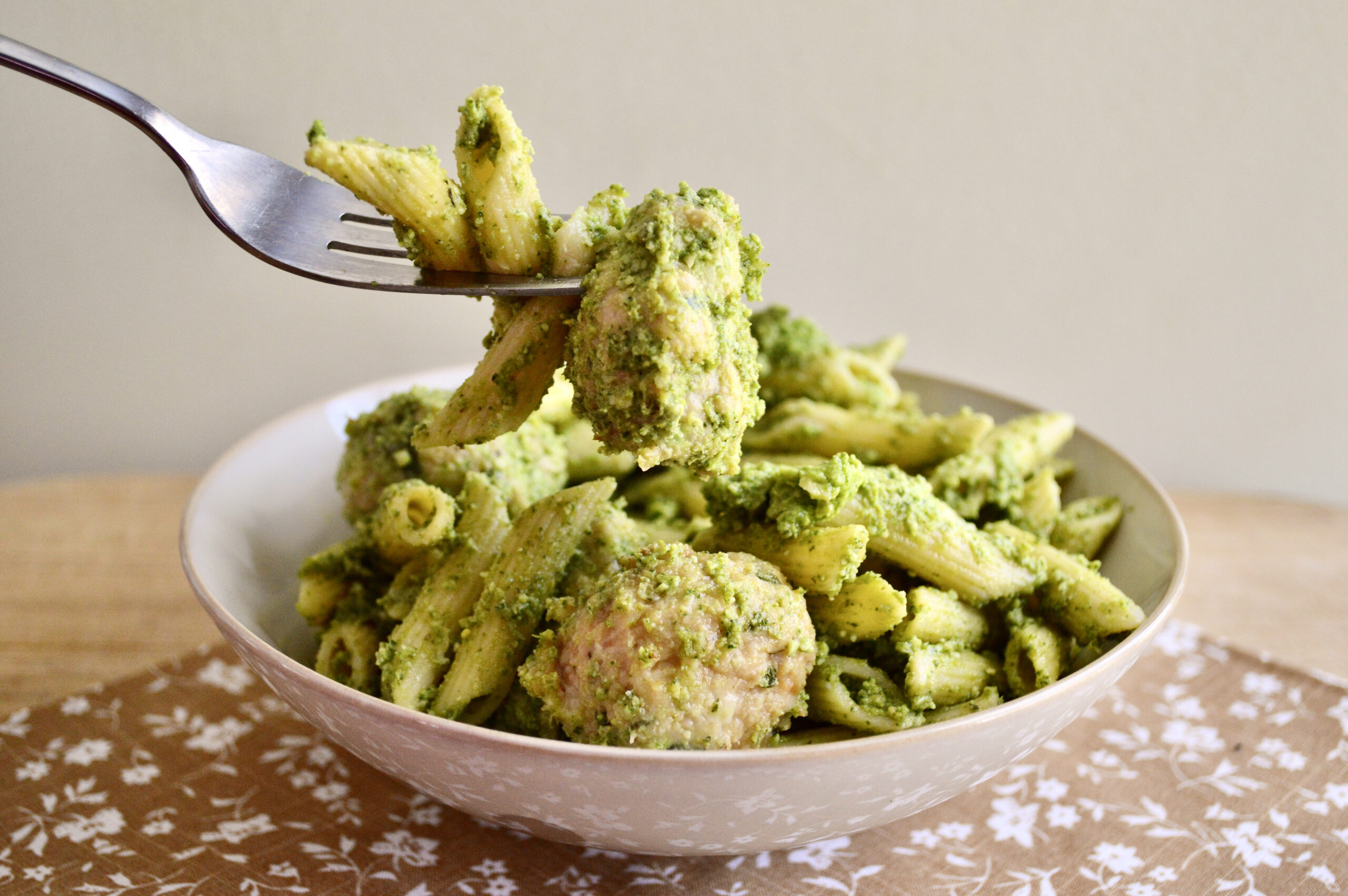 SaveSave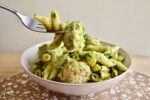 Asiago Spinach Chicken Meatballs
Ingredients
FOR THE MEATBALLS
1

pound

ground chicken

3/4

packed cup

baby spinach leaves

finely chopped

1/2

cup

freshly grated asiago cheese

1/2

cup

seasoned breadcrumbs

2

pinches

truffle sea salt

1

dash

worcestershire sauce

1

dash

Sriracha

1

whole

egg
FOR THE PASTA
4

packed cups

kale leaves

6

cloves

garlic

peeled

1/2

cup

freshly grated asiago cheese

1

cup

chopped walnuts

1

pinch

truffle sea salt

1/2

cup

olive oil

plus additional for finishing

1 1/2

tablespoons

milk

1

pound

short dry pasta

like fusilli
Instructions
First, make the meatballs. Pre-heat the oven to 350 degrees and line a baking sheet with aluminum foil. In a large mixing bowl combine the ground chicken, spinach, asiago cheese, breadcrumbs, salt, Worcestershire sauce, Sriracha and the egg. Give it a thorough mix together with your hands.

Take small handfuls of the mixture about the size of your palm and roll them into balls, then get them onto the prepared baking sheet. Get the meatballs into the oven to bake for 20 minutes, until cooked through and slightly crisp on the outside.

While the meatballs bake, prepare the pasta and pesto sauce. Get a large pot of salted water onto the stove and bring it to a boil. When it is boiling pour the pasta in and let it cook until just tender, about 8 minutes.

While the water comes to a boil and the pasta cooks, quickly make the easy pesto sauce. Get out the food processor, and in the bowl combine the kale, garlic, asiago cheese, walnuts, salt, olive oil and milk. Run the processor until the mixture is a creamy, paste like sauce.

The meatballs should be done by this point, take them out and let them rest a minute. The pasta should also be perfectly done at this point. Before you drain it, reserve 1/4 cup of the cooking water and set it aside.

Drain the pasta and get it back into the pot it cooked it. Spoon the pesto sauce all over it. Then add the meatballs and reserved cooking water to the pot and toss it all together. Finish the dish with a big additional drizzle of olive oil.

Scoop the pasta and meatballs into big bowls and serve immediately. Mangia and enjoy!
SaveSave