I am very fortunate to have the best friend a girl could ever ask for from the time we were both eleven. We have gone through everything together and I love her like a sister. She married an absolutely wonderful man and he is quite passionate about food like me. His parents are from El Salvador and Ecuador, so it was he who introduced me to the wonders of Salvadoran pupusas. The first time I ate one at their house, I became obsessed. They were so unlike anything I had ever eaten and I was blown away by the flavors and textures. So I embarked on the daunting task of making them at home! They fit in so well with this blog even though they were outside of my comfort zone. My friend's husband spoke with so much love and pride when he talked about his grandmother's pupusas. It reminded me of how I feel about my grandmothers and their cooking. So with his guidance, a little research and my culinary instincts I put together a recipe that I hope would make her proud!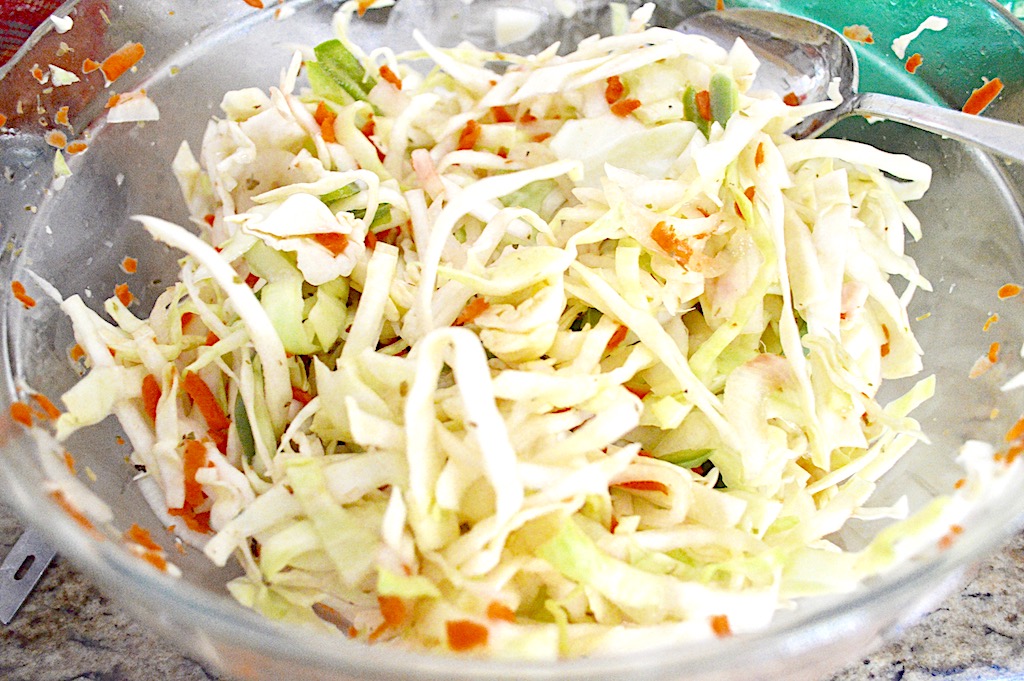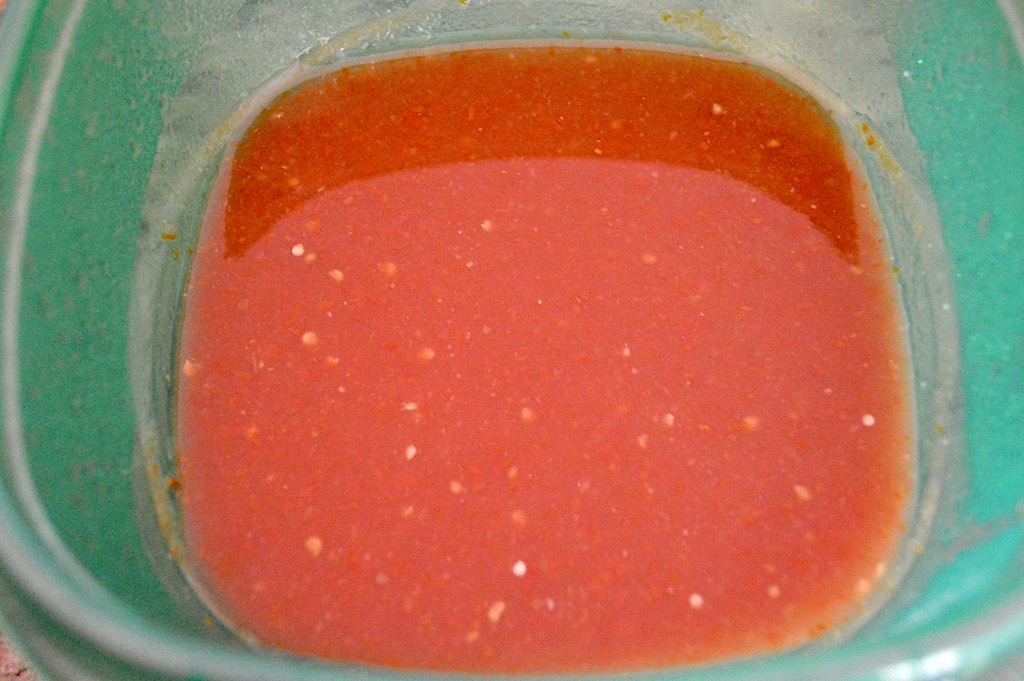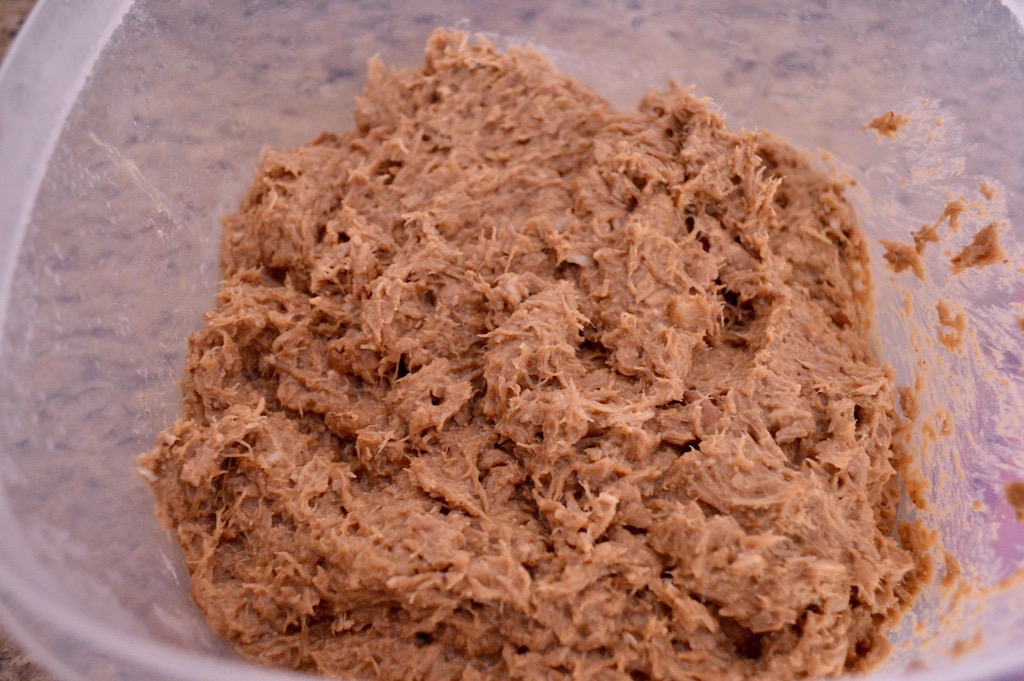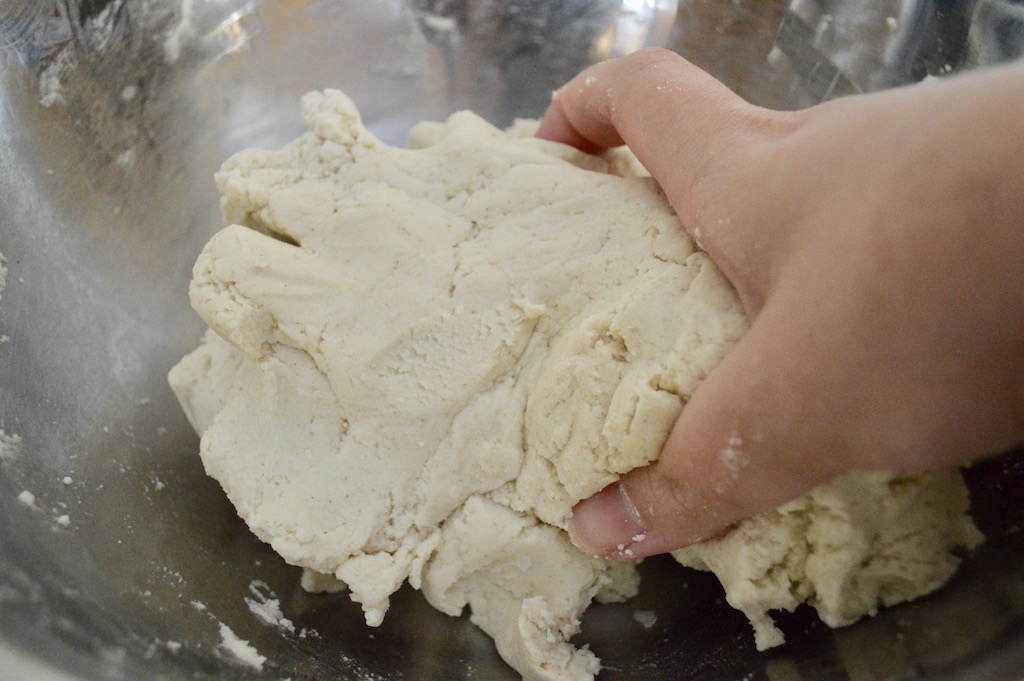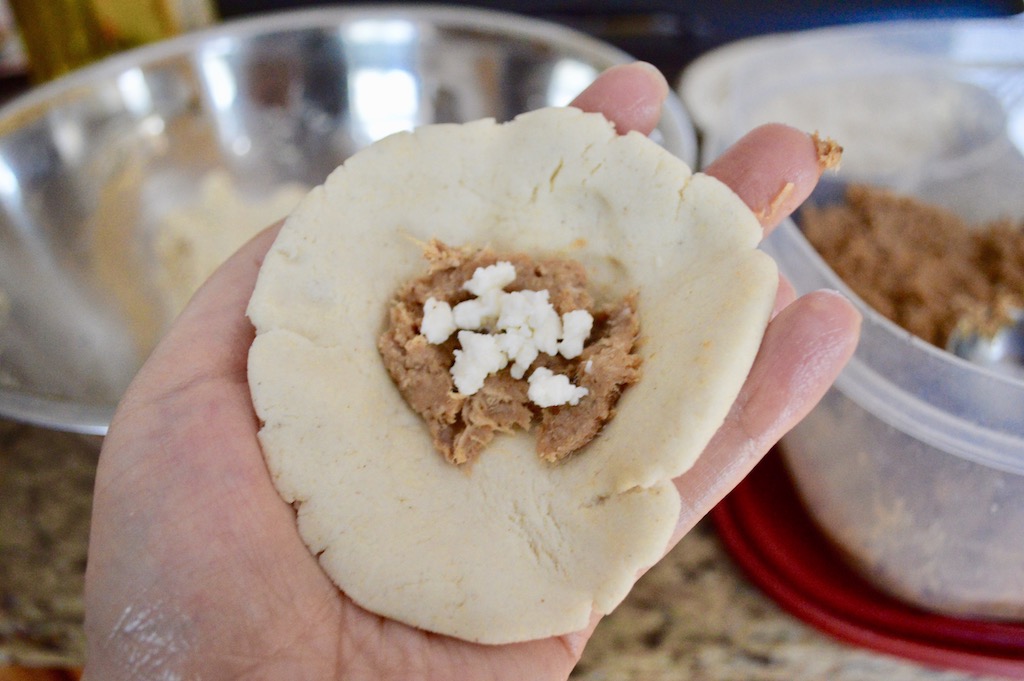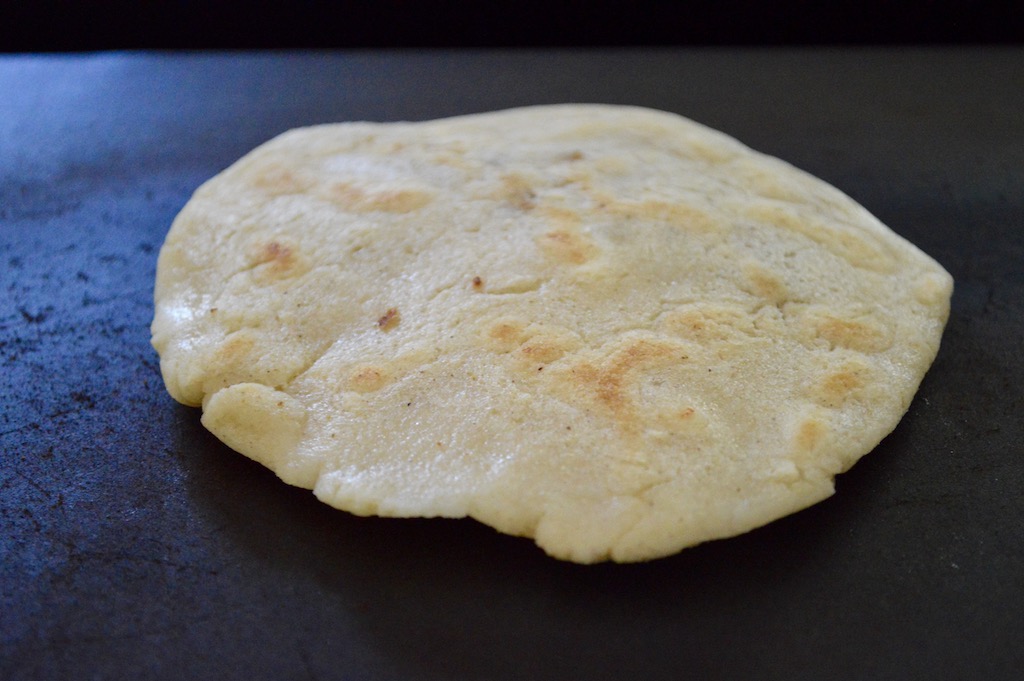 I formed and cooked the Salvadoran pupusas until the dough was all gone. There was filling leftover, so I planned on making tacos with it. Then I just served the pupusas warm with the salsa roja and curtido on top. Biting in made me so happy. The masa dough was pillowy and so flavorful with the hearty, aromatic filling. The crunchy slaw and gorgeous sauce brought it all together gloriously. It was a lot of work, but so fun to take a trip to El Salvador right in my own kitchen. Hope you all enjoy this classic Latin dish! xoxo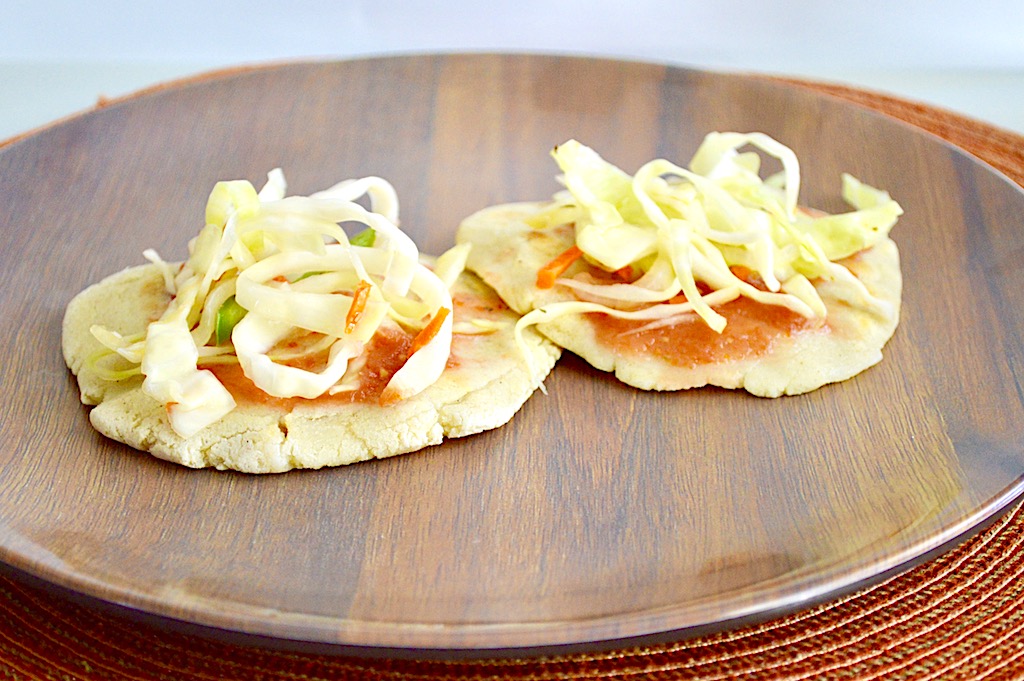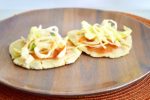 Salvadoran Pupusas
Salvadoran pupusas are just pure flavor with an amazing pork, refried bean and queso fresco filling, served with curtido and salsa roja!
Keyword:
Pupusas, Salvadoran Pupusas
Ingredients
FOR THE CURTIDO
1

head

cabbage

cored and shredded

2

whole

carrots

grated

2

whole

jalapeno peppers

seeded and thinly sliced

1

whole

onion

thinly sliced

2

teaspoons

salt

1/2

teaspoon

dried oregano

1/4

teaspoon

coriander

1/2

cup

apple cider vinegar

1 1/2

cups

warm water
FOR THE PUPUSAS
1

dash

olive oil

plus additional as needed

1

whole

jalapeno pepper

seeded and quartered

1

whole

onion

thinly sliced

4

cloves

garlic

2.5

pounds

pork shoulder

1

teaspoon

Lawry's seasoned salt

1/2

teaspoon

dried oregano

1/4

teaspoon

smoked paprika

1

dash

worcestershire sauce

2

teaspoons

tomato paste

2 1/4

cups

chicken stock

2

whole

bay leaves

1

can

refried beans

16 ounce size

6

cups

Maseca Masa Flour

1

teaspoon

salt

5 1/2- 6 1/2

cups

warm water

8

ounces

queso fresco

crumbled finely
FOR THE SALSA ROJA
2

whole

tomatoes

quartered

1

whole

jalapeno

seeded and quartered

1

whole

onion

quartered

1/2

teaspoon

salt

1/4

teaspoon

garlic powder

1/2

cup

water
Instructions
The curtido really needs to sit at least overnight, so prepare that first. Toss the shredded cabbage, carrots, jalapeño, salt, oregano and coriander together well in a large, glass bowl that has a sealable lid. Pour the apple cider vinegar and warm water over it and give it all another thorough toss. Seal the bowl with the lid and let it sit in the refrigerator overnight to meld together.

Next, start on the filling. This can also be done the day before or on the day you want to make the pupusas. Get out a large dutch oven and heat the dash of olive oil in it over medium high heat. Cook the jalapeño, onion and garlic in it for a minute to get them fragrant. Then add the pork in and brown it on all sides. It does not need to be cooked through at this point, just brown. Season it while it browns with the seasoned salt, dried oregano and smoked paprika. Once it is browned and seasoned, add the Worcestershire sauce and tomato paste and let them cook with it for a minute. Finally, add the chicken stock and bay leaves. Let the chicken stock come to a boil, then reduce it to a simmer. Cover the pot with its lid and let the pork simmer low and slow for 3 hours.

While the pork cooks, make the red sauce (salsa roja) for topping the pupusas. This can also be done either the day before or the day of making the pupusas. Combine the tomato, jalapeño, onion, salt, garlic powder and water in a large blender. Blend it until it is smooth and liquified. Then pour it into a small pot and heat it up over medium high heat. Let it gently bubble for 5-10 minutes until it cooks through and turns into a gorgeous, thin red liquid. Seal it in a container and refrigerate it until you are ready to use it.

Once the pork is done cooking, remove it from the pot and bring the liquid up to a gentle boil again. Shred the pork off of the bone and discard the fat back. Then return the shredded pork to the pot and also add the refried beans. Let it all cook together until the liquid is pretty much cooked off for about 15 minutes. Take the pot off of the heat and let it cool for 10 minutes. Set up a food processor and transfer the cooled mixture into its bowl. Pulse it a few times to make it a fine, uniform mixture. At this point you can put the filling in a sealed container and refrigerate it.

When you are ready to make the pupusas, put together the simple masa dough. Combine the flour and salt in a large bowl. Then start by pouring 5 1/2 cups of the warm water in. With clean hands, work it all together into a dough. If it is still a little crumbly, add more water gradually and keep working it until it is a soft, slightly wet dough. Then get out an electric griddle and heat it up to 375.

Grease your hands liberally with olive oil. Then take a 1/4 cup portion of the dough and roll it into a smooth ball. Press it with your hands into a disc and transfer it between your hands while you press firmly to thin it out. It is basically like clapping hard while you transfer it between your hands. Then take a tablespoon of the pork filling and a pinch of the queso fresco and place it in the middle of the disc. Bring the edges over the filling almost like closing a dumpling. Since it will almost be like a little ball at this point, smooth out the ball in your hands and press it out again into a thin disc with the filling inside.

Get the pupusa onto the hot griddle and cook it for about 3 minutes on each side. It should get golden with little sun spots on the outside. Keep forming and cooking the pupusas this way until the dough is all used up. As they finish cooking, transfer them to a plate and cover them with foil to keep them warm. There will be some pork filling and cheese leftover. They go perfectly in tacos for leftovers! Serve the pupusas warm with the salsa roja and curtido on top. They also make great leftovers and reheat well in the oven!
Nutrition Facts
Salvadoran Pupusas
Amount Per Serving (3 pupusas)
Calories 514
Calories from Fat 221
% Daily Value*
Fat 24.6g38%
Cholesterol 57mg19%
Sodium 838mg36%
Potassium 391mg11%
Carbohydrates 53.7g18%
Protein 21.6g43%
Calcium 90mg9%
Iron 5.8mg32%
* Percent Daily Values are based on a 2000 calorie diet.
SaveSave