Alfredo sauce has always been one of my absolute favorites. It's everything I could want in a sauce, really. It's simple to make, doesn't require low and slow cooking like a traditional marinara, and of course so darn yummy. My Nana Lulu would make it often with her handmade fettuccine, so it is also pure memories of her Sunday suppers. This version will never be able to match hers, but it sure comes close. The roasted garlic just makes it. It has become my habit to just always have a head of roasted garlic on hand. I use it in everything and it keeps beautifully.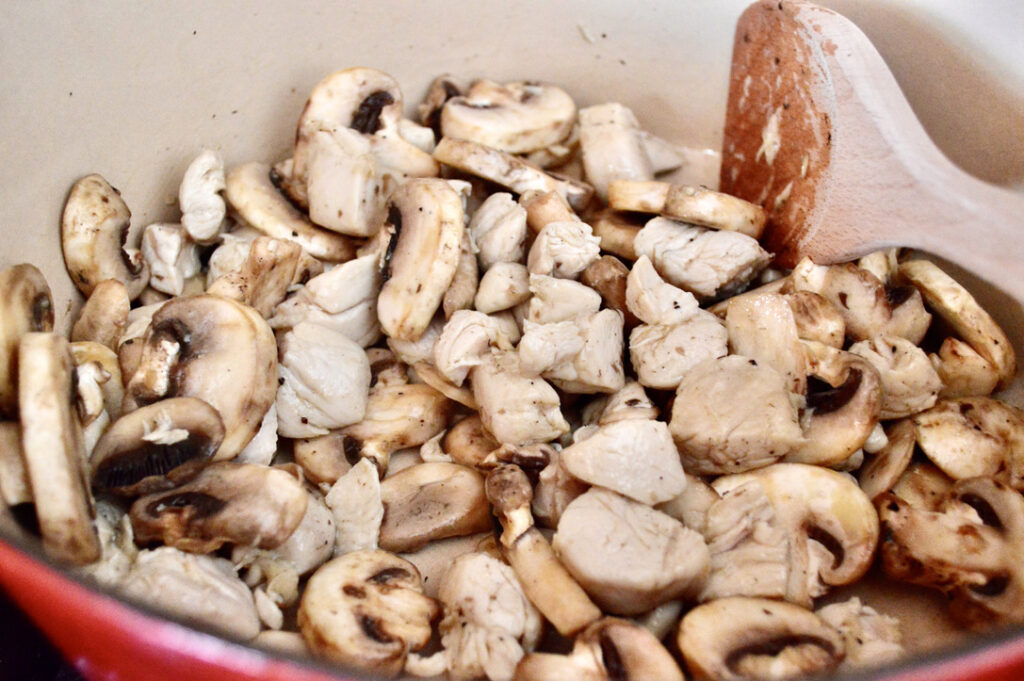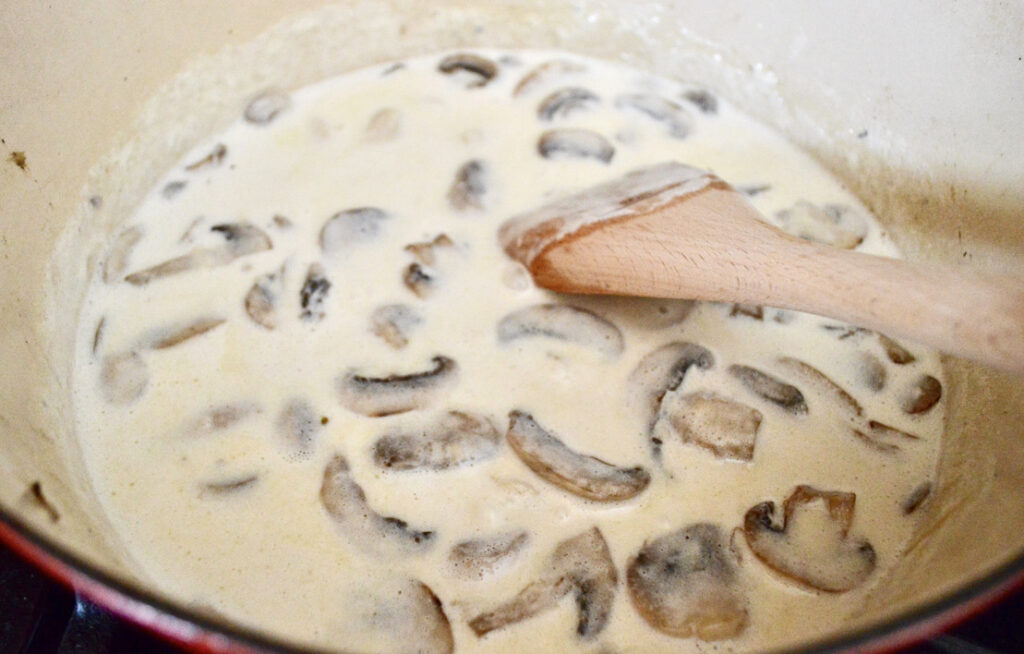 While that happened, I just boiled a pound of penne until it was tender. Then it just went into the pot with everything else! I had this dinner on the table in about 30 minutes, which made my hungry stomach happy. The roasted garlic gave it such a depth of flavor without being overpowering. The chicken and mushrooms made it so satisfying. Hope you love this simple, wonderful meal as well! xoxo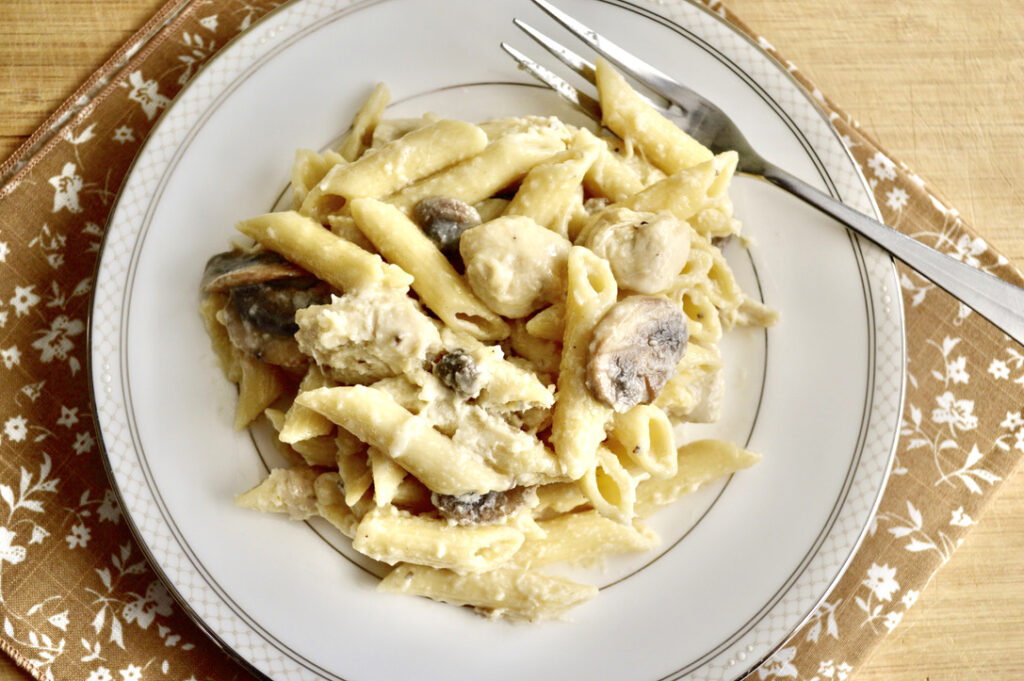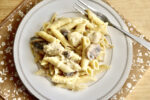 Roasted Garlic Chicken and Mushroom Alfredo
This is such a simple and wonderful dish with lots of tender chicken and mushrooms in a completely luscious roasted garlic alfredo sauce over penne pasta!
Keyword:
Pasta, Roasted Garlic Alfredo
Ingredients
1

dash

olive oil

1

pound

boneless, skinless chicken breast

diced small

8

ounces

white mushrooms

thinly sliced

salt

as needed

freshly ground black pepper

as needed

10

cloves

roasted garlic

divided and mashed. *prep ahead of time, see note

1 1/2

sticks

butter

2

cups

heavy cream

1/2

cup

milk

1 1/2

cups

parmesan cheese

1

pound

penne pasta
Instructions
Get out a sturdy large pot or dutch oven and heat the olive oil in it over medium heat. Also get a separate pot of water on the stove and let it come to a boil for the pasta. Brown the chicken in the olive oil until it is cooked through. Add in the mushrooms and let them get soft and tender while you stir them with the chicken. Season the mixture with generous pinches of the salt and pepper. Finally, stir in 5 cloves of the roasted garlic to flavor it all. Let it all meld together for a minute, then remove it to a plate to start on the sauce in the same pan.

Combine the butter, heavy cream, milk, remaining roasted garlic, and more generous piches of salt and pepper in the pot. Let it all come to a low boil and start to thicken for about 10-15 minutes, stirring often. Stir in the parmesan to let it melt in. Meanwhile, while the sauce is cooking, boil the pasta until tender for about 8 or so minutes. Add the chicken and mushroom mixture back into the pot of sauce and let it cook in it for a minute. Then drain the pasta and stir it in to the sauce. Serve up big bowls of it immediately and enjoy!
Recipe Notes
*to roast garlic, pre-heat the oven to 400. Remove the outer paper layers of a head of garlic and cut the top tip off to reveal the cloves inside. Dizzle the top with a little olive oil, then wrap it in foil and roast it in the oven for an hour. Perfection, it has so many uses! It can be stored in the refrigerator for weeks.
Nutrition Facts
Roasted Garlic Chicken and Mushroom Alfredo
Amount Per Serving (1 bowl)
Calories 620
Calories from Fat 316
% Daily Value*
Fat 35.1g54%
Cholesterol 148mg49%
Sodium 504mg22%
Potassium 391mg11%
Carbohydrates 45.1g15%
Protein 41.6g83%
Calcium 365mg37%
Iron 3mg17%
* Percent Daily Values are based on a 2000 calorie diet.