Pasta e fagioli is really the soup of my dreams. It's hearty, thick and so flavorful without being heavy. Having my Nana Lulu's version with a sandwich growing up was one of my favorite lunches in the world. Because she didn't write anything down and cooked everything by feel, I came up with this version based on what I remember.
The absolute best part was that this whole soup came together in one pot. I love having less dishes to do! Oh my goodness, it was so flavorful and satisfying. It made a fantastic light dinner with crusty bread and then even better lunch the next day! I think my Nana would have been proud of this version. Hope you all enjoy this Italian classic! xoxo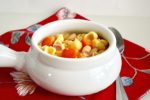 Servings

Prep Time

6

15

minutes
Servings

Prep Time

6

15

minutes
Servings

Prep Time

6

15

minutes

Servings

Prep Time

6

15

minutes
First, prepare the herb bundle. Tie the bay leaves, thyme and rosemary together into a tight package with kitchen twine, called a bouquet garni. Set it aside. Get out a sturdy dutch oven and heat the olive oil in it over medium high heat. Cook the diced pancetta in it until it just starts to render out its fat and crisp up. Add the garlic, carrots and onion and let them soften with the pancetta for a couple of minutes. Then pour in the beans with their liquid and the chicken stock. Season the mixture with generous pinches of the salt and pepper and add the bouquet garni.

Bring the soup to a gentle boil, then reduce it to a simmer. Let it simmer for 30 minutes so that the flavors can meld, stirring occasionally. When the 30 minutes are up, remove the bouquet garni and get out a blender. Scoop a cup of the soup into the blender and blend it until it is smooth and thick. Pour it back into the pot of soup and bring it back up to a gentle boil. Add the small shells in and let them cook in the soup until tender for about 8-10 minutes. Take it off of the heat and stir in the parmesan cheese and an extra drizzle of olive oil to finish it. Serve immediately with crusty bread!