The combination of shrimp with pasta is my favorite dinner combination in the world. It makes sense since it brings together my two favorite foods, ha! Coming up with different flavors and ways of preparing it is a lot of fun and always makes me think of my Nana Lulu. I can never think of pasta without thinking of her! This chili lime shrimp pesto pasta is so nutritious and yummy while satisfying the pasta craving. It was a really unique take on traditional shrimp with basil pesto and best of all, I had it on the table in 20 minutes!
That was all there was to making the chili lime shrimp pesto pasta. It could not have been easier. I scooped it into bowls and topped it with more grated parmesan. Oh my goodness, it was this incredible fusion of pasta with guacamole. The pesto felt so creamy in my mouth while the tomatoes gave amazing bursts of acidity to cut through it.  I loved how simple and healthy it was too. Enjoy, my friends! xoxo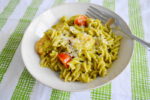 Servings

Prep Time

6

10

minutes
Servings

Prep Time

6

10

minutes
Servings

Prep Time

6

10

minutes

Servings

Prep Time

6

10

minutes
FOR THE ARUGULA AVOCADO PESTO
First, get a large pot of salted water on the stove and bring it to a boil for the pasta. Once it boils, cook the pasta just until tender for about 7-8 minutes. The rest of the dish can be put together quickly while this happens!

While the water comes to a boil and the pasta cooks, prepare the arugula avocado pesto. In the bowl of a food processor just combine all of the ingredients and run the processor for about a minute until it is creamy and smooth. Set the pesto aside.

Then, prepare the chili lime shrimp for the pasta. In a large rondeau pan heat the olive oil over medium high heat. Cook the shrimp in it until they are pink and fully cooked through for about 3 minutes. While they cook add the lime juice, lime zest, salt, chili powder, smoked paprika and crushed red pepper. Then the cherry tomatoes go in, allow them to get soft and cook for just a minute. Turn the heat to low. Spoon the pesto into the pan next and let it warm through and gently bubble for another minute while the shrimp absorbs the flavors.

The pasta should be done by this point. Drain the pasta and add it to the pan with the shrimp and pesto and toss it all together thoroughly. Drizzle a little more olive oil on top to really bring it all together and give it another quick stir. Take the pan off of the heat.

Scoop the pasta into bowls and top then all with extra freshly grated parmesan cheese. Serve hot immediately and enjoy!