I am always looking for simple and yummy ways to prepare chicken since I constantly have a small supply in my freezer. It makes it easier to have it constantly on hand in case I need to pull dinner together last minute. I wanted to use up a package of chicken thighs for dinner and decided to try giving them an easy pan roasting with lots of aromatics and oh my goodness was it a success! These pan roasted chicken thighs are incredibly easy to make.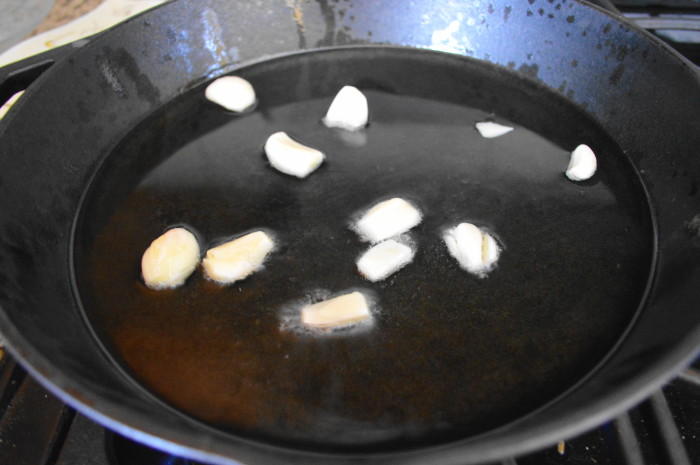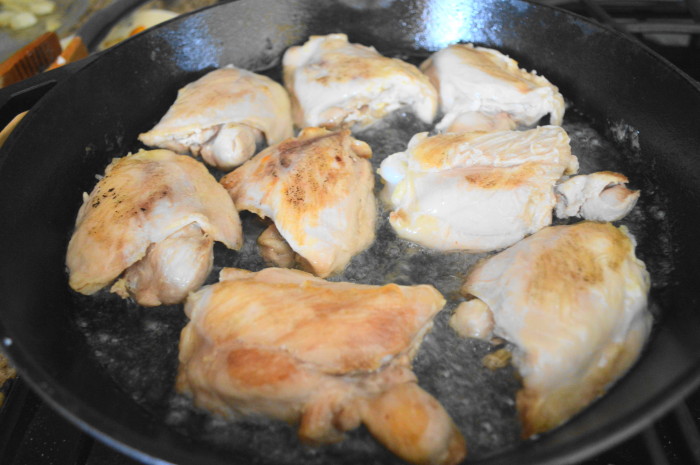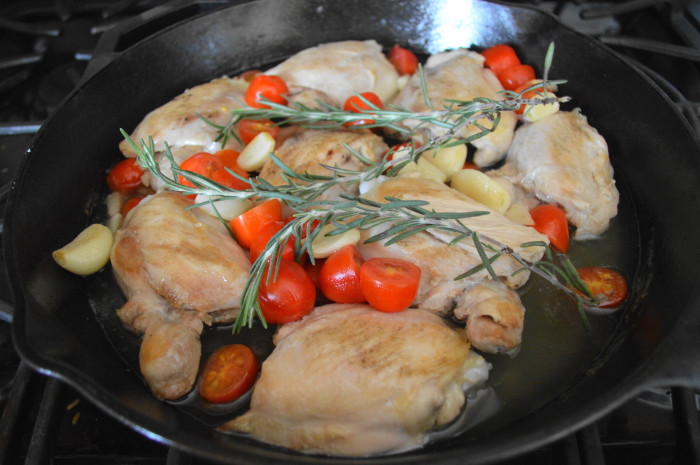 Once the 25 minutes were up, I removed the pan from the oven carefully and let the chicken rest for 5 minutes. I discarded the rosemary sprigs since they had served their delicious purpose. There was a yummy purpose for the garlic cloves though. They were removed and set aside to spread on crusty bread to go with the meal. It was glorious! Then I just plated the pan roasted chicken thighs with the tomatoes on top and served them immediately. They were so incredibly juicy and tender with loads of flavor! It was such a simple and effective chicken dinner that I know I'll be making again and again, that's for sure. Enjoy friends!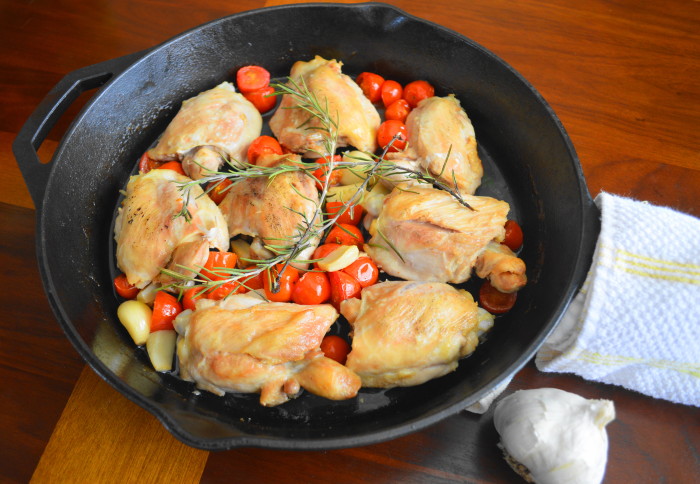 SaveSave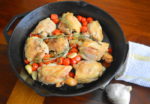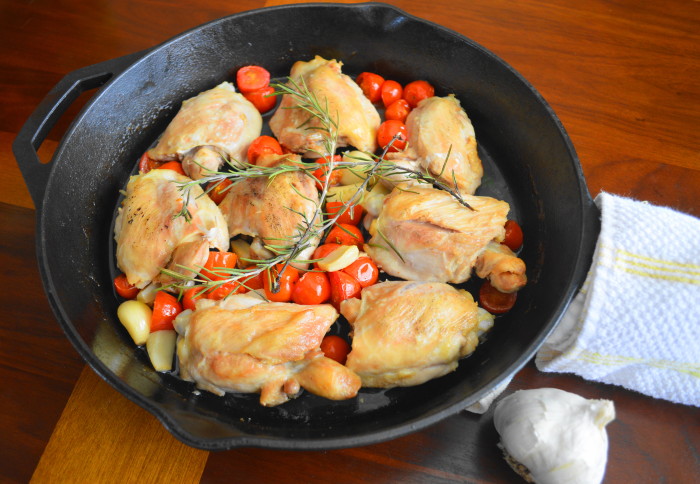 Pan Roasted Chicken Thighs
Ingredients
1

big dash

canola oil

10

cloves

garlic

peeled

8

whole

chicken thighs

skinless, bone in

kosher salt

as needed for seasoning

15

whole

cherry tomatoes

halved

1/4

cup

white wine

(the rest goes great with the meal!)

3

sprigs

fresh rosemary
Instructions
Pre-heat the oven to 375. Take a 10 inch cast iron skillet and heat enough canola oil in it to liberally coat the bottom of the pan over medium high heat. Once it is heated up, add the peeled garlic cloves to the pan and let them perfume the oil for about 2 minutes. Then remove them from the pan and set them aside.

Sprinkle the tops of the chicken thighs well with salt, then put the thighs in the hot pan to brown with the salted side down. Allow the chicken to brown on the first side for about 4 minutes, until they develop a golden brown crust. Salt the other side of the chicken thighs well while they are still up, then flip them over to get brown on that side for another 2 minutes.

Add the halved cherry tomatoes to the pan, the garlic cloves, white wine and rosemary sprigs. Allow the mixture to continue to cook on the stove another 2 minutes, then carefully transfer the pan right into the oven to roast for 25 minutes. The chicken should get beautifully succulent and golden!

Once the 25 minutes are up, remove the pan carefully and let the chicken rest for 5 minutes. Discard the rosemary sprigs, and set the roasted garlic cloves aside to spread on crusty bread. Then just plate the chicken with the roasted tomatoes and serve immediately. This is such an easy, incredible chicken dinner!
SaveSave