"I cook with wine. Sometimes I even add it to the food". That's probably my favorite culinary quote by the wonderful W.C. Fields. I even have a small plaque of it in my kitchen, because I really do cook with wine an awful lot. In this beefy red wine linguine, I took it to the next level. I used the whole bottle for the sauce and it was glorious! I know it sounds crazy, but stay with me and I'll show you how it was crazy delicious instead.
Oh my goodness, W.C. Fields would have been proud of this beefy red wine linguine. The red wine sauce had such an incredible depth of flavor with that spicy beef taking it even further. The tender linguine was the perfect canvas for all of that goodness. It was pasta perfection! I loved that it had the spices I know and love from my Nana Jeanie with the Italian flair from my Nana Lulu. Combining the flavors from my two grandmothers is what this blog is all about! Enjoy!! xoxo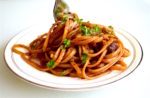 Servings

Prep Time

6

5

minutes
Servings

Prep Time

6

5

minutes
Servings

Prep Time

6

5

minutes

Servings

Prep Time

6

5

minutes
Heat the olive oil in a large Dutch oven over medium high heat. Brown the beef in it completely while you break it up with a spoon. While the beef cooks season it with the salt, crushed red pepper, turmeric, coriander and smoked paprika. Once it is completely cooked add in the garlic, onion and tomato paste. Let them cook and get fragrant for just a minute while you stir them in. Lastly, pour in that lovely bottle of wine. Let the sauce gently boil for 10 minutes.

While the sauce cooks, get a large pot of water on the stove and bring it to a boil. Cook the linguine in it for just 5 minutes to soften. When the linguine is ready, the sauce should also be ready. Use a slotted spoon or mesh strainer to scoop the pasta right into the pot of sauce. Let it finish cooking in the sauce for another 5 minutes. It will absorb the wine! When it is done cooking, stir in the butter and parmesan cheese to finish the dish. Then take the pot off of the heat. Scoop the pasta into pretty bowls and top it off with a big sprinkle of the chopped parsley. Enjoy!