I mean, this beach bum loves summer the best forever and always. I am still in disbelief it is almost over. Fall is my next favorite season though, and a lot of the reason is pumpkin everything. The boots, the crisp air, cozy scarves and pretty leaves make it pretty darn magical too. This week I did my first pumpkin based baking of the season with these gorgeous pumpkin spiced cinnamon rolls, and it just made me so indescribably happy to make the house smell like fall was here. They take a little time, but by using rapid rise yeast I cut the normal rising time almost in half. You could also form the rolls the night before, refrigerate them overnight to retard the yeast, then take them out and let them just do one rise in the morning before you bake them!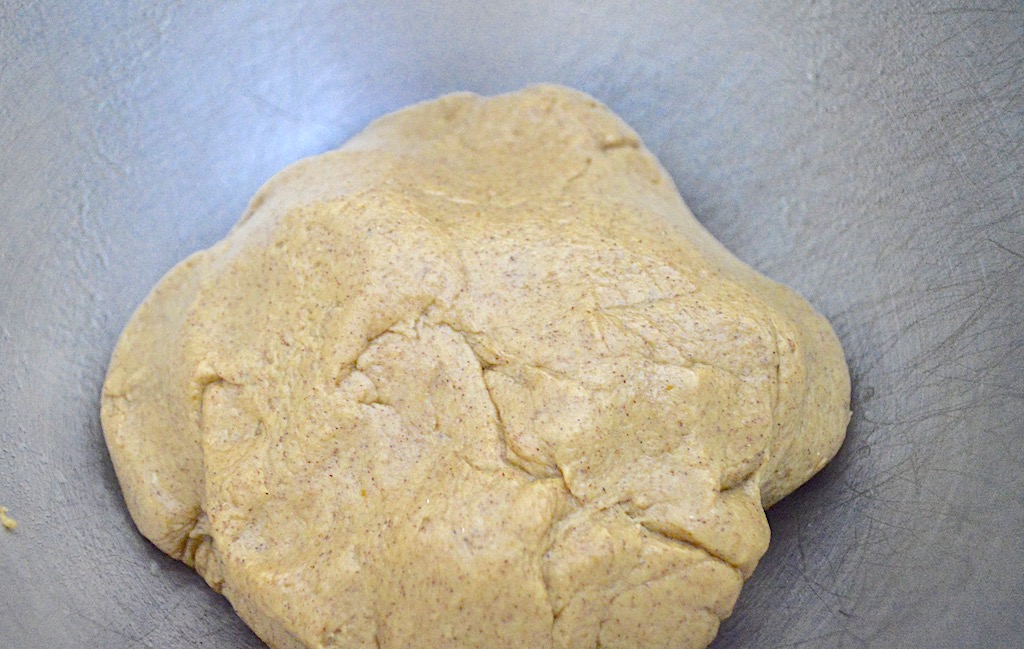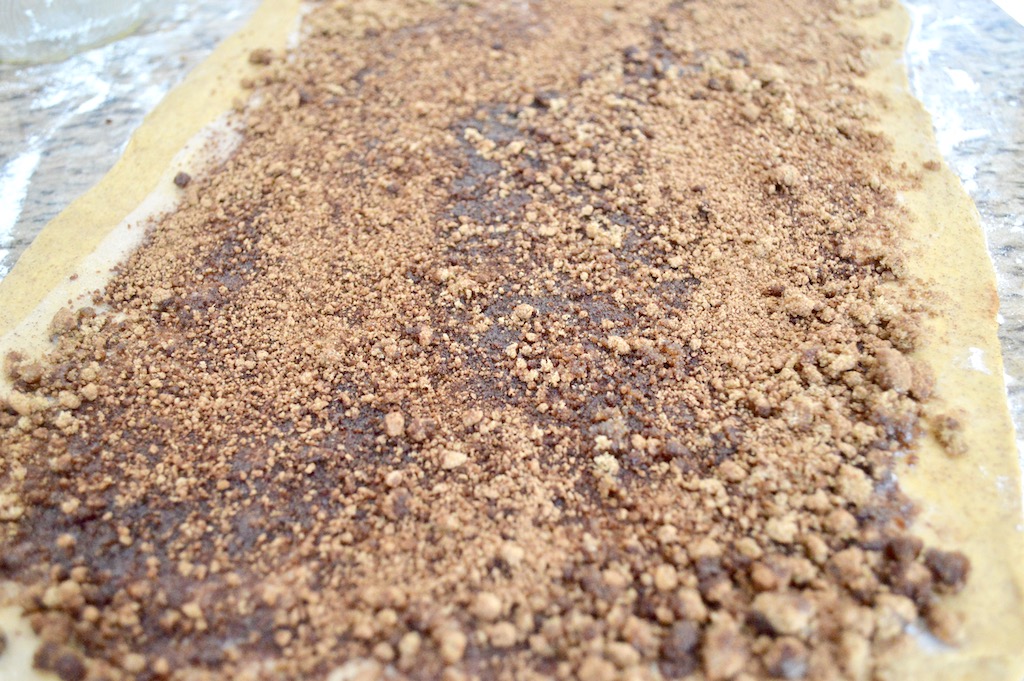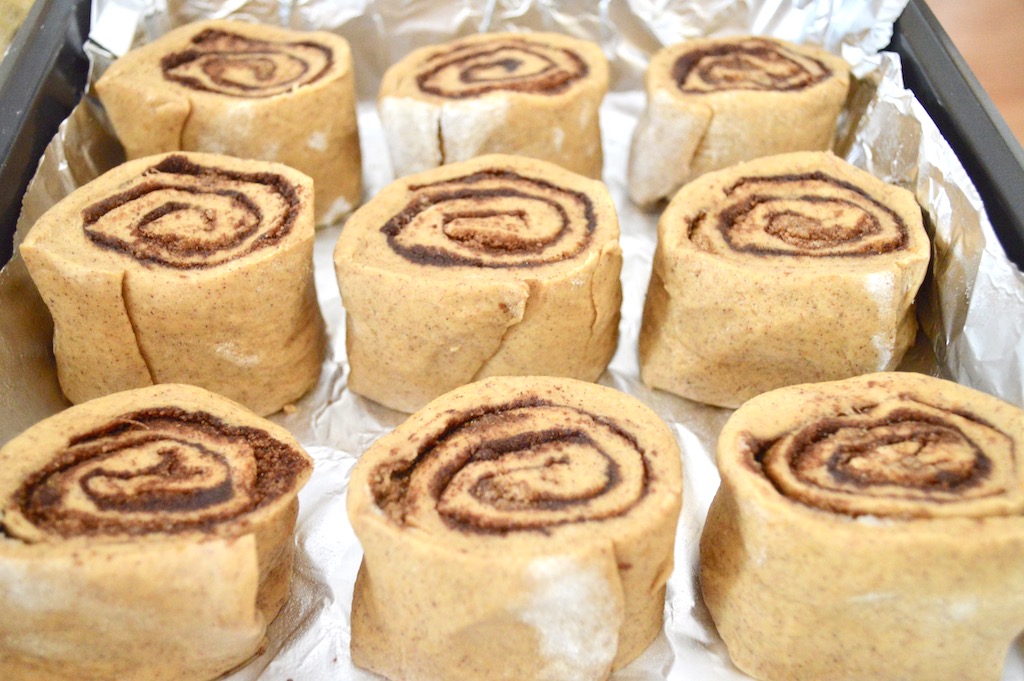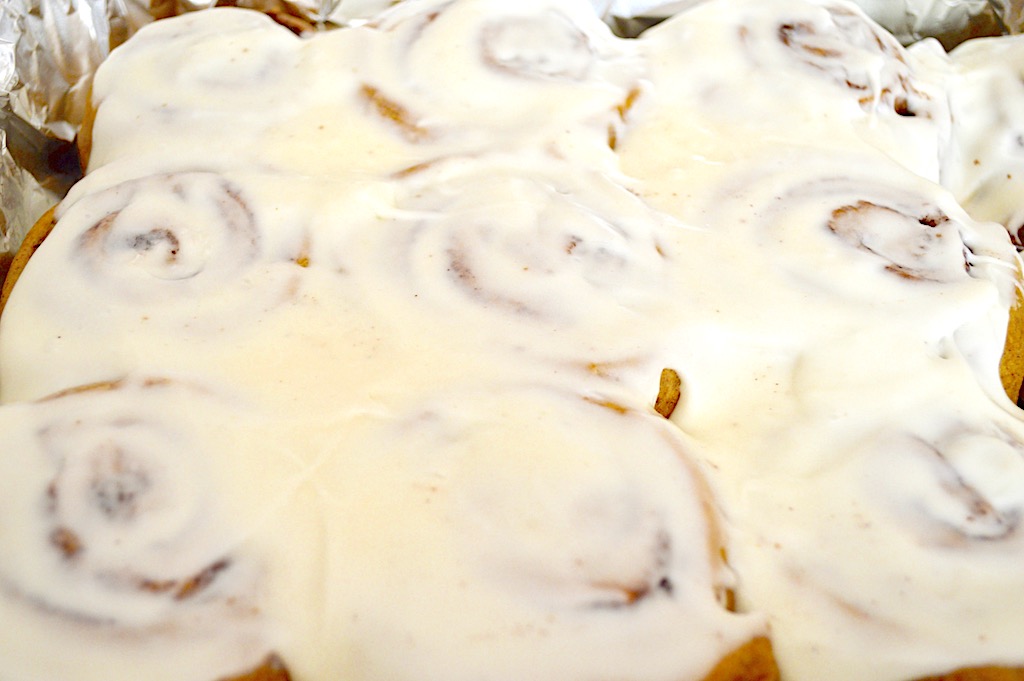 Oh my gosh, this was pure pumpkin heaven for me! These pumpkin spiced cinnamon rolls were so warmly spiced, which really kept them from being sickeningly sweet. They are so perfect for a leisurely weekend morning. I hope you all enjoy them!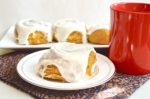 Pumpkin Spiced Cinnamon Rolls
When it comes to breakfast, these fluffy pumpkin spiced cinnamon rolls are the best way to wake up. They can even be put together the night before!

Keyword:
Cinnamon Rolls, Pumpkin Spiced Cinnamon Rolls
Ingredients
FOR THE DOUGH
3 1/4

cup

all-purpose flour

1/4

cup

dark brown sugar

2

tablespoons

pumpkin pie spice

1

packet

rapid rise fast acting yeast

1/4 ounce

1

pinch

salt

1

stick

butter

1/2

cup

buttermilk

1/2

cup

pumpkin puree

1

whole

egg
FOR THE FILLING
6

tablespoons

butter

melted

1

cup

dark brown sugar

2

tablespoons

cinnamon

1

tablespoon

pumpkin pie spice
FOR THE ICING
4

ounces

cream cheese

softened

2

cups

powdered sugar

4

tablespoons

pumpkin spiced coffee creamer
Instructions
First, make the dough. Get out a stand mixer and fit it with the dough hook attachment. Combine the flour, brown sugar, pumpkin pie spice, yeast, and salt in its bowl. Then take the butter and melt it in a microwave safe bowl or glass measuring cup in the microwave. Then stir in the buttermilk and pumpkin puree and microwave it for another 45 seconds. This will bring it to the right temperature for the yeast. Pour the liquid mixture into the stand mixer bowl with everything else and turn the hook onto low speed. As it starts to come together, add in the egg and let the whole thing knead together on the dough hook for 8-10 minutes. It should start to pull away completely from the bowl and be fairly easy to work with. Lift the dough out of the bowl momentarily and spray the bowl with a little cooking spray. Put the dough back in, cover it with plastic wrap and set it in a warm, dry place to rise until it doubles in size. It should take about an hour.

When the hour is about up, make sure you have the filling ingredients ready to go. At this point you should also make sure your cream cheese is out softening. The melted butter should be in one bowl, and then whisk the brown sugar, cinnamon and pumpkin pie spice together in another bowl. Also get out a 9 x 13 inch baking pan, line it with foil and spray the foil with more cooking spray. Then take the dough and turn it out onto a clean, well floured surface. Roll it out into a 26 x 13 inch rectangle, using the baking pan as a reference so you don't have to find a ruler. Brush the rectangle with the butter so that it has a thick layer of melted butter as a base, leaving a small border around the edges. Then sprinkle the brown sugar mixture in an even layer on the butter, lightly pressing it into the butter so that it sticks. Take the long side and roll it up really tightly around the filling to get a nice swirl. Take a sharp knife and make little knife marks about an inch and half apart to mark where you want to cut the rolls before you actually do the cutting. It is important the knife is nice and sharp so that it doesn't squish the rolls when you do cut it. With the 26 inch length, you should get about 12 rolls total when you cut them. Place them lined up with some space between them in the prepared pan. I did 4 rows of 3. Set them aside to rise for another hour.

When the hour is almost up, pre-heat the oven to 375. Bake the rolls for about 15-17 minutes, until golden and baked through. While they bake, make the icing. Combine the cream cheese, powdered sugar and creamer in a bowl and use a hand mixer to whip it all together until it is a thick but still pourable icing. When the rolls are done, pour the glaze on them and spread it out evenly with a spatula while they are still hot. Serve immediately and enjoy! They also keep well in the refrigerator for up to 4 days, just reheat in the microwave for about 20-30 seconds.
Nutrition Facts
Pumpkin Spiced Cinnamon Rolls
Amount Per Serving (1 cinnamon roll)
Calories 318
Calories from Fat 158
% Daily Value*
Fat 17.6g27%
Cholesterol 60mg20%
Sodium 155mg7%
Potassium 83mg2%
Carbohydrates 38.9g13%
Protein 2.8g6%
Calcium 40mg4%
Iron 1.1mg6%
* Percent Daily Values are based on a 2000 calorie diet.