I remember my Nana Lulu making homemade gnocchi so vividly, and I loved helping her. My job was usually to roll the piece of gnocchi over the back of the fork to make the signature ridges. So I decided to make the quintessentially fall version with these gorgeous, pillowy homemade pumpkin sweet potato gnocchi. Fair warning that this is a project and the recipe makes a lot. I didn't see the sense in going to the trouble of making homemade gnocchi without making a big batch at once. It is really fun though and totally doable. The easy sage butter sauce just makes the perfect sauce to go with it!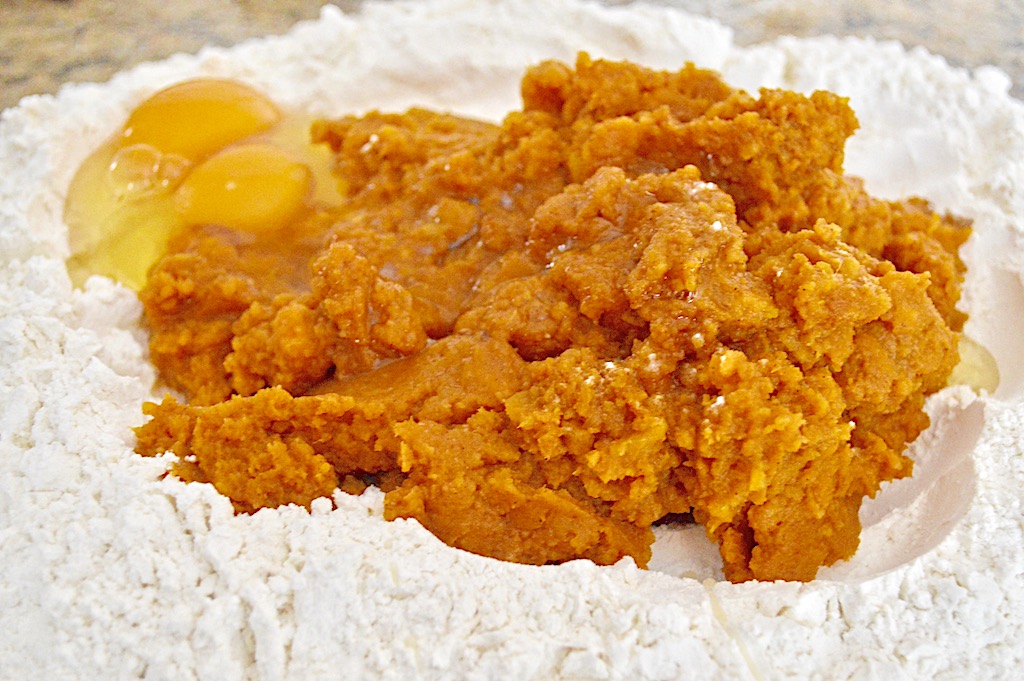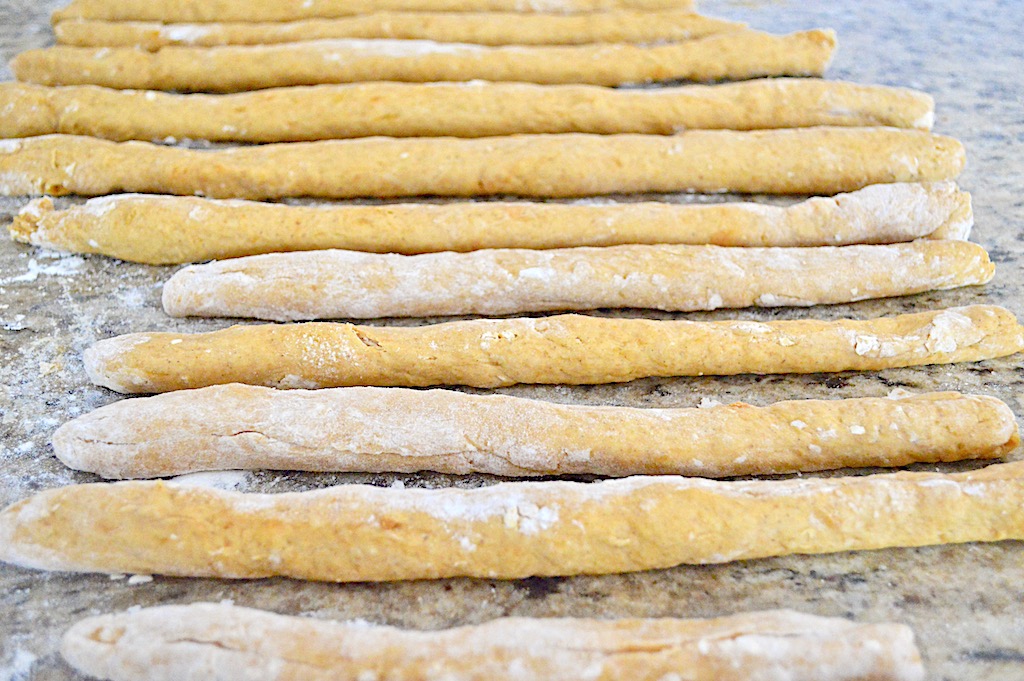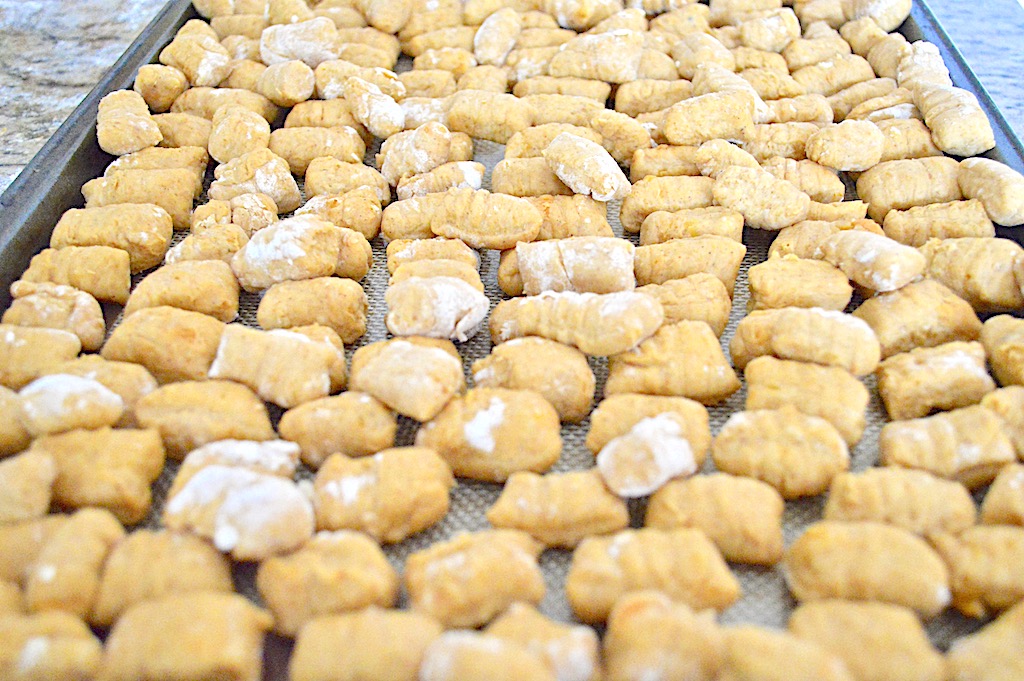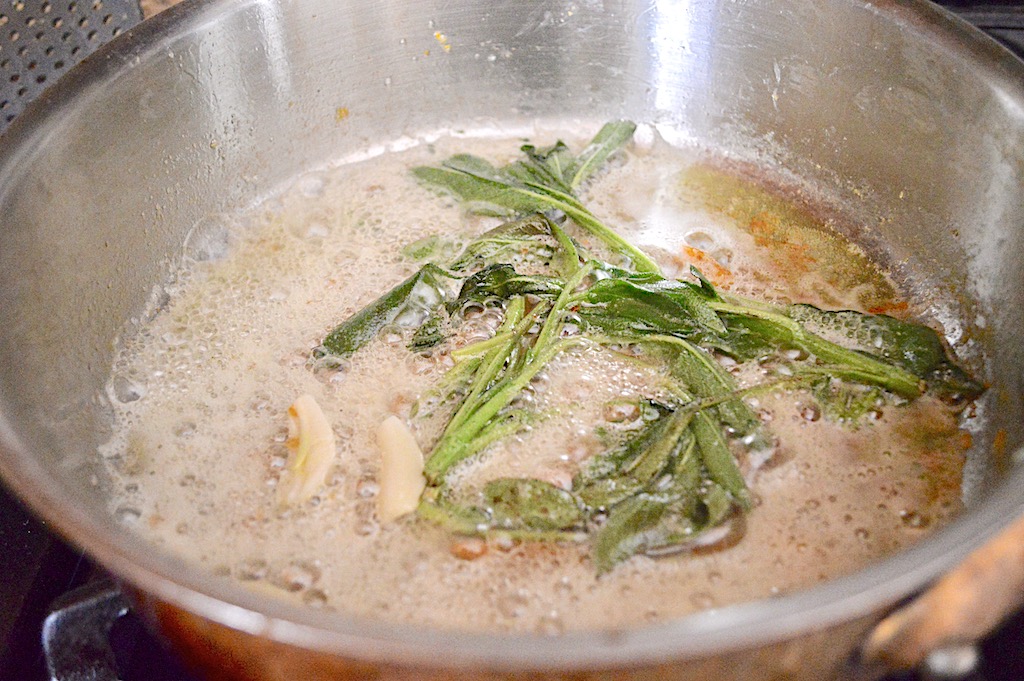 I just served that fall goodness immediately and oh man was I happy. The gnocchi really were like little pillows, just like their name says. The sage butter sauce just screamed fall. It was a lot of fun to undertake this project and I hope you all give it a try! I think my Nana Lulu would love this version of one of her favorite dishes. xoxo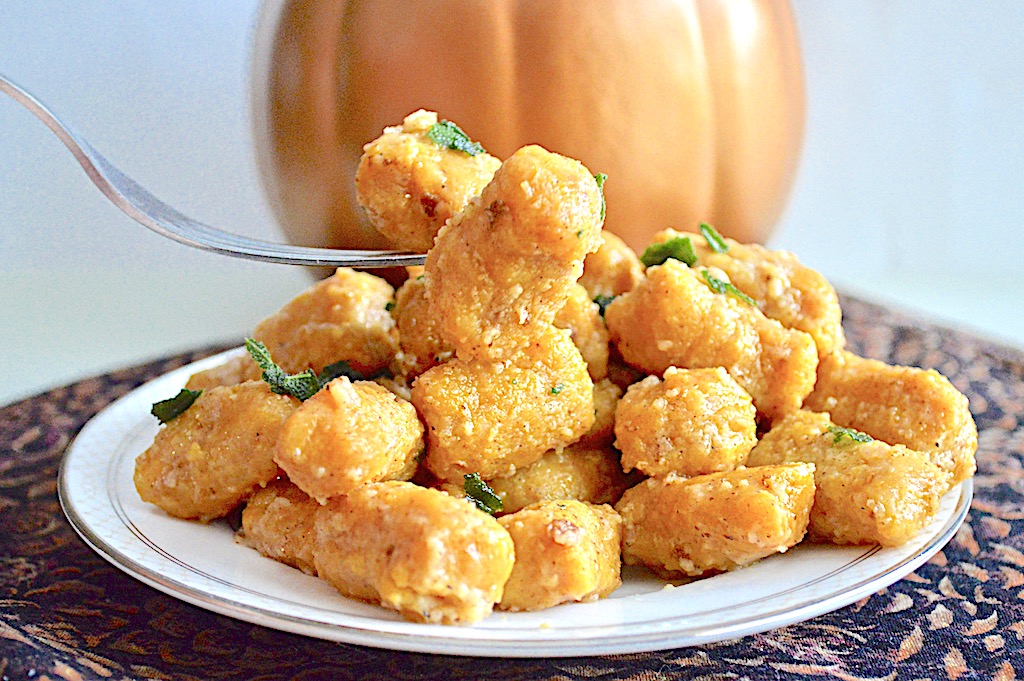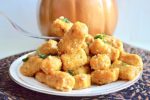 Homemade Pumpkin Sweet Potato Gnocchi
These are such fluffy, wonderful homemade pumpkin sweet potato gnocchi that truly make a fall perfect dinner with sage butter sauce!

Keyword:
Gnocchi, Homemade Pumpkin Sweet Potato Gnocchi
Ingredients
FOR THE GNOCCHI
2

medium

sweet potatoes

2

cups

canned pumpkin puree

1

teaspoon

pumpkin pie spice

1/2

teaspoon

paprika

2

pinches

salt

2

pinches

black pepper

3 1/2

cups

all-purpose flour

plus additional as needed for bench flour

2

whole

eggs
FOR THE SAUCE AND FINISHING
1

stick

butter

divided in half

1

bunch

fresh sage

2

cloves

garlic

2

tablespoons

all-purpose flour

2

tablespoons

milk

1 1/2

cups

starchy gnocchi cooking water

1

pinch

salt

grated parmesan cheese

for sprinkling on top
Instructions
First, prepare the sweet potatoes. I don't do anything fancy here. Place them on a microwave safe plate and prick them all over with a fork so they don't explode. Then microwave them for 12 minutes to get them tender. Let them cool enough to handle, then cut both of them in half. Peel the skin away (it should fall away easily) and use a box grater to finely grate the flesh right into a mixing bowl. You could also use a potato ricer or food mill here instead if you have them. Stir the grated sweet potatoes thoroughly with the pumpkin puree, pumpkin pie spice, paprika, salt and pepper. Then make a big well with the flour and spoon the pumpkin sweet potato mixture into it. Crack the two eggs on top. Then use a fork to start beating the eggs while you start to incorporate the wet ingredients into the flour. Switch to using your clean hands to bring the dough into a smooth ball.

Knead the dough a couple of times to make sure it is well incorporated, but don't over handle it. Form it into a loaf and slice it into thin little slices. Make each slice into a thin, long log by rolling the slice under your hands back and forth. Then cut each slice into little 1 inch pieces. This recipe makes a lot of gnocchi, so just turn it into a fun, zen exercise! Finally, roll each piece over the back of a fork to make the signature ridges and lay them out on a lined sheet pan to hold them. Get a large pot of water on to boil, and salt it generously. Like I said, this is a lot of gnocchi. So I boiled them in 5 batches. Let them cook for a couple of minutes until they float to the top. As they float to the top, fish them out with a slotted spoon or fine mesh strainer and transfer them to a plate.

Once all of the gnocchi are boiled, get out a large skillet and melt half of the stick of butter in it over medium high heat. Add in half of the gnocchi and let them pan fry in the butter for 2-3 minutes to develop a light crust. Remove them from the pan to another plate and repeat it with the other half of gnocchi. Then add the remaining butter to the skillet along with the sage and garlic. Let the sage and garlic fry in the butter for another 3-4 minutes until the sage leaves are crisp. Remove the sage and garlic, reserving the sage and discarding the garlic. Whisk the flour in until the butter thickens into a paste. Then whisk in the milk. Finally, whisk the starchy water from cooking the gnocchi in and the pinch of salt until you have a nice sauce. Toss the gnocchi into the sauce to coat it and take the pan off of the heat. Crumble up the fried sage and sprinkle it into the pan with the pasta. Serve immediately in pretty bowls with a big sprinkle of parmesan on top!
Nutrition Facts
Homemade Pumpkin Sweet Potato Gnocchi
Amount Per Serving (1 serving)
Calories 298
Calories from Fat 155
% Daily Value*
Fat 17.2g26%
Cholesterol 95mg32%
Sodium 201mg9%
Potassium 212mg6%
Carbohydrates 32.2g11%
Protein 5.6g11%
Calcium 40mg4%
Iron 2.3mg13%
* Percent Daily Values are based on a 2000 calorie diet.