My husband and I were craving some great Chinese food but with all of this yucky weather we didn't feel like having a night out. The solution? Create some great Chinese food at home of course with these amazing Chengdu style noodles with succulent coconut lime shrimp! The Chengdu part of this dish's name is because of the wonderful part of China it comes from. Chengdu is the capital of the Sichuan province and it is home to some of the best cuisine in all of China! I learned about this recipe for Chengdu style noodles and where it came from when we studied Asian cooking in culinary school, and I absolutely fell in love with everything about it. I played with it quite a bit to suit what I had on hand in my pantry and fridge. All I did was run out quickly to get the shrimp.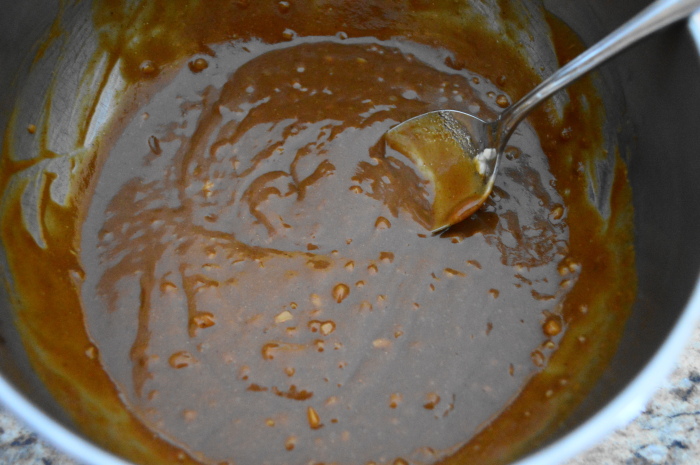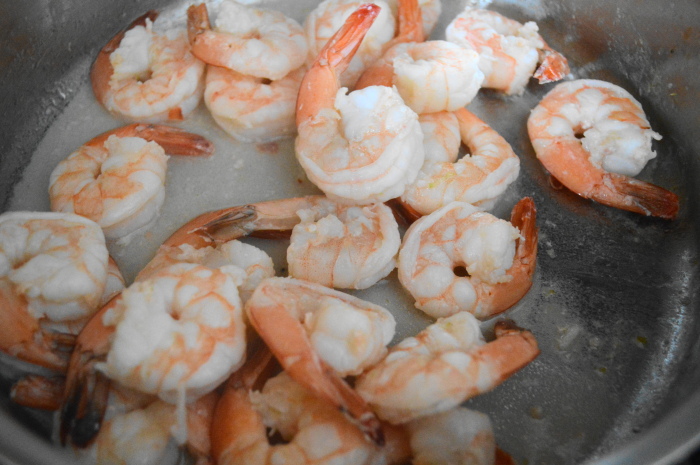 Once the spaghetti cooked, I tossed it with the dressing, sesame oil, Sriracha and the liquid from cooking the shrimp. Then I just piled the shrimp on top and garnished it all with bean sprouts and scallions. It looked so pretty! We had a fantastic take out style dinner right at home and I was one happy woman. I served it with my Chinese scallion bread and it was perfection. Enjoy!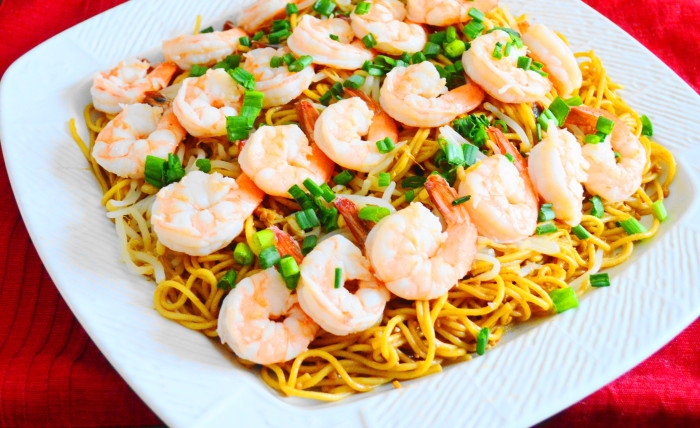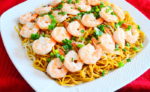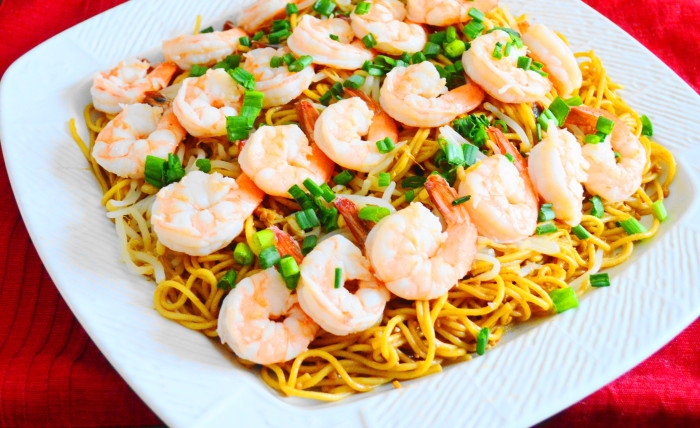 Chengdu Style Noodles with Coconut Lime Shrimp
Ingredients
FOR THE NOODLE DRESSING
6

tablespoons

soy sauce

4

tablespoons

peanut butter

4

teaspoons

rice wine vinegar

2

teaspoons

minced garlic

1 1/2

teaspoons

sugar

1

teaspoon

ground ginger

1/2

teaspoon

Chinese five spice
FOR ASSEMBLING THE CHENGDU STYLE NOODLES
1

can

bean sprouts

6 ounce size

1

pound

spaghetti

2

tablespoons

coconut oil

1

pound

shrimp

peeled and deveined

1

pinch

salt

1

pinch

freshly cracked black pepper

1

whole

lime

zested and juiced

2

teaspoons

Sriracha

2

teaspoons

sesame oil

2

whole

scallions

thinly sliced
Instructions
First, stir all of the ingredients for the dressing together thoroughly in a bowl and then set it aside. Get a large pot of water on the stove and bring it to a boil. Once it is boiling, transfer the bean sprouts to a mesh strainer and lower them into the water for 5 seconds to make them tender. Then run them under cold water to stop the cooking and set them aside. Salt the water generously. Boil the spaghetti in the bean sprout flavored and salty water just until tender for about 8 minutes.

While the spaghetti cooks, prepare the shrimp. Heat the coconut oil in a large skillet over medium high heat. Add the shrimp and cook them until they are pink and opaque. While they cook, flavor the shrimp with the salt, pepper, lime zest and lime juice. Once the shrimp is done, remove them to a plate while leaving the liquid behind. The spaghetti should be just about done at this point. Drain it, then toss it in a large bowl with the Sriracha, sesame oil, the shrimp cooking liquid and the dressing. Arrange the noodles on a large platter, then arrange the shrimp on top of it. Sprinkle the bean sprouts and scallions on top for garnish and serve family style immediately!
SaveSave