I love fall baking so much. Having the oven on in the crisp weather with the smell of warm spices permeating the house is so soothing and cozy to me. It also always means pumpkin and apple everything. Well, as much as I have been featuring pumpkin on here, it was time to use up some of my apples from apple picking. Let me tell you, these brown butter apple pie bars take the classic all-American dessert and take it to the next level! The crust is unapologetically full of a pound of butter for maximum decadence and the filling is pure cinnamony apple goodness.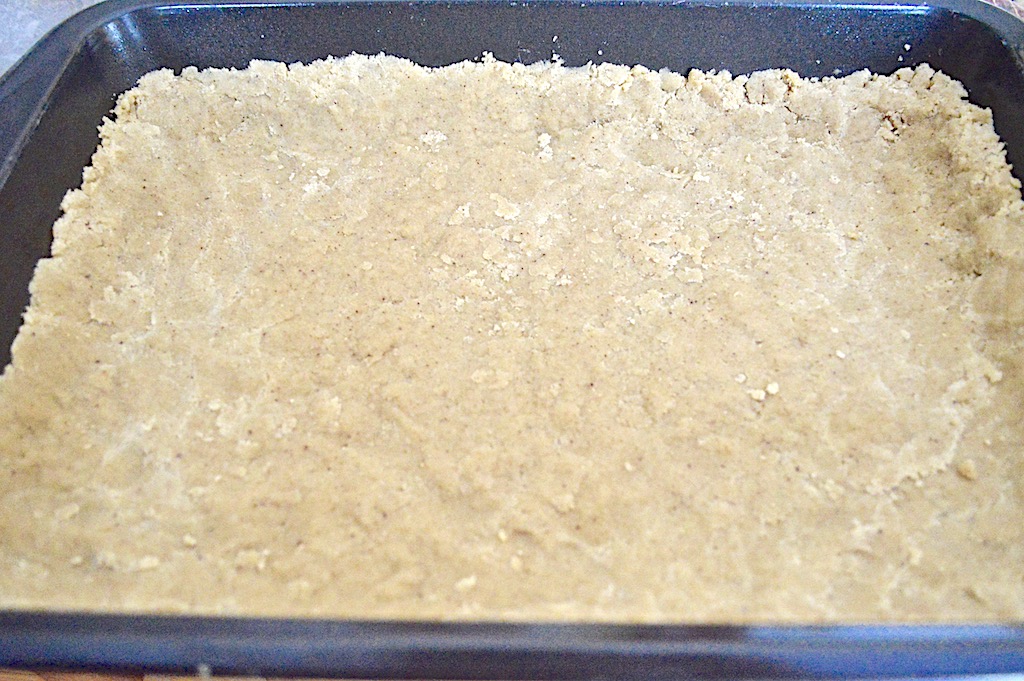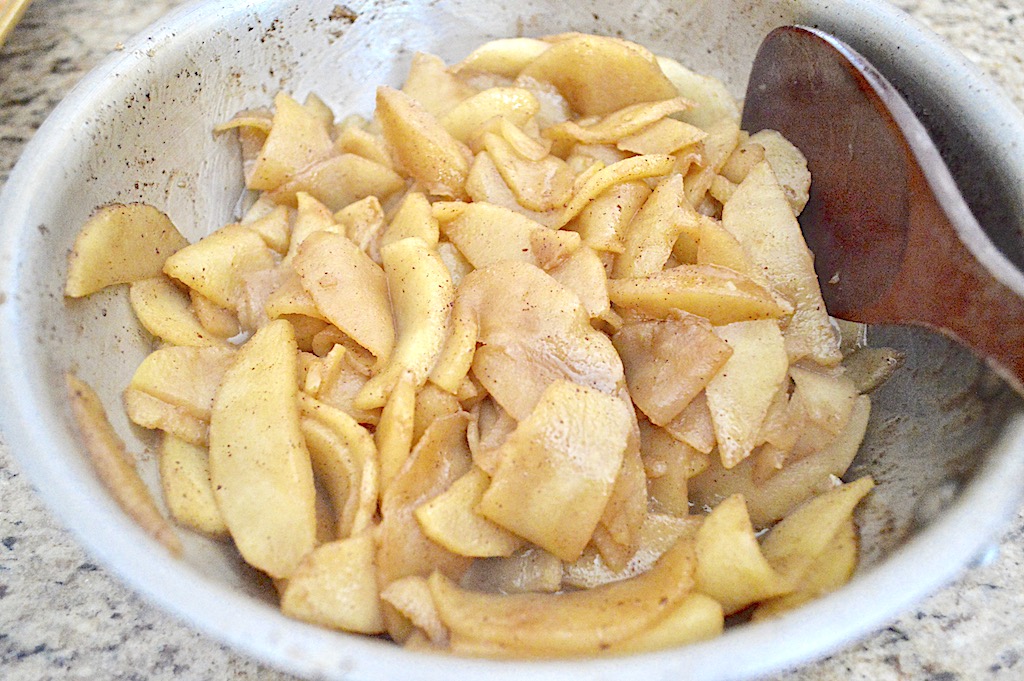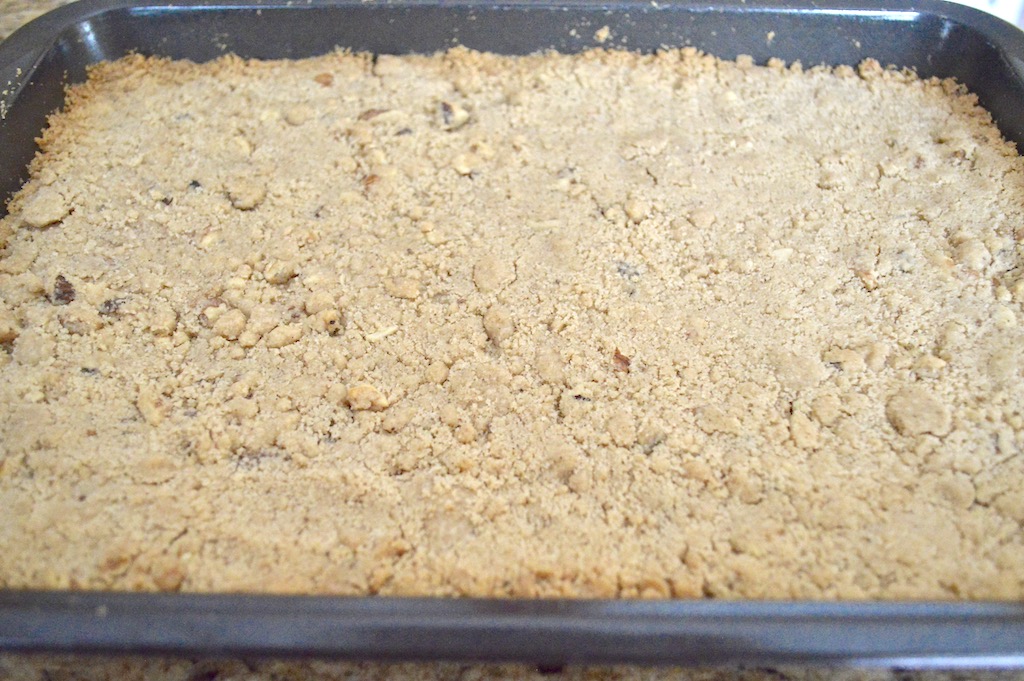 I let it cool completely before I cut the tray into 16 squares. Then it was time to enjoy some wonderful fall baking with a cup of tea! Oh my goodness, I was really happy with this fun take on apple pie. It is perfect for Halloween parties, Thanksgiving, you name it since they are more portable and easier to cut than actual pie. Hope you all enjoy this recipe! xoxo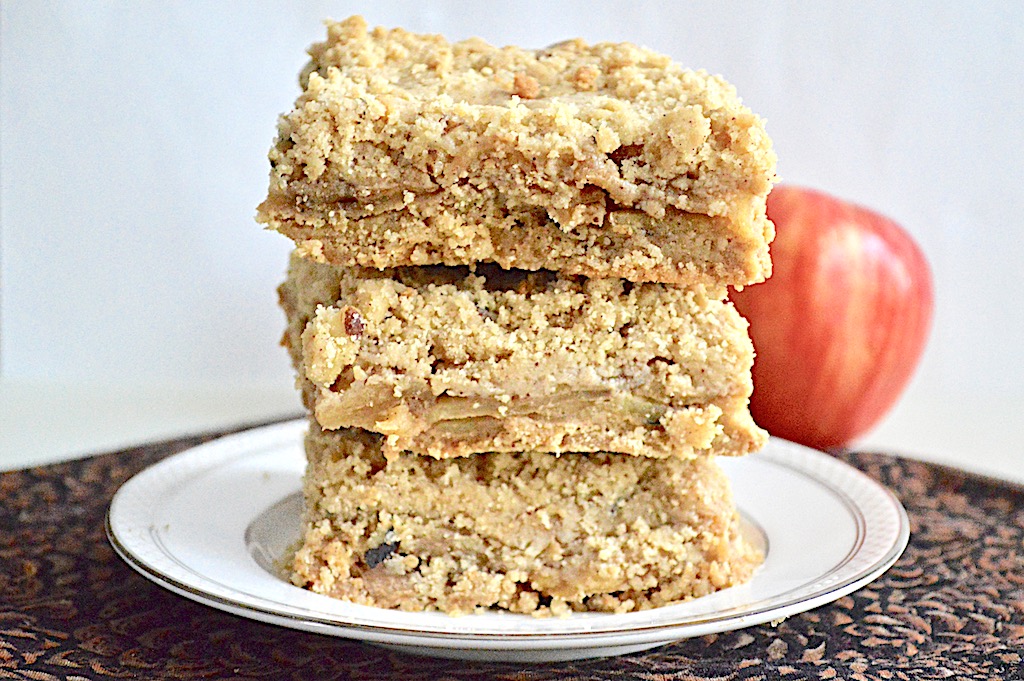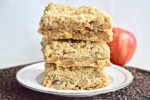 Brown Butter Apple Pie Bars
These decadent brown butter apple pie bars are such a simple, wonderful and warmly flavored fall dessert to use that apple picking haul!

Keyword:
Apple Pie, Brown Butter Apple Pie Bars
Ingredients
FOR THE CRUST
1

pound

butter

(4 sticks)

3/4

cup

dark brown sugar

1/2

cup

granulated sugar

1

teaspoon

vanilla extract

4

cups

all-purpose flour

1/2

teaspoon

salt

1/2

teaspoon

cinnamon

1/2

cup

chopped walnuts
FOR THE FILLING
1/2

stick

butter

6

whole

gala apples

peeled, cored and very thinly sliced

1/4

cup

dark brown sugar

2

tablespoons

orange juice

1

teaspoons

cinnamon
Instructions
First, get out a large 10 inch pan with deep sides and heat the butter in it over medium heat. Let it melt and then bubble until it turns golden brown and nutty. It turns quickly, so keep an eye on it. Then let it cool for about 10 minutes or so. Meanwhile, while it cooks and cools get out a stand mixer and set it up with the paddle attachment and also liberally grease a 9 x 13 pan with either more butter or cooking spray. Add the two sugars and vanilla to the stand mixer bowl. Combine the flour, salt and cinnamon together in another bowl and whisk them together well. Then pour the cooled brown butter into the stand mixer bowl with the sugars and vanilla and beat them together thoroughly. Keep the pan you used for the brown butter though, don't put it in the sink. Then slowly pour in the dry ingredients until you have a lovely dough.

Take 2/3 of the dough and press it firmly into the prepared baking dish to form a bottom crust, with it coming up the sides a bit too to help hold the filling. Let the bottom crust chill for 20 minutes. While it chills, take the walnuts and beat them into the remaining dough and set it aside. This will be the top crust. Pre-heat the oven to 375. Bake the chilled bottom crust for 20 minutes until it is set and golden brown. While it bakes, make the filling. Melt the butter in the same pan you used for the brown butter. Add the apples, sugar, orange juice and cinnamon. Let it all gently simmer for about 15 minutes to bring out the flavors and cook off almost all of the liquid.

Reduce the oven heat to 350. Take the crust and spread the filling out evenly on it. Then take the remaining dough and crumble it evenly all over the top. It may not necessarily cover it completely. Bake the bars for about 25 to 30 minutes, until bubbly and completely golden brown on top. Let them cool completely, then cut into 16 bars by making 3 even cuts horizontally and vertically. Serve and enjoy!!
Nutrition Facts
Brown Butter Apple Pie Bars
Amount Per Serving (1 bar)
Calories 369
Calories from Fat 254
% Daily Value*
Fat 28.2g43%
Cholesterol 68mg23%
Sodium 80mg3%
Potassium 100mg3%
Carbohydrates 29.4g10%
Protein 2.2g4%
Calcium 20mg2%
Iron 0.5mg3%
* Percent Daily Values are based on a 2000 calorie diet.