In the park that was a block away from my culinary school, there were a whole bunch of food trucks that I would always go check out for a snack before class. Battling my way for almost two hours into the city on the NJ Transit train always worked up my appetite, ha! My favorite snack quickly became the beef empanadas from one of the trucks, I was hooked. I had empanadas at Mexican chain restaurants before, but the ones I got from the truck were a whole new level. So, I decided to make my own beef empanadas to see if I could recapture that delicious snack from school!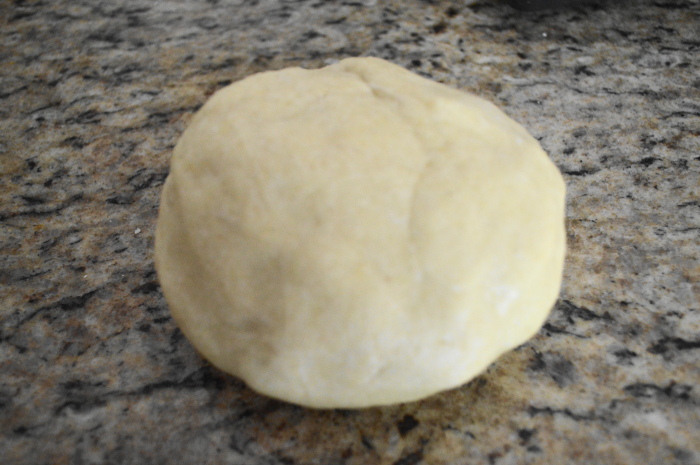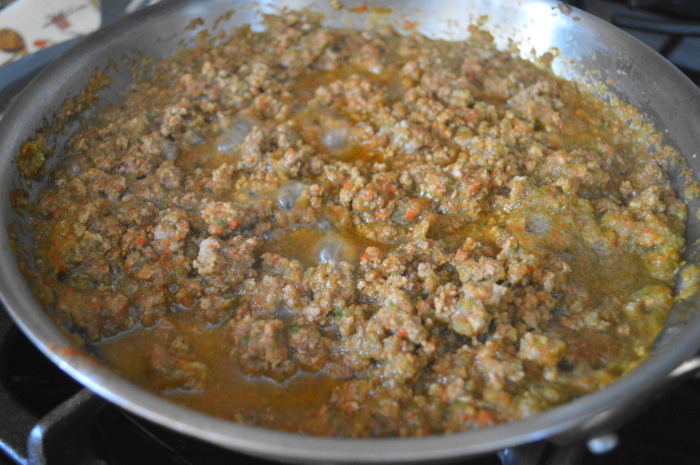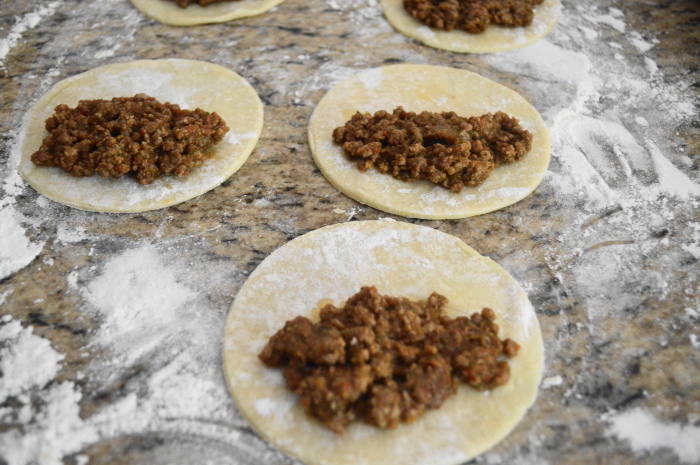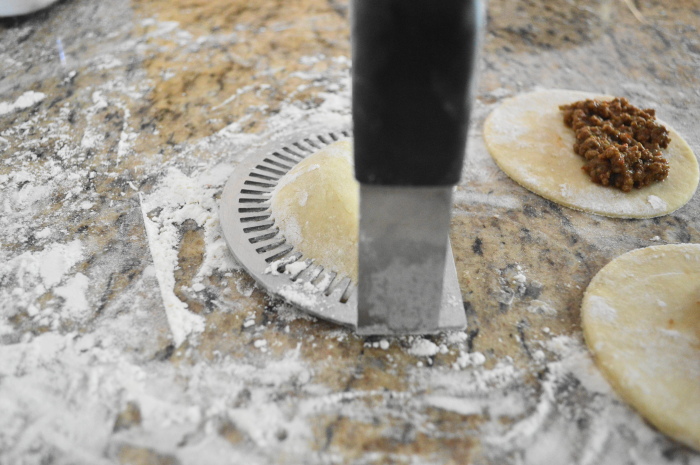 Finally, I just fried the beef empanadas in batches until they were golden perfection. After they were all cooked and cooled enough to handle I served them immediately! Oh my goodness, that dough was so gorgeously flakey and crispy. Then I got to that filling and it had so much incredible flavor. It was the perfect bite. I was instantly back at school enjoying my favorite snack. These beef empanadas are fantastic as an appetizer, snack, or (let's be real) anytime! Enjoy!! xoxo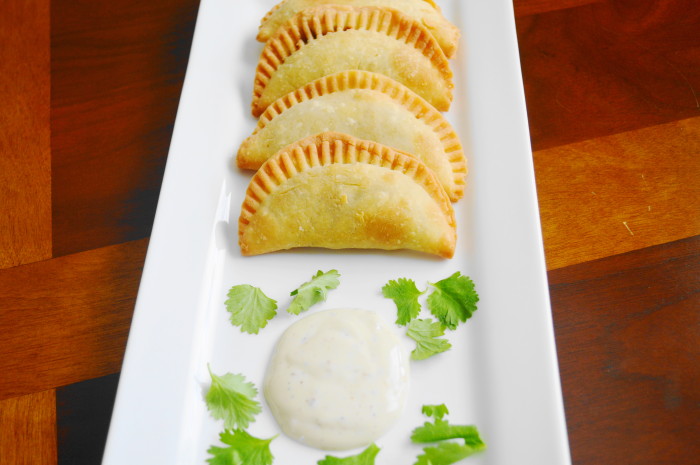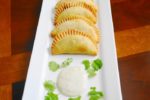 Beef Empanadas
Ingredients
For the empanada dough
1 1/2

cups

all-purpose flour

1

tablespoon

granulated sugar

1 1/2

tablespoons

kosher salt

1/4

teaspoon

cumin

2

tablespoons

water

2

tablespoons

white vinegar

1

large

egg

3

tablespoons

butter
For the beef filling
1

whole

spanish onion

peeled and cut into chunks

1

whole

red bell pepper

seeded and cut into chunks

1

whole

poblano pepper

seeded and cut into chunks

4

cloves

garlic

peeled

1/4

cup

fresh cilantro leaves

1

pound

ground beef

1

teaspoon

red adobo seasoning

1/2

teaspoon

hickory smoked sea salt

1/2

teaspoon

chili powder

1/2

teaspoon

smoked paprika

1

pinch

crushed red pepper

1

tablespoon

tomato paste

Vegetable oil

as needed for frying
Instructions
First, make the dough. In the bowl of a food processor combine the flour, sugar, salt and cumin. Pulse it a few times to sift it together. Add in the water, white vinegar and egg and give it another few pulses until it resembles wet sand. Then add in the butter and keep pulsing just until a ball of dough is formed. Wrap it in plastic and let it rest in the refrigerator for an hour.

Wash out the food processor bowl and blade to start the filling while the dough rests. Combine the onion, poblano pepper, bell pepper, garlic and cilantro in the food processor bowl and run it until it is a pureed mixture.

Transfer the puree into a large skillet and heat it up over medium high heat. Let it bubble and get fragrant for 2-3 minutes. Add the beef into the pan. Let it absorb that puree while it cooks and you break it up with a spoon. Season it with the adobo seasoning, salt, chili powder, smoked paprika and crushed red pepper. Then add in the tomato paste and give the mixture a big stir. Let it simmer for 15 minutes over low heat. When it's done, take it off the heat and set it aside until the dough is ready.

Once the dough is ready, take it out and get it onto a well floured surface. With a floured rolling pin, roll it out to be about 1/16 of an inch thick. Use a 4 1/4 inch round cutter to cut out perfect rounds as close together as possible. Take the scraps and gently bring it together into a ball and roll it out again to cut out more. Then you should be able to squeeze out 2 more rounds from the remaining scraps.

Scoop a tablespoon of the beef filling onto one half of all of the rounds you cut out, then bring the other half over and pinch the ends together. To further seal them, use a fork to gently press down and make pretty marks along the edge.

Heat up about 4 inches of vegetable oil in a pot over medium high heat. Using a deep fry thermometer to monitor it, keep the oil heat at 320F. When the oil is hot enough, fry the beef empanadas in batches for about 3-4 minutes until they are perfectly golden. Transfer them with a slotted spoon to a plate lined with paper towel to drain them.

When they are all done, serve the empanadas immediately with your choice of dipping sauce!
SaveSave