I loved all of my Chef instructors at culinary school, but my favorite was definitely Chef Chris. I'll never forget the time when we had to come up with three ways to use scallops. My inspiration had hit early and I was done first. He loved my plate of scallops and said since I was done early I had to make him an asparagus dish to go with the scallops. My gut reaction was to protest that I shouldn't have to do an extra dish just because I was done early. He saw it on my face because I have no poker face whatsoever. I blame doing theater. In the no-nonsense but good-humored way that only he could do, he said to me "Leigh, get over yourself and just go cook. That's why you're here isn't it". There was no arguing with that so I said "Yes, Chef" and scurried back to my station. I made him this Asian roasted asparagus. It really came out like this because I already had the simple ingredients out from making the scallops!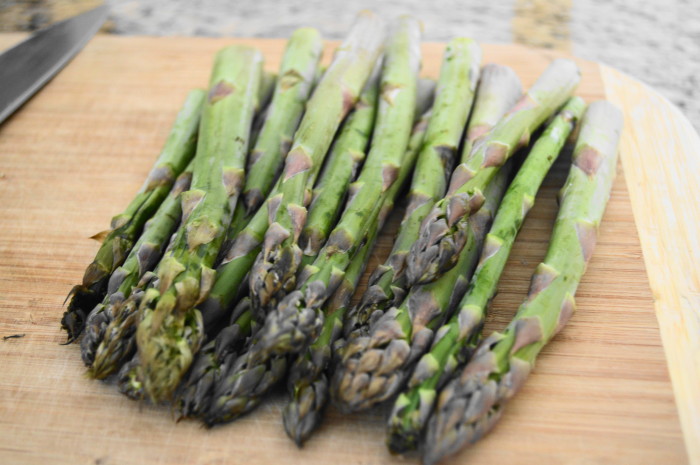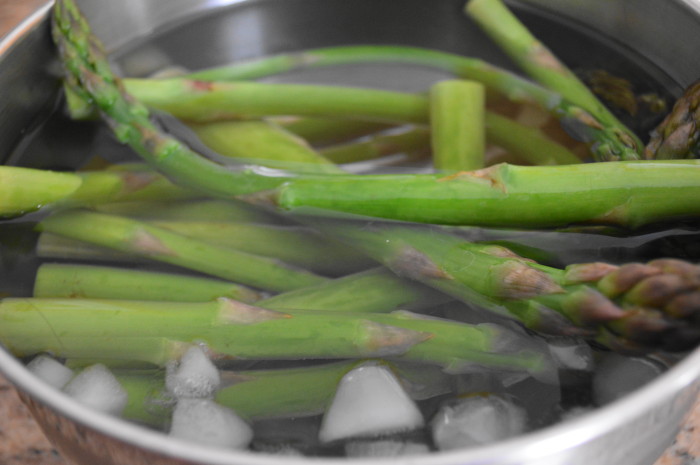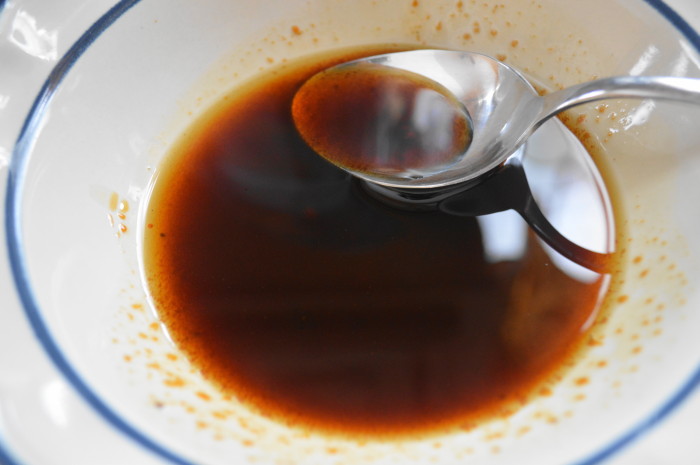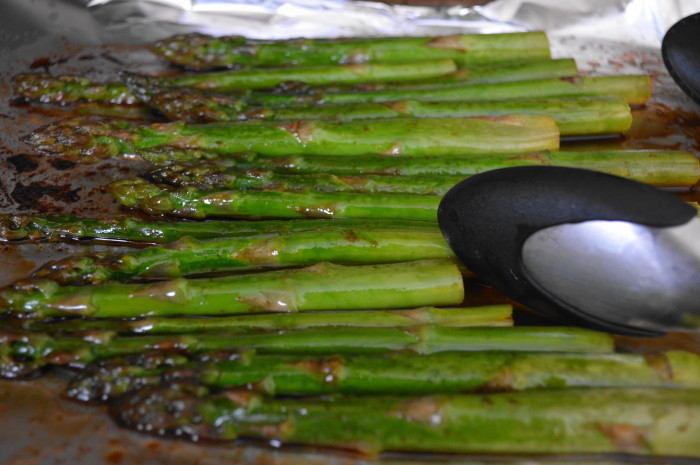 Once it was done, I let the Asian roasted asparagus cool for a minute before serving. Then for extra flavor I garnished it with black sesame seeds on top. Oh my goodness, it took me right back to that day at school. The asparagus was perfectly tender, not limp or soggy. The Asian flavors worked so well with it. So here's to the wonderful Chef Chris. He just won Culinary Educator of the Year and rightly so. He always pushes his students to be the best they could be and learn as much as possible. I'll be forever thankful for that!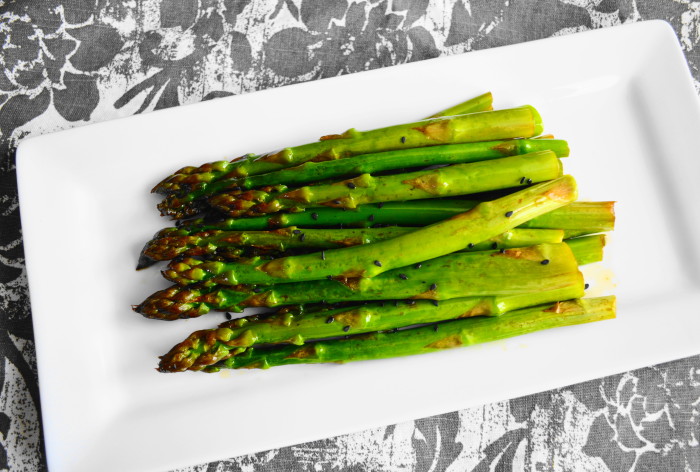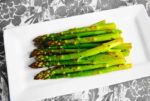 Asian Roasted Asparagus
Ingredients
1

bunch

fresh asparagus

trimmed

1/4

cup

sesame oil

2

tablespoons

soy sauce

1

dash

Sriracha

1

pinch

salt

plus additional for salting the water

black sesame seeds

as needed for garnish
Instructions
Get a large pot of water on the stove and bring it to a boil. Once the water is boiling, salt it generously. While the water comes to a boil pre-heat the oven to 375 and line a baking sheet with foil. Then fill a large bowl with ice and water to get ready to blanch the asparagus.

Boil the asparagus for just 30 seconds to a minute, until they are a gorgeous green color but not completely cooked. Use tongs to remove them directly into the bowl of ice water to stop the cooking and set that green color. Then take the blanched asparagus and line it up in a single layer on the lined baking sheet.

Take a small bowl and stir the sesame oil, soy sauce, Sriracha and salt together. Pour the mixture over the asparagus and use the tongs to thoroughly toss the asparagus in the liquid to completely coat it. Get the tray into the oven to roast the asparagus for 15 minutes.

Once it's done, take the asparagus out and let it cool for a minute. Sprinkle the black sesame seeds on top. Then just serve immediately with your favorite main course! It goes well with so many things. Enjoy!
SaveSave