It's known that I am not the biggest fan of salads. That goes double in the cold weather when all I crave is hot comfort food! Alas, salads are an important way of getting nutrition so I make and eat them anyway. Plus, they can sometimes be warm, comforting and pretty darn tasty! This warm apple, walnut and goat cheese salad is one of those special creations that even I love. I mean really love. It's satisfying enough for Winter without being heavy and bad for me. Best of all it was simple to make!
I served the salad immediately while it was still warm. That's really the best way to serve it, it just is not as good when it's been sitting. Let me tell you, it was a perfect bite! The sweet apples, creamy goat cheese, crunchy walnuts and tart vinaigrette worked together so incredibly well. I'm not making promises, but this dish may have made me a salad convert. Hope you all enjoy! xoxo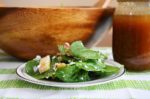 Servings

Prep Time

4

5

minutes
Servings

Prep Time

4

5

minutes
Servings

Prep Time

4

5

minutes

Servings

Prep Time

4

5

minutes
FOR THE VINAIGRETTE DRESSING
Pre-heat the oven to 350 and line a sheet tray with aluminum foil. Spread the diced apple and walnuts in an even, single layer on the tray and let them toast in the oven for about 5 minutes. The apples should just be a little soft and the walnuts fragrant but not burnt. When they are done let the tray cool for a minute, then add the crumbled goat cheese to it to just warm it slightly without melting it. Add the mixture to a large salad bowl with the spinach and toss it all together well.

While the apple and walnuts toast up, quickly make the simple vinaigrette. Combine the balsamic, Dijon, shallot and salt together in a bowl and whisk them together well. Continue to whisk as you pour in the olive oil to bring the dressing together. This is an emulsion and after a while it will separate. That's ok, it just needs a good shake in a sealed bottle to bring it together again! Serve the salad immediately with the dressing and enjoy.