It's no secret that I absolutely love pesto sauce. My Nana Lulu definitely made me that way because she used it a lot in her dishes. I've made several versions here on the blog because it's so versatile. Anything from the market can become a yummy pesto sauce actually. So this week when I was trying to figure out what to do with my fresh zucchini, I made pesto with it! I paired it with juicy, flavorful turkey meatballs and tender pasta for a complete, lean and nutritious pasta dinner. Best of all, it was really simple to make.
Oh my goodness, my nana would have loved this take on meatballs with pesto. The meatballs were incredibly juicy and flavorful because of the panada. That pesto sauce was the star though. The roasted zucchini gave it such fantastic depth of flavor and texture. Hope you all enjoy this amazing, seasonal recipe as much as we did here at home! xoxo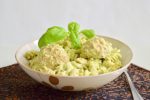 Servings

Prep Time

6

30

minutes
Servings

Prep Time

6

30

minutes
Servings

Prep Time

6

30

minutes

Servings

Prep Time

6

30

minutes
First, make the meatballs. Pre-heat the oven to 400 and line a baking sheet with foil, a silicone mat or parchment paper. If foil, lightly spray it with cooking spray. Take the bread and put it in a bowl. Pour enough milk into the bowl with it to submerge it. Let the bread sit and soak up the milk for 10-15 minutes. Then combine it in a bowl with the ground turkey, egg, basil, parsley, garlic powder, seasoned salt, dried onion and cracked black pepper. Bring it together into a uniform mixture with clean hands, then form them into firm meatballs the size of your palm. Lay them out on the sheet tray and bake them for 20-25 minutes.

Meanwhile, get a large pot of water on the stove to boil for the pasta. Salt it generously. Then start on the sauce. Transfer the chopped zucchini to a baking dish and drizzle with it lots of olive oil. Also sprinkle it generously with salt and pepper, then roast it in the hot oven with the meatballs for 10 minutes. Take it out and let it cool for a couple of minutes, and set up a food processor. Pour the zucchini, pine nuts, basil, garlic, parmesan, salt, dried onion, black pepper and olive oil in the bowl of the processor and run it until you have a smooth, gorgeous pesto sauce. Set it aside.

Boil the pasta according to the directions, usually for about 8 minutes. When it is done, reserve 2 tablespoons of the starchy cooking water before you drain it. Then pour the pasta back into the pot with the pesto sauce and reserved water. The meatballs should also be done at this point, so toss them in the pot as well. Mix it all together thoroughly, then serve it immediately in pretty pasta bowls!