BLTs were one of my favorite sandwiches growing up. I used to ask my mom to make them all the time and she made them so well. They were so good not only because of the love she put in them, but also because of the ingredients. She always used fantastic bread, thick cut bacon, and the juiciest fresh Jersey tomatoes. This week it was my turn to make my childhood favorite with my own fantastic ingredients! I used my homemade ciabatta bread and made homemade lemon basil mayo to really take them over the top.
This sandwich is the perfect example of ingredients turning something ordinary into extraordinary. I was so happy when I bit in. The crispy bacon, juicy tomato and lettuce were just heaven together. The lemony mayo brought some freshness into it and really perked it up. Hope you all love this yummy take on the classic as much as I did! xoxo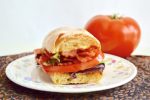 Servings

Prep Time

1

sandwich

15

minutes
Servings

Prep Time

1

sandwich

15

minutes
Servings

Prep Time

1

sandwich

15

minutes

Servings

Prep Time

1

sandwich

15

minutes
First, cook the bacon. For a small batch like this I use the microwave. Line a microwave safe plate with a paper towel and line up the 4 slices on it. Cover them with another paper towel and microwave the bacon for about 5 minutes, until crisp. While the bacon cooks, split and toast the ciabatta bread. Then make the quick mayo. Combine the egg yolk, lemon zest, lemon juice, Dijon and fresh basil in a bowl and whisk it all together well. Slowly pour in the canola oil while you keep whisking until you have a thick mayo.

Then it's time to assemble the sandwich. Slather both pieces of the toasted ciabatta with a generous amount of the mayo. Seal up any leftover mayo and refrigerate it to use later! Then pile the bacon, tomato and lettuce on and close up the sandwich. Serve immediately for a great lunch!