Onion dip is one of my favorite snacks at the many Holiday gatherings that happen this time of year. My bonus mom Donna (my dad's wife) always puts out a big bowl of it whenever we all get together. I may or may not hover near that bowl until dinner because it is ridiculously addictive. She gave me her super simple recipe so that I could make that addictive onion dip right at home! I just added a couple of my own little twists.
All I did then was spoon the dip into a pretty bowl and serve it with potato chips! Oh my goodness, it was creamy and addictive and exactly how I wanted it to be. With those crunchy, salty potato chips it was pure heaven. Crisp veggies like carrot sticks or celery also complement the onion dip so well. I can't wait to make more for all of the Holiday gatherings coming up. Hope you all enjoy!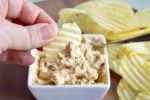 Servings

Prep Time

6-8

5

minutes
Servings

Prep Time

6-8

5

minutes
Servings

Prep Time

6-8

5

minutes

Servings

Prep Time

6-8

5

minutes
Combine the cream cheese, onion soup mix, roasted garlic, smoked paprika and salt together in a bowl. Use a hand mixer to whip it all together. Then pour in the milk and whip it in until the dip is creamy and thinned out. If desired, thin it out with additional milk to get it to the consistency you want. Then just serve immediately with crudite or potato chips!
*to roast a head of garlic pre-heat the oven to 400 degrees. Remove the flaky outer papers off of the garlic head and cut the top off to expose the cloves. Sprinkle a pinch of salt and a drizzle of olive oil on top. Wrap the garlic in foil and roast it for an hour. When it's done keep it wrapped up and use as needed! It will keep for over a week in the refrigerator to use in endless recipes.