Whenever there is a Holiday weekend in this family, there is a whole lot of indulging. I always try to make up for it by eating sensibly and working out a little more during the week leading up to it. So with Easter coming on Sunday, I decided to make this light and healthy spring pea pesto this week. It was so simple and on the table in 30 minutes!
I scooped it right into pretty bowls and served it immediately. There was so much flavor and texture! The creamy sauce, meaty mushrooms and tender pasta all worked so well together. Best of all, I was able to get it on the table so quickly and easily. Hope you all enjoy this wonderful, light spring dinner! xoxo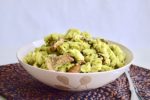 Servings

Prep Time

6

15

minutes
Servings

Prep Time

6

15

minutes
Servings

Prep Time

6

15

minutes

Servings

Prep Time

6

15

minutes
First, get a large pot of water on the stove and bring it to a boil. When it is boiling, salt it generously. Cook the fusilli until it is tender for about 8 minutes. Meanwhile, as the water comes to a boil and the pasta cooks, make the sauce. Set up a food processor and combine the peas, almonds, cheese, dill and lemon zest in its bowl. Pulse it until it becomes a thick puree. Then run the processor while you slowly pour in the oil and milk until it becomes a gorgeous, thick pesto sauce. Set it aside.

Get a skillet on to the stove and heat a dash of olive oil in it over medium high heat. Cook the mushrooms in it for a few minutes to let them soften and develop color. While they cook season them with a pinch of salt, the dried onion and the crushed red pepper. Pour the pesto sauce into the pan and stir it with the mushrooms. Let it simmer together for a minute, then scoop a 1/4 cup of the pasta cooking water into the pan as well to loosen everything and give more starchy, salty flavor. The pasta should be done at this point. Drain it and toss it in the skillet with the sauce and mushrooms. Take the pan off of the heat and serve immediately!