This spicy sausage and broccoli rabe rigatoni had my Nana Lulu written all over it as I was making it. She LOVED broccoli rabe and pairing it with spicy sausage over pasta. I had it so many times at her family dinners. So I wanted to recreate that magic this week for dinner. In this version I made it with an incredible asiago cream sauce to bring it all together. First, I blanched my broccoli rabe to help make it less bitter and more tender.
Everything for the spicy sausage and broccoli rabe rigatoni was simple to put together from there. I browned the spicy sausage in my beloved cast iron skillet. Then I added flour and butter to the pan to start the roux for my cream sauce. Once the roux was cooked I poured in the milk and let it bubble for 10 minutes.
I added the broccoli rabe and lots of asiago cheese to the sauce and let it all meld together for another couple of minutes. Then it was just tossed with my cooked rigatoni and ready to serve! I had tossed it together in a huge pasta bowl and served it family style. Oh my goodness, it was Italian heaven! The spicy sausage cut right through the cream sauce with the broccoli rabe bringing tons of fresh flavor. I loved the way the ridges in the rigatoni caught everything. My Nana would have been proud of this spicy sausage and broccoli rabe rigatoni I think! Enjoy, friends. xoxo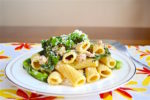 Servings

Prep Time

6

5

minutes
Servings

Prep Time

6

5

minutes
Servings

Prep Time

6

5

minutes

Servings

Prep Time

6

5

minutes
Get a large pot of water on the stove to boil and salt it generously. Have a large bowl of ice water handy. Let the broccoli rabe boil in the pot for a minute. Then remove it and plunge it right into the big bowl of ice water to stop the cooking. Blanching it like this helps reduce the bitterness and keeps it pretty and green! Set the bowl aside but leave that newly flavored boiling water boiling.

Heat the canola oil in a large cast iron skillet over medium high heat. Brown the sausage completely in it while you break it up, which should take about 5 minutes. Once it is cooked, stir the butter and flour in to start a basic roux. When the flour is completely cooked off after a minute or so, keep stirring while you slowly pour in the milk. Season the sauce with the salt and crushed red pepper. Allow it to bubble and thicken for 10 minutes.

While the sauce cooks, pour the rigatoni into the pot of boiling water you used to blanch the broccoli rabe. Let it cook and get tender for about 8 minutes. Drain the broccoli rabe out of the ice water bowl and get it onto a cutting board. Cut it all in half just to make it more manageable to stir in and eat.

When the ten minutes for the sauce is up, stir in the broccoli rabe and asiago cheese and let them meld right in for another two minutes. The pasta should also be done by this point. Drain it and transfer it to a huge pasta serving bowl. Pour the sauce right over it and thoroughly toss it all together. Serve family style immediately with extra grated asiago cheese on top!