It is well documented on this blog that shrimp is my favorite protein in the world. I get like Bubba in Forrest Gump when I talk about it. If I had to pick a favorite way to serve it, scampi would be it. So this week it was back to a classic, not to mention one of my all time favorite dishes, with my shrimp scampi over linguine! It was so easy to make and on the table in 20 minutes.
Then I just served the shrimp scampi over linguine immediately! It came together in 20 minutes and could not have been easier. Oh my goodness was I happy eating it too. The shrimp were so succulent and flavorful, acting as the perfect complement to the sauce and tender pasta. I loved that it felt really fancy but was still simple enough for a busy weeknight. I hope you all enjoy this simple classic and one of my favorite dishes in the world! Now I need to go watch Forrest Gump. xo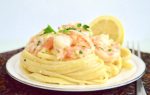 Servings

Prep Time

6

10

minutes
Servings

Prep Time

6

10

minutes
Servings

Prep Time

6

10

minutes

Servings

Prep Time

6

10

minutes
Bring a large pot of water to a boil on the stove and salt it generously. Cook the linguine in it just until tender for about 8-9 minutes. While the pasta cooks, combine the butter, olive oil and lemon zest in a large skillet with deep sides. Heat it up over medium high heat to let it all melt together. Add the garlic and parsley and let it infuse into the butter and oil for just 30 seconds. Then add the shrimp in and let them cook in the sauce for about 3-4 minutes, until they become pink and opaque. Lastly, pour in the cognac and let it cook off for another 30 seconds.

The pasta should be done by about this time. Drain it and get it into the skillet with the shrimp and sauce. Toss it all together thoroughly for a minute, then take it off of the heat. Stir in the pecorino romano cheese to let it melt right in. Serve immediately with extra fresh parsley on top and enjoy!