Hot, comforting soups are my favorite as the weather gets cooler! The other morning we already had some frost, brrr. I devised this simple sausage, sweet potato and kale soup to ward off the chill (and our scratchy throats).  It came together quickly and had loads of fall flavor! It was also so healthy. My friend Dana at Healthy Line even wrote a whole article about the many scientifically backed health benefits of kale. It's so informative, I hope you check it out!
Once it was done, I just took the sausage, sweet potato and kale soup off of the heat and served it immediately! Oh my goodness, it was a bowl of pure Fall goodness. The secret was using a pumpkin beer in the broth and a bit of pumpkin puree. They played off of the savory sausage and fresh kale so well. They deepened the flavor without hitting me over the head with pumpkin! Pssst…it was even better the next day and could even be frozen in quart containers. Enjoy, friends!
SaveSave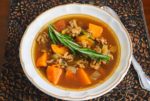 Servings

Prep Time

4-6

10

minutes
Servings

Prep Time

4-6

10

minutes
Servings

Prep Time

4-6

10

minutes

Servings

Prep Time

4-6

10

minutes
Heat the butter in a large dutch oven over high heat. Brown the sausage in it completely while breaking it up with a spoon. Add the sweet potatoes and onion to let them start to get soft and fragrant for a minute or two. Spoon in the pumpkin puree and tomato paste. Let them cook for another 30 seconds. Season the mixture with the pumpkin pie spice, smoked paprika and salt while it cooks. Pour in the beer and scrape up the brown bits from the bottom of the pan.

Pour in the chicken stock and let it come to a gentle boil. Stir in the kale to let it wilt into the soup. Reduce the heat to a simmer and let the soup simmer for 30 minutes or so. Remove the pot from the heat when it's done and serve immediately! It's so fantastic with toast points or croutons.