I'm thrilled to have this gorgeous recipe guest post from my friend Supriya! She is a writer, cook, daydreamer, mom to a teen and wife to a military man. Her blog www.quichentell.com has food at its soul, served with liberal helpings of ramblings from a life lived in many cities and a few countries. Here is what she had to say about this authentic dish from Kerala, India!
Food is powerful. It arouses emotions, creates memories, and connects cultures, peoples and civilizations. It is linked to nature, to the seasons and to life itself at the umbilicus. In my blog I try to explore this intuitive and organic relationship through the the food that I eat and cook. Beyond the recipes and techniques I want everyone who reads it to taste, touch and feel the food and the ways in which it moves in me.
The koels are courting at 3 a.m, cooing loudly, unmindful that their love songs wake me almost everyday. In those darkly silent hours, my senses are seduced by the heavy fragrance of frangipani blossoms and the sharp, tangy whiff of tiny mango flowers outside my bedroom window. Summer is here, and the mango trees are getting full with fruit. Green globes hang low, waiting for the intensifying heat to ripen them to a golden yellow-orange. Those on the higher branches will probably last till then but the ones lower down, will be plucked and transformed into chutneys, curries and hot pickles.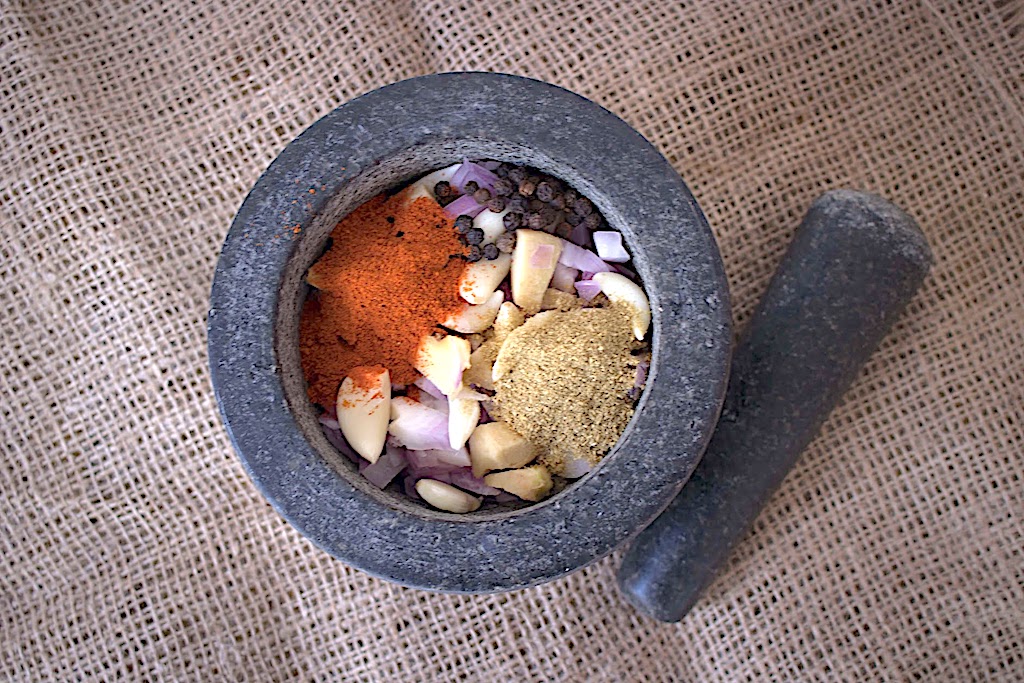 Our 3 mango trees have yielded basketfuls of green mangoes, some of which I turn into refreshing summer drinks, others I add to dals (curried lentils) and fish curries. Sour raw mangoes are delicious with seafood and every summer, seafood curries give up tamarind for the fragrant sourness of mangoes.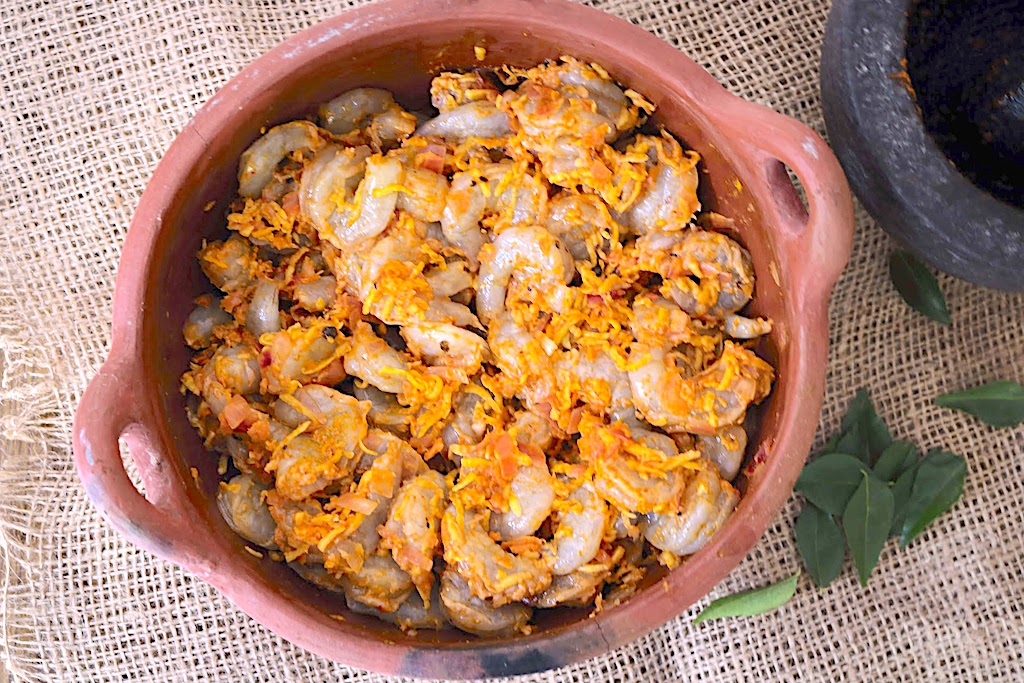 Oily fish such as mackerel and sardines are preferred for cooking with unripe mangoes because their inherent robust flavour is provides a more balanced complement to the tartness of the fruit. Prawns, crabs and crustaceans in general also pair well with raw mangoes. White fish on the other hand, being more delicate, would allow the sourness to overpower their subtle taste. Fresh prawns are plentiful at our fish market and a mango prawn curry with steamed rice is great for a relaxed Sunday lunch.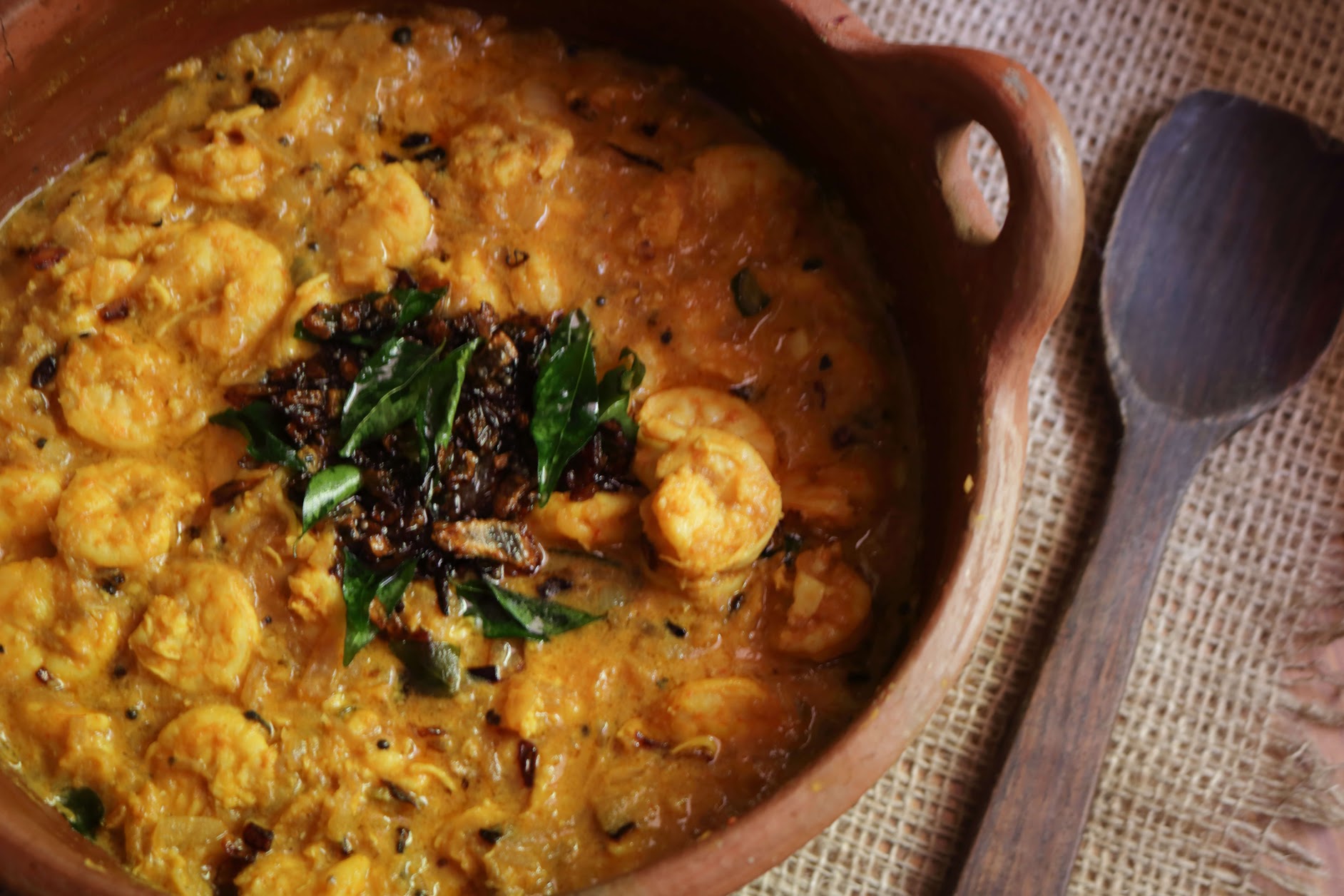 This prawn curry is a simple one, needing just a few ingredients and maybe 30 minutes cooking time. It's obvious that raw, green mangoes are essential to the recipe, but if for some reason you cannot get your hands on mangoes, you can use a tablespoon of tamarind extract. It will add the required sourness; the aroma of mangoes unfortunately has no substitute but your curry will still be delicious albeit a little different. I've used a traditional clay pot – it's said to enhance the taste of seafood curries – but a regular casserole or pan is also absolutely fine. You can make it ahead of time, in fact, it will taste better the next day (although prawn curry in my home doesn't last beyond the next meal). I hope you try this South Indian curry from Kerala and it becomes a part of your recipe collection.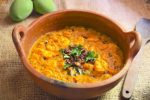 Servings

Prep Time

4-6

30

minutes
Cook Time

Passive Time

30

minutes

2

hours
Servings

Prep Time

4-6

30

minutes

Cook Time

Passive Time

30

minutes

2

hours
Servings

Prep Time

4-6

30

minutes

Cook Time

Passive Time

30

minutes

2

hours

Servings

Prep Time

4-6

30

minutes

Cook Time

Passive Time

30

minutes

2

hours
Put most of the shallots (reserving 2 tbsps), ginger, garlic, peppercorns, turmeric, chilli and coriander powders into a mortar or blender and pound or blend to a coarse paste without using any water. In a bowl, mix the spice paste, grated mango and salt with the cleaned prawns. Cover and marinade for 2 hours in the refrigerator. After the two hours, transfer the mixture to a large pan and heat it over low heat. Cover the pan and gently bring it to a simmer, stirring once or twice.

The prawns will release their liquid. Cover and continue to cook them in their own juices (add a few tablespoons of water only if required) on very low heat for 10-12 minutes till the prawns and the mangoes are cooked and you have a thick sauce. Taste and season with more salt if required. Turn off the heat. Heat the coconut oil in a small pan. Add the mustard seeds and when they pop and crackle, add the remaining shallots and curry leaves. Fry it all until the shallots are golden. Take off the heat and pour that mixture on the curry. Serve with plain, steamed rice immediately and enjoy!