I've been focusing so much on baking for this weekend that we've basically been living on sugar. Not really, but it feels like it! I wanted to come up with an easy, healthy meal that didn't need a lot of dishes so that I could keep focusing on Holiday preparations. That's where this amazing on pot pesto chicken pasta came in! It was everything we needed and more.
Cooking the pasta in the sauce really allowed the flavors to meld. It was glorious! At the end I drizzled in a little olive oil and parmesan cheese to really bring it all together. That is always a good way to finish a pasta dish! When the pesto chicken pasta was done I scooped it into bowls and served it with a little more parmesan on top. Oh my goodness it was so satisfying, not to mention a great break from the cookies! It sustained me through the weekend of Holiday prep and now I can't wait for Christmas to come. xoxo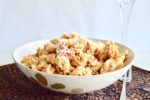 Servings

Prep Time

6

10

minutes
Servings

Prep Time

6

10

minutes
Servings

Prep Time

6

10

minutes

Servings

Prep Time

6

10

minutes
Get out a large dutch oven and heat the olive oil in it over medium high heat. Cook the cherry tomatoes and rosemary in it to get them fragrant for a couple of minutes, then add the ground chicken. Cook the chicken thoroughly while you break it up. While it cooks season it with the seasoned salt, garlic powder, oregano and crushed red pepper. Pour in the beans with their liquid, pesto sauce and milk. Stir it all together well and bring it to a low boil. Reduce it to a simmer and let it simmer for about 15-20 minutes.

After the sauce simmers, bring the heat back up to a gentle boil. Pour in the pasta and make sure it is immersed in the sauce. Let the pasta cook in the sauce until tender for about 8-10 minutes, stirring often. When it is done, add an extra drizzle of olive oil and the parmesan, stirring them in well. Then take the pot off of the heat and serve immediately! Scoop the pasta into bowls and serve with extra parmesan on top. Enjoy!