My husband Marc absolutely loves any kind of seafood. So he is always happy on Fridays during the Lent season because it means we feast on fish! This weekend the salmon was looking particularly good at our market. Particularly good also meant that it was on sale, ha! In all seriousness, I was really careful at my fish counter. I made sure to look at the color. I also smelled the salmon to make sure it smelled like the sea instead of fishy. A strong fishy smell would have meant that it wasn't that fresh. I also made sure to get it the day I made it. After all of that, I got it home and set about preparing the most incredible and easy maple bourbon broiled salmon!
When they were done, I served the fillets with quinoa and a side salad of baby spinach dressed with vinaigrette. I started the quinoa before the salmon and I had the whole meal on the table in 15 minutes! It was such a flavorful, simple meal with my husband and I loved it. This maple bourbon broiled salmon was a fast, weeknight wonder! Enjoy, friends. xoxo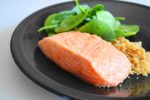 Servings

Prep Time

4

5

minutes
Servings

Prep Time

4

5

minutes
Servings

Prep Time

4

5

minutes

Servings

Prep Time

4

5

minutes
Pre-heat your oven broiler to high and line a sheet tray with aluminum foil. Lay out the salmon filets on the sheet tray and season them with salt and pepper. Broil the fillets for about 4 minutes in the oven. This will vary depending on how thick the fillets are cut. If they are fairly thin, check them at 2 minutes. They should be halfway cooked through when you take them out. While they broil stir the maple syrup, bourbon, smoked paprika and ground mustard together thoroughly in a bowl.

Take the fillets out after the first round of broiling and brush them all very generously with the maple bourbon mixture. Put the tray back into the broiler to finish cooking for another 4 minutes or so. Again, this depends on how thick the fillets are. After that, they are done. Plate them with a salad and cooked quinoa for a tasty, complete and healthy meal!