It's my birthday!! I am really looking forward to seeing what my 36th year on this earth will bring. It's been a week of celebrating with family and friends which has been a complete blast. The finale was this weekend when I combined two of my favorite things…Disney and pancakes! These Hawaiian pancakes were inspired by the legendary pancakes at Kona Cafe in the Polynesian resort. It is one of my favorite breakfasts in the world and I miss it. Luckily I was able to get my Disney fix right here at home, which made my birthday weekend complete.
I served the Hawaiian pancakes as I cooked them so that they were nice and hot. The crispy coconut and crunchy chopped macadamia nuts were such a perfect topping with the super soft pancakes! The finishing touch was a big drizzle of maple syrup on top. Oh my goodness, it felt like I was enjoying my breakfast at Polynesian resort! Let me tell you, it was the perfect end to a week of birthday celebrations. I hope you all love them as much as I did! xoxo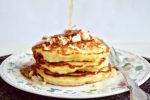 Servings

Prep Time

6-8

20

minutes
Servings

Prep Time

6-8

20

minutes
Servings

Prep Time

6-8

20

minutes

Servings

Prep Time

6-8

20

minutes
First, make the batter the night before. Whisk the flour, sugar, baking powder and salt together in a large mixing bowl. Then whisk the milk, crushed pineapple, vanilla extract and egg yolks together in another bowl until smooth. Pour the wet ingredients into the dry ingredients and whisk it all together into a thick batter. In a third bowl, whip up the egg whites with a hand mixer until they are like fluffy clouds and form stiff peaks. Fold the egg whites, 1 cup of the chopped macadamia nuts and 1 cup of the shredded coconut into the rest of the batter. Cover the bowl and refrigerate it overnight.

In the morning, pre-heat the oven to 350 and also get out an electric griddle or large griddle pan. Line a sheet pan with a silicone mat and spread the remaining 1/2 cup of coconut out on it. Toast it in the oven for 3-5 minutes until it becomes crisp and golden. Set it aside. Pre-heat the electric griddle to 350 or the griddle pan over medium high heat. Grease it with butter, then cook off the pancake batter in batches in the size you want. They take about 4 minutes to cook on each side to become puffy and golden. Serve them as you make them with a sprinkle of toasted coconut, extra chopped macadamia nuts and syrup on top!