Summer is my favorite season, but I sure do love fall flavors. All of the warm spices, the freshly picked apples and pumpkin everything make me a happy woman. The nights are getting cooler here, so I decided to whip up a healthy dinner chock full of those flavors I love. These super healthy and simple fall harvest chicken quinoa bowls really hit the spot. It was a complete meal in a bowl and only took 30 minutes to make.
These fall harvest chicken quinoa bowls could not have been more simple or wonderful! It was quick, healthy and so darn satisfying. I am definitely keeping it on our dinner rotation for busy nights where we still want a yummy, healthy home cooked meal. Hope you all love it too! xoxo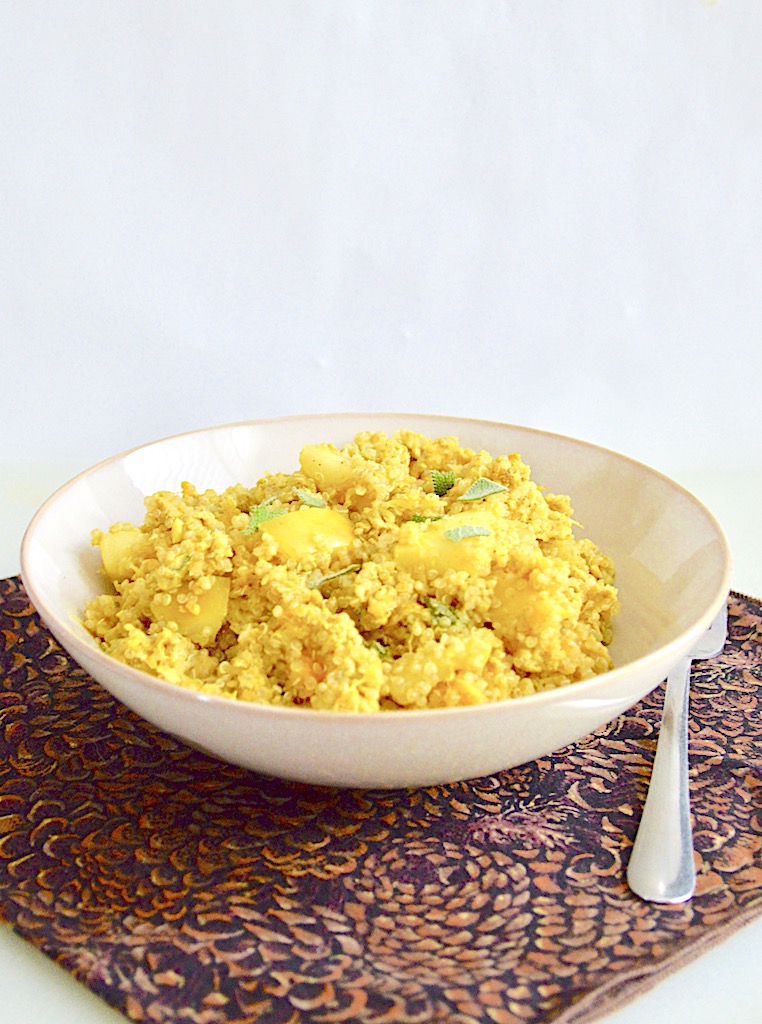 Servings

Prep Time

4

10

minutes
Servings

Prep Time

4

10

minutes
Servings

Prep Time

4

10

minutes

Servings

Prep Time

4

10

minutes
Heat the olive oil in a large, deep skillet over medium high heat. Add the frozen butternut squash cubes and let them start to thaw and cook through for a couple of minutes. Then add the apple, garlic and sage and let them get fragrant for another couple of minutes while you stir. Finally, add in the ground chicken and let it cook through as you break it up completely. While it cooks, season the whole mixture with the cinnamon, turmeric, salt and pepper. Once it is cooked through, pour in the apple cider vinegar. Turn the heat to low and let the mixture simmer for 10-12 minutes to really develop flavor.

Meanwhile, cook the quinoa. Bring the chicken stock to a boil in a medium saucepan. Pour in the quinoa and give it a stir. Cover the saucepan with its lid and turn the heat to low. Let the quinoa cook for about 12 minutes, until it is tender and the little tendrils pop out. Fluff up the quinoa with a fork, then pour it into the pan with the chicken mixture and stir it all together really well. Scoop it into pretty bowls and garnish with extra sage on top. Serve immediately and enjoy!