It is a truth universally known that if an Italian is serving pasta, there must also be bread of some sort to mop up the sauce. Doubling up on the carbs is just how we roll. I hosted Christmas Day here for Marc's side of the family and it involved an Italian feast. I made my meaty lasagna roll ups, meatballs and sausage in gravy, roasted brussels sprouts and a garden salad. To bring it all together and have something to mop up all of that gravy, I also quickly put together this parmesan garlic bread! It could not have been easier or more scrumptious.
That parmesan garlic bread baked in my 350 oven for just about 15 minutes to get perfectly golden and flavorful with a layer of melty parmesan on top. Then it was ready to serve. Oh my goodness, it brought the whole Italian feast together! I think it's one of my favorite parts of eating to mop up delicious gravy with a crusty piece of garlic bread. I also loved sharing my Italian food with my Polish and Hungarian in-laws. It was a lovely Christmas. Enjoy, friends! xo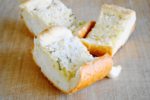 Servings

Prep Time

1

loaf

5

minutes
Servings

Prep Time

1

loaf

5

minutes
Servings

Prep Time

1

loaf

5

minutes

Servings

Prep Time

1

loaf

5

minutes
Pre-heat the oven to 350 and line a baking sheet with aluminum foil. Cut the loaf in half lengthwise and lay the two halves next to each other on the sheet. In a small pot, heat the butter up over medium high heat to melt it. As it starts to melt and bubble, add the garlic and rosemary to the pot to infuse the butter with loads of flavor. Let it all bubble together for a minute, then take it off of the heat.

Slather each half of the loaf with the butter mixture using a brush. Then evenly distribute a 1/2 cup of the parmesan over each half. Bake the garlic bread for 10 to 15 minutes to melt the cheese and bring out all of the flavors. Take it out and serve immediately! Slice each half into 4 or 5 slices. Any leftovers can be sealed and frozen for later.