It's no secret that shrimp is my favorite protein in the world. It's succulent, tender, and can adapt to so many flavor profiles. Best of all, it cooks so quickly for a fast weeknight meal! This creamy lemon basil shrimp was inspired basically by what I had on hand. I wanted to use the gorgeous fresh basil I have growing especially. There was also ricotta and a lemon sitting in my fridge dangerously close to going bad. All I had to do was run out quickly for the shrimp for a fast dinner! First, I got the shrimp cooking in my beloved cast iron skillet.
Then I added basil, garlic, lemon zest, lemon juice, salt, crushed red pepper, white wine and ricotta. These were simple ingredients and came together so perfectly!
Before I started prepping for the shrimp, I quickly got a small pot of brown rice cooking on the stove to go with it. Then it was done right when the shrimp was done. Perfect timing! I served the creamy lemon basil shrimp over the cooked rice with extra basil ribbons on top and a lemon wedge. I just wanted the plate to look pretty even though we had to have dinner quickly! Oh my goodness, the ricotta made the shrimp so creamy and succulent. The lemon, basil, and white wine cut through it perfectly though for loads of flavor. The best part was getting it on the table in just under 30 minutes! I loved being able to make a super simple quick meal that was also so darn tasty. Enjoy, friends!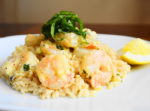 Servings

Prep Time

4-6

10

minutes
Servings

Prep Time

4-6

10

minutes
Servings

Prep Time

4-6

10

minutes

Servings

Prep Time

4-6

10

minutes
First, get a pot of brown rice cooking. Melt the butter in a small pot over medium high heat and add the rice to lightly toast in it for a minute. Pour in the chicken stock, cover the pot and turn the heat to low. Let the rice cook for 20 minutes until tender. Then, start on the shrimp. Prep and measure all of the ingredients before hand since it comes together quickly.

Heat the olive oil in a large cast iron skillet over medium high heat. Add the shrimp and allow them to start to get pink for a couple of minutes. Add the basil, garlic, lemon juice, lemon zest, salt and pepper. Let that mixture get fragrant for 30 seconds. Pour in the white wine and let it cook off for another 2 minutes or so. Then stir in the ricotta and parmesan.

Let that mixture bubble together for a minute while you stir, then it's all done! The rice should be done at around the same time, so take it off of the heat and fluff it up with a fork. Serve the shrimp over the rice with some pretty basil ribbons on top and an extra wedge of lemon. Enjoy!