My Nana Jeanie and Papa lived in Atlanta for many years before they moved to Florida. While they were there my Nana learned how to make the most incredible peach cobbler with those gorgeous Georgia peaches. I wasn't around yet when they lived there, but she still made it every time we visited them in Florida. I lived for it, let me tell you. So when I saw gorgeous peaches at my farmer's market this week, I decided to try to make my best approximation of her classic peach cobbler. It was simple, which really let the ingredients shine.
When it came out, I let the classic peach cobbler cool and set for just a couple of minutes. Then I served it with a big scoop of ice cream on top. Oh my goodness, this took me right back to my Nana Jeanie's house during my childhood summers. The peaches were so juicy and sweet. That topping sent it over the top though. Hope you all love this classic too, it is really perfect for summer. xoxo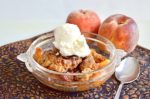 Servings

Prep Time

6

20

minutes
Servings

Prep Time

6

20

minutes
Servings

Prep Time

6

20

minutes

Servings

Prep Time

6

20

minutes
First, prepare the peaches. Preheat the oven to 425. Combine the sliced peaches, sugar, cinnamon, bourbon, and corn starch in a large bowl and stir it all together well to make sure the peaches are coated completely. Transfer the mixture to an 8 x 8 baking dish and bake the peaches for 10 minutes. Meanwhile, work on the topping. Combine the flour, brown sugar, baking powder and butter in a bowl. Use a pastry blender to cut the butter into the rest of the mixture until it is moist and crumbly.

Heat the water in a small sauce pan and let it come to a gentle boil over medium heat. Stir in the rest of the topping mixture until it makes a pasty dough and take it off of the heat. Evenly crumble the topping over the peaches. Then stir the sugar and cinnamon together in a small bowl and sprinkle that evenly on the very top. Bake the cobbler for about 30 minutes, until the top is crispy. Let it cool and set for a couple of minutes, then serve warm with ice cream!