I don't think it gets much better than a yummy waffle with a big cup of coffee on the weekends. Sunday brunch is such a ritual in this house and I love it. Sunday is the one day that neither of us has to work so we take full advantage of that. It is well documented that I seriously love my waffle iron! I even used it to make the most incredible breakfast quesadillas, but I digress. This weekend I put it to work again making gorgeous, fluffy buttermilk pecan waffles.
Oh my goodness, these babies really made my morning. The cinnamon and brown sugar gave so much warmth and spice to the waffles, while the pecans gave fantastic crunch. Then the cinnamon honey butter just brought them over the top. Hope you all enjoy this wonderful and simple breakfast treat! xoxo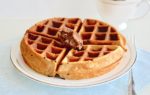 Servings

Prep Time

4

waffles

15

minutes
Servings

Prep Time

4

waffles

15

minutes
Servings

Prep Time

4

waffles

15

minutes

Servings

Prep Time

4

waffles

15

minutes
First, make the simple batter. Whisk the flour, brown sugar, cinnamon, baking powder and salt together in a large mixing bowl to aerate them. Whisk the melted and cooled butter, buttermilk, eggs and vanilla together in another bowl until smooth. Pour the wet ingredients into the dry ingredients and whisk it all together until it is a thick, smooth batter. Switch to a rubber spatula and gently fold in the chopped pecans.

Pre-heat the waffle iron and be sure to consult the instruction manual for best results. Scoop 1/4 of the batter into the hot iron to just cover the surface. Close the iron and cook the batter for 4-5 minutes. It should puff up and become completely golden. While it cooks, make the cinnamon honey butter. Stir the soft butter, honey and cinnamon together thoroughly. When the waffle is done, serve it immediately with a dollop of the cinnamon honey butter on top. Repeat the process to make three more waffles and enjoy!