To me, there is nothing better than super flavorful pasta dish that comes together quickly. I live for them actually on busy weeknights. So this week I went to one of my favorite Italian classics. Bucatini all'Amatriciana sounds fancy but it is really simple and so good. My Nana Lulu made it for me when I was growing up so it was also so fun to carry it on!
Oh my goodness, when I dug in I was one happy woman. The sauce was so flavorful from the pancetta and the pasta was perfectly tender. The cheese gave the bucatini all'Amatriciana an amazing, creamy texture too. Best of all, I was transported to Italy in just 30 minutes! I think my Nana Lulu would have loved this version of her recipe and I hope you all do too. xoxo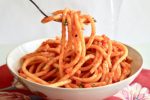 Servings

Prep Time

6

15

minutes
Servings

Prep Time

6

15

minutes
Servings

Prep Time

6

15

minutes

Servings

Prep Time

6

15

minutes
First, get a large pot of water on the stove and bring it up to a boil. While the water heats up, start on the sauce. Combine the olive oil, pancetta, onion and half of the parsley in a large skillet with deep sides. Heat the pan over medium high heat. Let the fat from the pancetta render out and everything cook completely for 7-8 minutes. The pancetta should become crisp and the onions should caramelize slightly. While the mixture cooks season it with the salt, garlic powder and crushed red pepper. Then add in the tomato paste and red wine. Let them cook off for a minute or two while you stir it together and scrape up the brown bits.

Finally, add in the crushed tomatoes. Let the sauce come to a gentle boil and reduce it to a simmer. The sauce needs to simmer for 3-4 minutes for the flavors to meld. Meanwhile, start cooking the pasta. Salt the boiling water generously and pour the pasta in. Since it is thicker than other long pastas, it takes about 9 minutes. Before you drain it, reserve 1/4 cup of the salty, starchy cooking water and pour it into the sauce to loosen it up. Then add the drained pasta to the sauce and toss it all together well. Take the pan off of the heat and keep stirring the pasta while you pour in the two cheeses. It will melt right in and emulsify into the sauce. Serve immediately with the remaining parsley garnished on top!