I've often said that my husband is my muse when I'm trying to come up with recipes. I'll ask him what he's in the mood to eat and he always comes up with something fun and interesting. That's what happened this week when I asked the usual question. He thought for a minute and asked for beef stroganoff. I never grew up with it, but he did in his Polish/Hungarian household. So with his guidance and a little research, I came up with an incredible recipe that made him really happy that he asked for it!
I served the beef stroganoff immediately by just scooping it into pretty bowls. Oh my goodness, I was pretty darn happy with how it came out. Especially since it was only my first time ever making it. The beef was fall apart tender in the amazing sauce. Marc's inspiration was once again a success. I think I'll keep him around forever. Hope you all love this version of a classic too! xoxo
SaveSave
SaveSave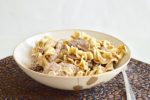 Servings

Prep Time

6

30

minutes
Servings

Prep Time

6

30

minutes
Servings

Prep Time

6

30

minutes

Servings

Prep Time

6

30

minutes
Get out a large skillet with deep sides and heat the stick of butter in it over medium high heat. Add in the diced beef and just let it brown for about 5 minutes on the outside. Remove it from the pan with a slotted spoon to leave the butter and grease behind and set it aside. Add the mushrooms and onion in next and let them get soft for about 2 minutes. Then pour in the condensed beef broth, red wine, Worcestershire sauce and Dijon. Stir the beef back in, then slowly sprinkle in the flour and let it cook off for a minute while you stir. Cover the pan and turn the heat to low. Let the beef cook low and slow for an hour in the flavorful mixture.

When the hour is almost up, get a large pot of water on to boil for the egg noodles. Cook them according to the package, usually for about 7 minutes. Drain them. Turn the heat off of the beef mixture and remove the lid. Stir in the egg noodles and yogurt until it all mixed well together and creamy. Serve immediately in pretty bowls and enjoy!