I tell you what, I am loving this healthy kick I've been on. We'll see how long this lasts before I cave and make something decadent (I will always be a woman who needs a piece of cake or juicy burger once in a while), but for now I'm thoroughly enjoying the ride! Quinoa has become an absolute favorite of mine because it satisfies my massive carb cravings without the guilt.
I made this balsamic spinach quinoa as a yummy side and it was such a simple, satisfying compliment to the meal. All I did was first combine veggie stock, balsamic vinegar and a pinch of salt in a small pot. That got brought to a boil. Once it was boiling I stirred in a cup of quinoa, then covered the pot and turned the heat to medium low.
The balsamic spinach quinoa needed to cook for 12-14 minutes, until the liquid was all absorbed and the quinoa was tender. It's easy to tell when quinoa is done because they get these cute little tendrils that pop out when they cook. In the meantime, I quickly gave a bunch of baby spinach a rough chop and set it aside for delicious purposes.
When the quinoa was done cooking, I took it off of the heat and fluffed it up with a fork. Then I stirred in the chopped spinach to let it gently wilt into the hot quinoa.
That was it, it was as simple as that! I loved the rich, deep color and flavor that relatively small amount of balsamic gave the dish, and the spinach was a wonderfully fresh and green counterpoint. Balsamic spinach quinoa is really the ultimate side dish, enjoy friends!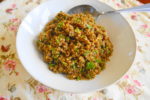 In a small pot combine the stock, balsamic and salt. Bring it to a boil, then stir in the quinoa. Cover the pot and turn the heat to medium low. Let the quinoa cook for 12-14 minutes, until all of the liquid is absorbed and it is tender.

Turn off the heat when the quinoa is cooked and fluff it up with a fork. Stir in the chopped spinach and let it just wilt into the hot quinoa. Scoop it onto a plate with your favorite main course and enjoy!