One of my favorite things about culinary school was learning about the many different cuisines of our world. We covered Latin American recipes, French recipes, Spanish recipes, Japanese recipes and everything in between. I loved how it took me out of my comfort zone. When we made these Asian short rib tacos in class, I fell madly in love with them. There was so much flavor and texture. So since I wanted to mix things up this week and make something different, they were just the ticket! I played with the recipe we used in school and I was so happy with how they came out.
Oh my goodness, they tasted just as good as they looked. The beef was succulent and incredibly flavorful. The warm tortillas and crunchy slaw took them way over the top. I was so happy to have recreated one of my favorite recipes from school. It definitely will be on our Taco Tuesday rotation now forever and ever, amen. Enjoy!! xoxo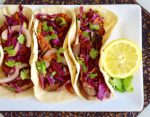 Servings

Prep Time

12

tacos

1

hour
Servings

Prep Time

12

tacos

1

hour
Servings

Prep Time

12

tacos

1

hour

Servings

Prep Time

12

tacos

1

hour
FOR THE SLAW AND ASSEMBLY
First, marinate the short ribs the night before. Mix the soy sauce, honey, sesame oil, rice wine vinegar, ginger, garlic and Chinese five spice together in a bowl thoroughly. Then put the short ribs in a double bagged zip top bag and pour the marinade all over them. Seal the bag and make sure the ribs get well coated. Let them sit in the refrigerator overnight. The next day, make the slaw an hour ahead of when you want to serve so that it can sit.

Mix the shredded cabbage, onion, grated carrot, scallions, cilantro, rice wine vinegar, soy sauce, and pickle juice together thoroughly in a bowl. Cover it and set it aside in the refrigerator until it is time to serve. The tacos come together quickly once you start cooking! When you are ready, pre-heat an electric griddle to 400 or a griddle pan over medium high heat. Take the short ribs out and discard the marinade.

Cook the ribs for 5 minutes on each side to get a medium rare to medium level of doneness. When they are cool enough to handle, cut away the bones and fat and dice the meat into manageable, bite sized pieces. Meanwhile, warm the tortillas. Then spoon a generous amount of meat and slaw on each tortilla and serve immediately! This recipe makes about 12 tacos.