With the onslaught of Thanksgiving goodness last week and a few days worth of yummy leftovers, I needed something lighter. Since the Holiday season is also in full swing and things are crazy here, I also needed something quick and easy. This quick veggie pasta was the answer! I swallowed my Italian pride and used my favorite jarred marinara and pesto in the sauce to save lots of time. I was out of my stock of the homemade stuff in the freezer, so I turned to my pantry as I often do in times of desperate need, ha!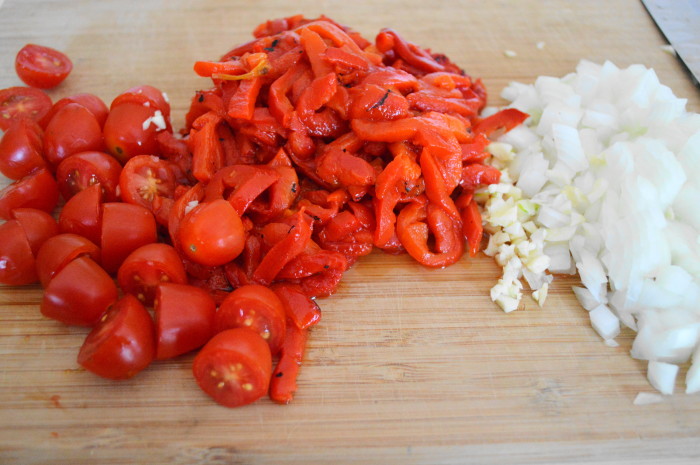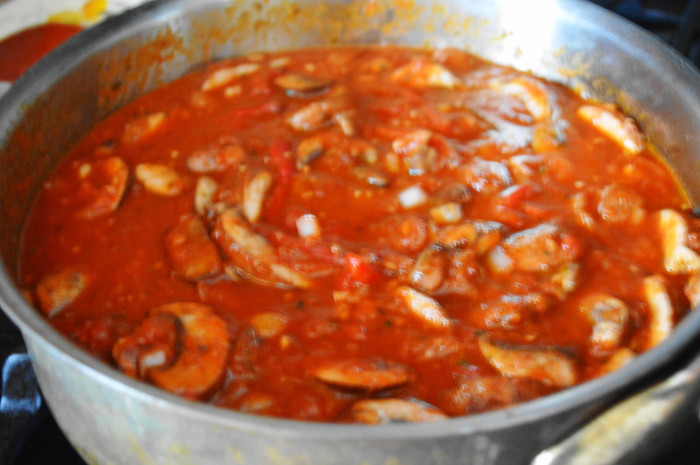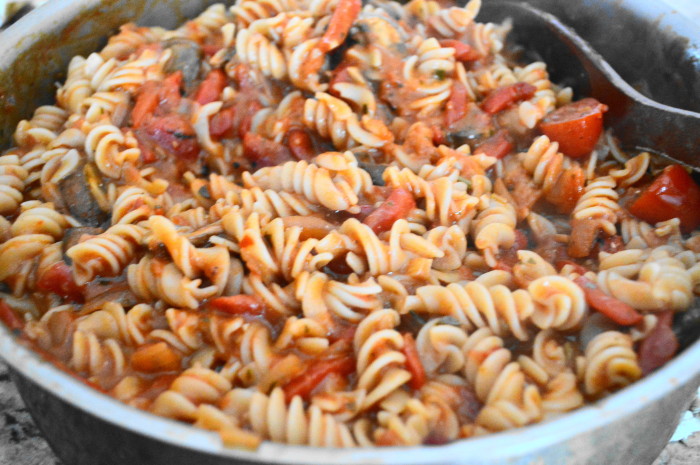 I also added a couple of tablespoons of Greek yogurt. This was going to add some fantastic creaminess to the quick veggie pasta. I made sure everything was tossed together well, then I took the pasta off of the heat. I always like to finish pasta with a bit of fat to bring it together, so I drizzled extra olive oil on top and gave it one last stir. Oh my goodness, this quick veggie pasta could not have been easier or more delicious! The mushrooms made it feel meaty and the tomatoes gave it fantastic fresh bursts. I loved the tang and creamy texture the yogurt gave. This was just the ticket for a busy weeknight! xo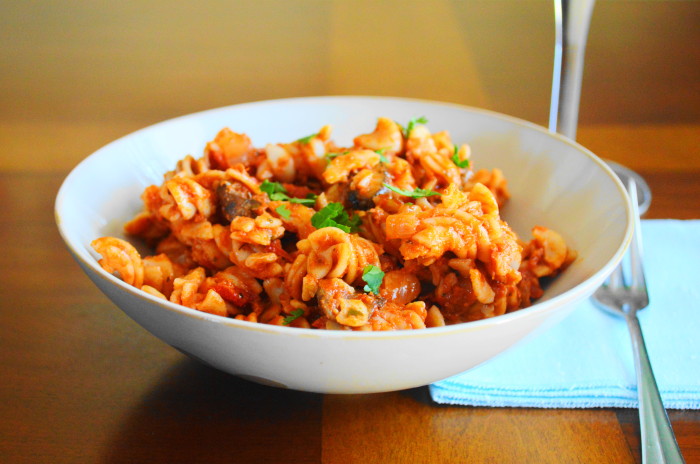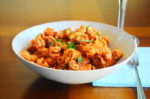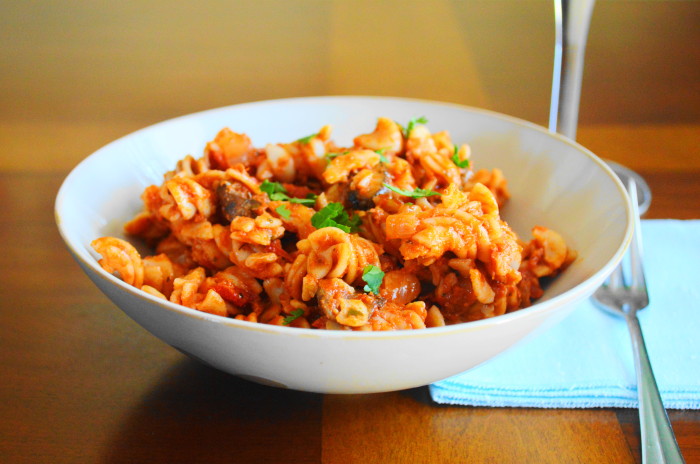 Quick Veggie Pasta
Ingredients
1

dash

basil infused olive oil

plus additional for drizzling at the end

12

whole

grape tomatoes

halved

8

ounces

cremini mushrooms

sliced

1

jar

roasted red peppers

drained

1

whole

onion

diced

1

clove

garlic

minced

1

pinch

truffle salt

1

pinch

freshly ground black pepper

1/2

cup

red wine

2

tablespoons

jarred basil pesto

1

jar

marinara sauce

1

pound

quinoa fusilli

2

tablespoons

Greek yogurt

fresh parsley

roughly chopped for garnish
Instructions
Heat the olive oil in a large pot over medium high heat. Add the grape tomatoes, mushrooms, roasted red peppers, onion and garlic. Let them get soft and fragrant for a couple of minutes. While that happens, season them with the salt and black pepper. Then pour in the wine and let it reduce for another couple of minutes. Add the pesto and marinara and stir the sauce well. Let it come to a gentle boil and allow it to cook for 15 minutes.

While the sauce cooks, get a large pot of water on the stove and bring it to a boil. Salt it liberally so that the pasta absorbs the flavor. Cook the quinoa fusilli for 8-10 minutes, just until tender. The sauce should just about be ready by this time. Drain the pasta through a colander and transfer it right to the pot of sauce. Add in the Greek yogurt too and toss everything thoroughly together. Take the pot off of the heat.

Drizzle a little more olive oil on top and give the pasta one last stir. Scoop generous portions of the pasta into bowls and top with the chopped parsley for some added freshness. Serve immediately and enjoy!