I absolutely love the process of fresh pasta making, and I use it as a basis for so many of my favorite dishes. This is definitely the Italian in me talking, but if I could eat pasta morning, noon and night I think I would! I've received some feedback that it would be wonderful to have a video demonstration of what I'm talking about when I write about fresh pasta making in my posts. Being a very visual learner myself, I completely get it and I have happily obliged! I've made two videos here. The first is a demonstration of how to put the dough together, and the second demonstrates how to roll it out and cut it into spaghetti. I hope you all enjoy my version of fresh pasta making 101! Before shooting the video I also made another ball of dough and rolled it out since I wanted to double the recipe of fresh spaghetti for the big vat of bolognese sauce that I was making (more on that soon). It also let me do a warm up before filming, ha! The basic pasta dough recipe is:
11 ounces ( about 2 1/4 cups) all-purpose flour
3 eggs
Pinch of salt
In between making the first and second video, I finished kneading the dough and wrapped it in plastic. Then I let it rest for an hour before I rolled it out. It's always best to let the pasta dough sit for at least an hour so that the gluten in the flour can relax after all of the kneading. It just makes the pasta dough super tender! No matter what kind of pasta you are making the rolling out process remains the same.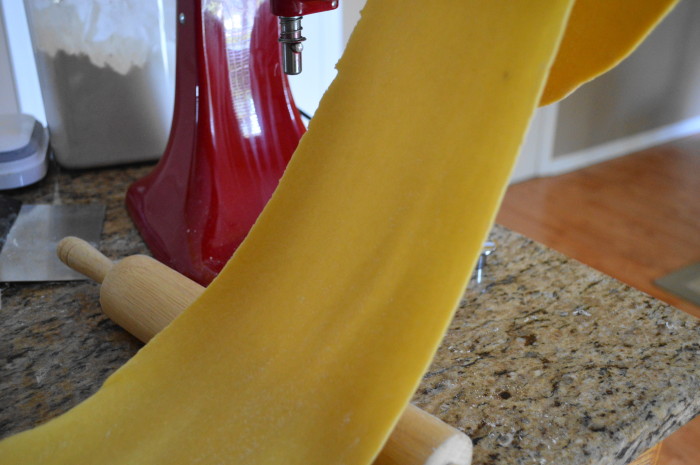 You can easily take the rolled out sheets and hand make ravioli by placing big tablespoons of filling along the length of one half of the sheet. Bring the other half over to seal the dollops of filling and cut in between each one with a fluted pastry cutter to cut them out! I've used this technique a lot to make four cheese ravioli, pumpkin ravioli and pancetta and pea ravioli.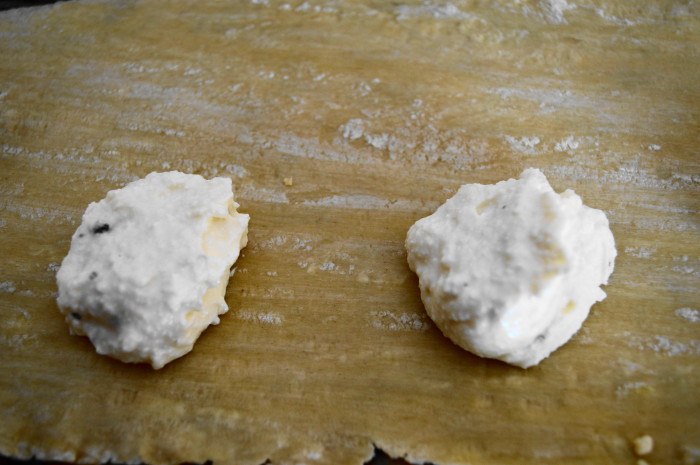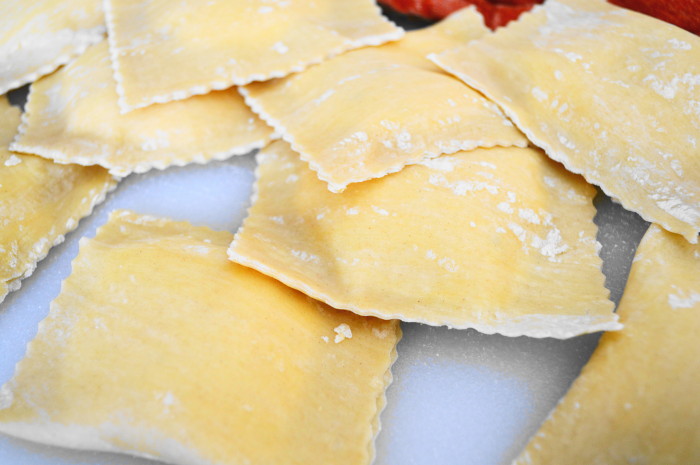 In the below video, you'll see me using the awesome spaghetti cutter attachment that came with my roller to cut my rolled out pasta sheets in seconds. I also love using the fettuccine attachment.
The pasta sheets can also be rolled up tight and sliced into big ribbons to make fresh pappardelle or hand cut into little rectangles and pinched in the center to make pretty farfalle. The fresh pasta making pasta-billities are endless! Once you finish rolling out and cutting the pasta, cover it up with a tea towel while you bring a pot of water to a boil to keep it from drying out. Then it only takes a minute for the pasta to cook in the boiling water to be tender. I always like to get cooked pasta into the pot of whichever sauce I am making and let it absorb the sauce for a minute. It just helps all of the flavors meld together gloriously. I hope these fresh pasta making videos inspire you to give it a go yourself at home! It's a little addictive I have to admit. Using fresh pasta just takes any dish to a whole new level. Buon Appetito e grazie mille!